News > Crime/Public Safety
Suspected serial killer accused in Bellingham cold case from 1987 enters plea
March 10, 2023 Updated Fri., March 10, 2023 at 7:19 p.m.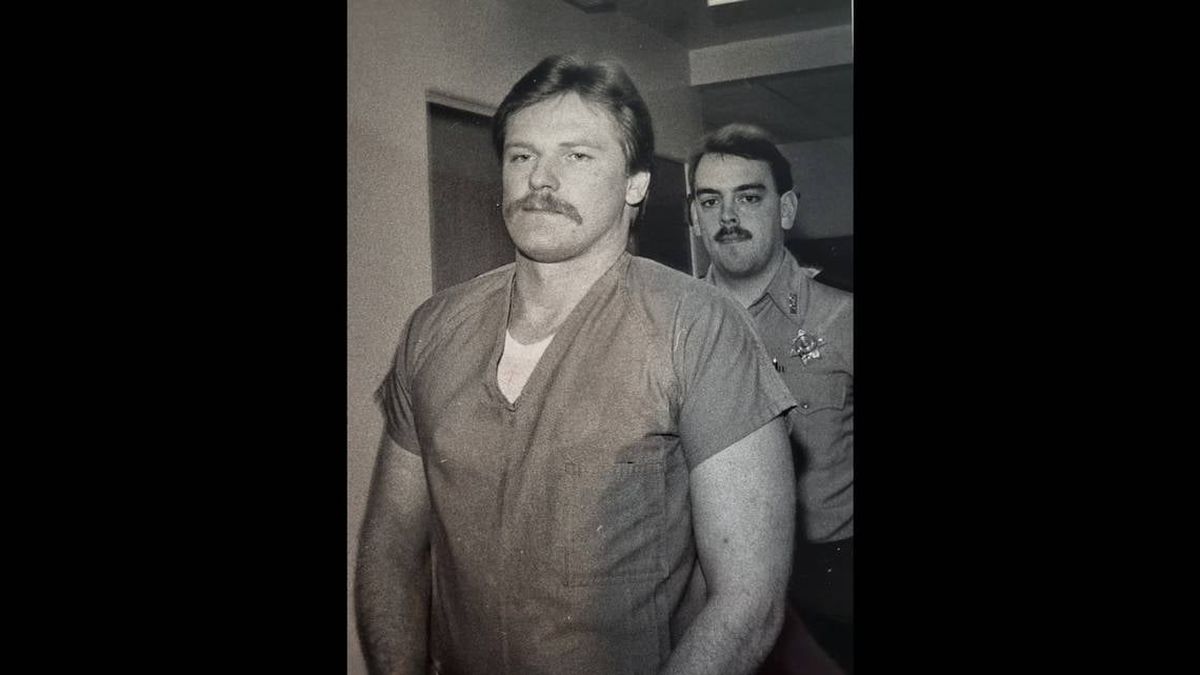 Darren Dee O'Neall is escorted to his first appearance hearing Jan. 11, 1989, in Whatcom County Superior Court. (Pedro Perez/Bellingham Herald)
BELLINGHAM, Wash. – A suspected serial killer has pleaded not guilty for the 1987 disappearance and alleged murder of a Bellingham woman.
Darren Dee O'Neall, 63, pleaded not guilty to second-degree murder Friday, March 10, in Whatcom County Superior Court. O'Neall was charged Oct. 11, 2022, for the 1987 disappearance and death of 29-year-old Wendy L. Aughe.
At O'Neall's arraignment Friday morning, his public defense attorney, Starck Follis, raised issues related to the 35.5-years-long gap between when Aughe was allegedly murdered and when O'Neall was formally charged.
Follis also said he had objections related to why O'Neall wasn't charged with murdering Aughe back in 1987, when he was charged in Whatcom County with stealing Aughe's car. O'Neall was later convicted by a jury in 1989 of second-degree theft in the case, according to court records.
Follis said he'd likely be filing formal motions related to his objections at a later date.
O'Neall is currently being held in the Whatcom County Jail in lieu of $10 million bail. He was extradited March 1 to Whatcom County from the Two Rivers Correctional Institute in Umatilla, Oregon, where he was incarcerated, according to previous reporting in the Bellingham Herald.
Aughe was last seen on April 25, 1987, after she went on a date with a man later identified as O'Neall whom she had met earlier that day.
Aughe is presumed dead and her body has never been found.
DNA profiles were created by the Washington State Patrol Crime Laboratory for both Aughe and O'Neall from evidence taken from Aughe's home and items found in the trunk of Aughe's stolen car. In July 2021, cheek swabs were taken from O'Neall.
A month later, the crime lab determined the swabs matched the DNA profiles created for O'Neall from the evidence taken from Aughe's home and car, court records state.
O'Neall, who is a suspected serial killer and spent time as one of the FBI's most wanted, has been wanted for questioning in Aughe's disappearance since at least 1988.
O'Neall was charged with robbery and sexual assault in Colorado in 1985 and 1986, respectively, and was later arrested in Florida in December 1987 on a stolen car warrant out of Louisiana. He was then brought to Washington state to face murder charges for the 1987 death of 21-year-old Robin P. Smith of Pierce County.
O'Neall was convicted of first-degree murder and possession of stolen property in the Pierce County case in February 1989 "under circumstances similar to" Aughe's case, the Herald previously reported.
O'Neall was also convicted in August 1990 for kidnapping and repeatedly sexually assaulting a 14-year-old Portland girl in 1987. He's also a suspect in other violent crimes and murders across the United States, and was the subject of an FBI task force at one time, according to earlier Herald reporting.
O'Neall was sentenced to 135 years in prison for the Portland case, but was expected to be eligible for parole May 2033, according to court records.
O'Neall's next court appearance in Whatcom County is scheduled for April 5.
Local journalism is essential.
Give directly to The Spokesman-Review's Northwest Passages community forums series -- which helps to offset the costs of several reporter and editor positions at the newspaper -- by using the easy options below. Gifts processed in this system are not tax deductible, but are predominately used to help meet the local financial requirements needed to receive national matching-grant funds.
Subscribe now to get breaking news alerts in your email inbox
Get breaking news delivered to your inbox as it happens.
---