Sports > Gonzaga women
'What we have here is unique': A program built for the long game, Lisa Fortier believes Gonzaga women's basketball can climb even higher
March 11, 2023 Updated Sat., March 11, 2023 at 3:43 p.m.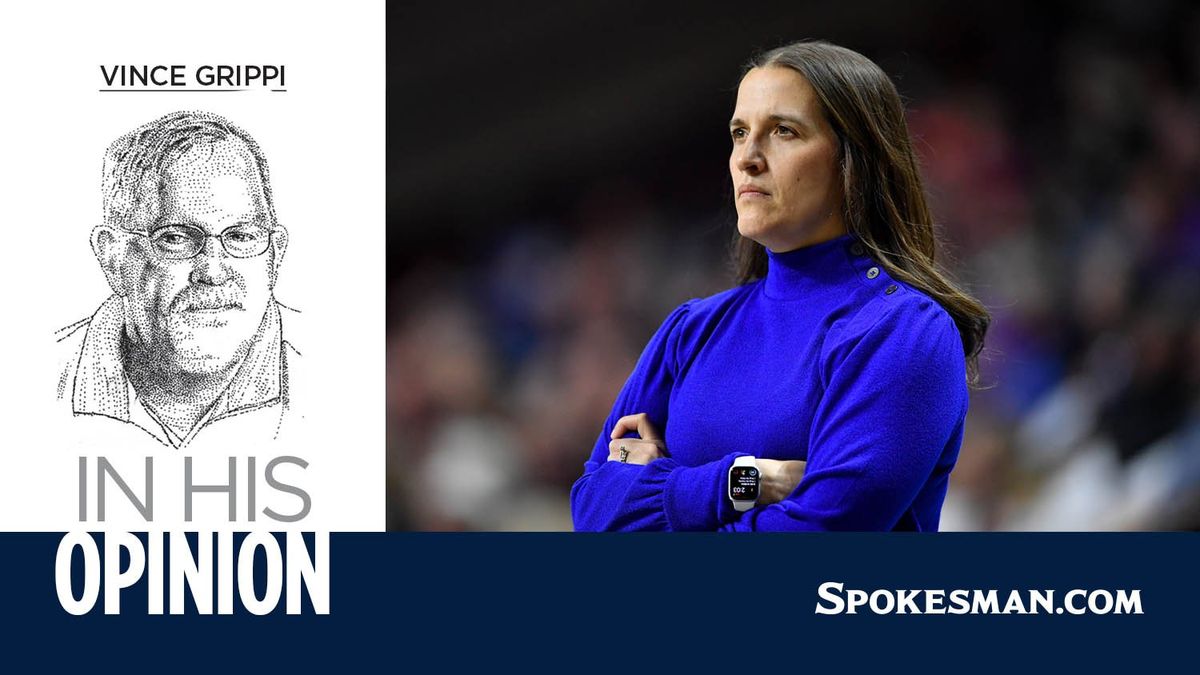 (Tyler Tjomsland/The Spokesman-Review)Buy a print of this photo
How do you build a successful college basketball program?
One might think the blueprint is simple, especially when a successful design firm resides in-house.
But those who built the Gonzaga women's basketball program into a West Coast Conference power, and maintain it, will tell you that's not the case.
The blueprints for the women don't look like the first-to-be-completed men's. Construction costs are different. Contractors have to deliver differently. And time frames are never the same.
Simply put, there is no magic formula. Well, maybe one or two, but that will have to wait. Which put the following tale on a similar timeline as the two programs.
"Obviously, we were a few years behind the guys and we still are," current GU head coach Lisa Fortier said. "But (the administration) believed in how we were doing it and that we could do it."
A bit behind, yes. Less successful on the national scale, sure. A West Coast power when it comes to conference titles, fan engagement and relative-to-its-peers income production? That's eerily similar.
Even Mike Roth sees it. Though he no longer walks Mike Roth Way outside the GU athletic complex on a daily basis, the retired athletic director will freely wander down memory lane when asked.
Back to 1999? That's easy. Who can forget Casey Calvary's dunk? The men's first Elite Eight run? The Cinderella-like crashing of the blue bloods' ball?
But Roth also remembers how other Gonzaga sports languished a bit. Heck, in the Charlotte Martin Centre, the other occupants were struggling. A lot.
The same year Dan Monson and Matt Santangelo and the rest jumped into history, the Zags women lost 19 games. Another 19 the next year. The program was sagging.
"We made a decision to make a coaching change," Roth says 23 years later. "We were just not competitive."
When Monson left for the wilds of Minnesota, Roth picked one of his assistants, Mark Few, to take over. Good choice. When he decided to fire women's coach Kellee Barney, he looked outside. Good choice.
Kelly Graves was already established as a winner. He had won in the Washington junior college ranks. He had won, most recently, at Saint Mary's College.
His brother-in-law called Roth with an inquiry. Would he be interested in Graves?
Not long after, Gonzaga had its new leader.
Why leave a budding power for a rebuild?
"I took the job, quite frankly, because it was where my wife kind of wanted to be," Graves admits. "And walked into a program that wasn't very good."
A miracle worker? Hardly. It took a lot of work, cementing a foundation into place. And it took, cough, money. To bring in players and bring the program into the 21st century.
Graves tells a story about, early on, spending every dime in his recruiting budget. Then Ashley Burke, a possible program changer from British Columbia, showed interest. She wanted to visit. Graves went to Roth.
"It was spring after our first season and we weren't very good," Graves said. "I needed another player and we had a line on (Burke). But I didn't have enough money left in the budget to fly her in."
Was it an early wrecking ball?
"I went to him and he said, 'Is this player important?' I said, 'Yeah.' He said, 'Go ahead, fly her in.' Obviously, the rest is history."
Burke was a three-time All-WCC first-team player.
"And she was part of that group that built the foundation," Graves said.
It wasn't just constructed with players from Canada, mind you. Or California, home of another three-time WCC honoree, Shannon Mathews.
Part of Graves' plan was to mine the basketball talent in the Spokane area. There was plenty, starting with Raenna Jewel from Central Valley High. Others, such as Lewis and Clark's Heather Bowman and Katelan Redmon and University's Jami Bjorklund helped continue the upswing
.
"People knew those kids, they had followed them and they continued to follow them" after they moved to Gonzaga, Graves said.
It helped build crowds unusual for the time among West Coast women's basketball.
The crowds beget excitement. The excitement resonated with recruits. The better the recruits … wait, let's pause there. No one has been better than Courtney Vandersloot. She arrived in 2008 and changed the entire program's construction. And helped change how the program fit in Spokane.
"We built just beyond our fans and coming to our games," Graves said. "College women's basketball, (Spokane) is one of the hubs now for the whole sport. And I'm proud of that. I remember that regional in, what, 2011, when 'Sloot' was making her run. That was spectacular."
And it has never been the same.
But different is just fine. Ask Roth, who in 2014 was again forced to hire a new coach. Not because of failure but success. After nine consecutive conference titles, after two Sweet 16s and an Elite Eight, Graves decided to take on another challenge. He's been Oregon's head coach since.
This time, however, Roth found the person he wanted on staff. It was Fortier, never a head coach, a person who started with an unpaid position as Graves was getting started.
When Roth took her aside during a workout in April 2014 to let her know she was his first choice (he didn't interview anyone else), he had no idea how successful she would be. But he knew she was the right fit. And that might be the magical part of the whole construction process.
"We're always looking for the best person, person, for Gonzaga University, not the best coach. That's not the first priority," he said. "Once we find the best person, we'll make sure they're also the best coach."
She's been both.
Since taking over, Fortier's teams have won seven WCC titles in nine years. This year's group will mark Fortier's seventh NCAA Tournament appearance (it would have been one more if not for the pandemic. Her overall record is 233-58. That's winning eight of every 10 games, the best percentage in program history.
For Fortier, the support the campus gives the program makes all the difference.
"The people at Gonzaga," she said, "like Mike and those guys, they believed in Gonzaga. If you believe in a place, and you believe in the people who are there …"
Fortier's voice trails off. She starts up again.
"The reason why people don't leave and the reason why I haven't left, is I think we can do special things here. And we have. I believe in it. I believe in what we are doing and how we are doing it."
Has it all been an easy build? No. Not even for Fortier, who took over a program with 220 wins in the previous eight years.
After winning 26 her first season, including another conference title and a Sweet 16, Fortier's next team finished fifth in the WCC, losing double-digit games for the first time in nine years.
Then there was, of course, the pandemic and the empty house, followed by a kerfuffle over the team's anthem-kneeling in support of the Black Lives Matter movement, which alienated a few supporters.
This year's team goes into the NCAA Tournament having won 28 games. It earned another regular-season title despite injuries that sideline huge swathes of the roster at times. It did, however, come up short in the WCC Tournament title game, ceding the conference's automatic berth to Portland .
But the foundation has been built strong enough to overcome such issues. Which is, in part, why Fortier feels as if the program is as strong now as it's been. And why she feels the magic of Gonzaga and Spokane.
"I've been thinking about this a lot lately," Fortier said, "because there's always people who ask about this job and that job. And I say, 'That job is not a better job. The conference is bigger. There's whatever (at that school). But it's not a better job than it is here. It's not a better program than what we have here.'
"What we have here is unique. … And sometimes unique and special are synonyms for each other."
Local journalism is essential.
Give directly to The Spokesman-Review's Northwest Passages community forums series -- which helps to offset the costs of several reporter and editor positions at the newspaper -- by using the easy options below. Gifts processed in this system are not tax deductible, but are predominately used to help meet the local financial requirements needed to receive national matching-grant funds.
Subscribe to the sports newsletter
Get the day's top sports headlines and breaking news delivered to your inbox by subscribing here.
---