News > Spokane
Getting There: Spokane public transit a lifeline for many, though ridership slow to recover from pandemic slump
Mon., March 13, 2023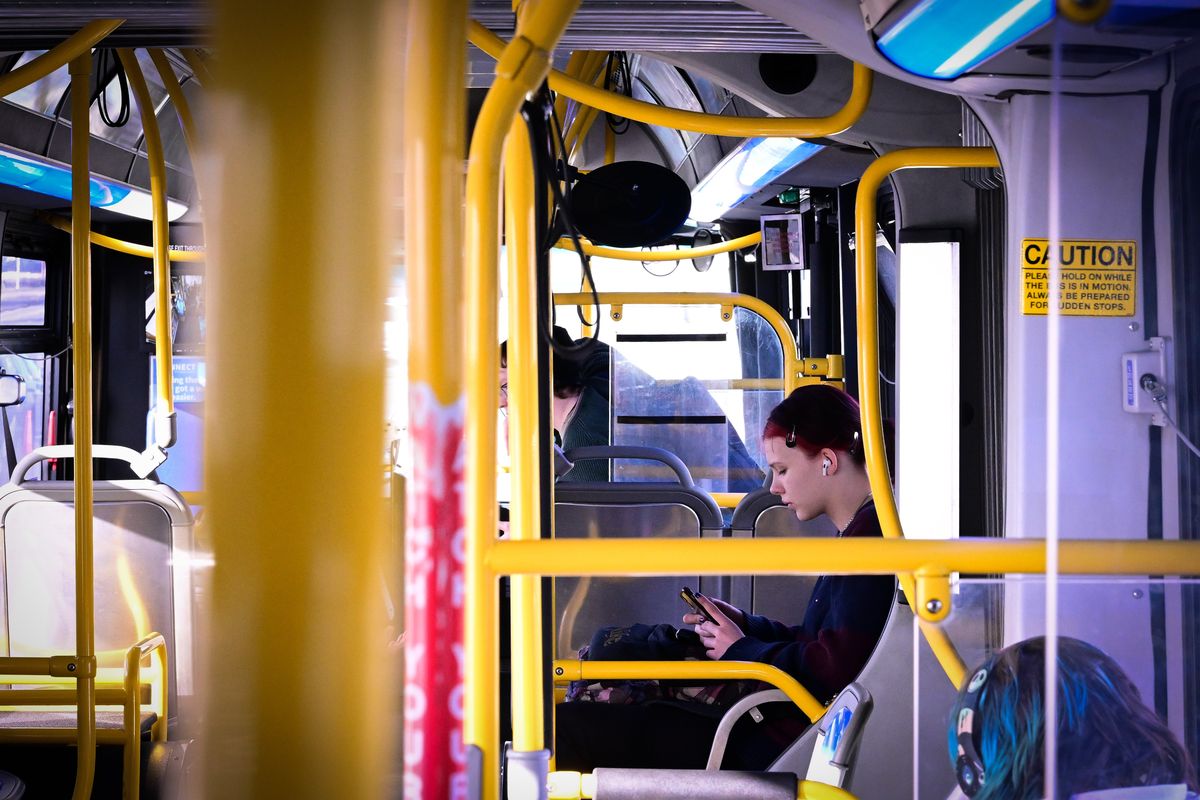 Mia Steiner checks her phone as she rides an STA Bus on Thursday in Spokane. (Tyler Tjomsland/The Spokesman-Review)
In 2020, as the coronavirus pandemic began to grip the nation, bus ridership cratered. Though it has slowly recovered, riders have still not returned at pre-pandemic levels.
By April 2020, bus ridership nationwide plummeted by about 80%, according to the American Public Transportation Association. In Spokane, ridership fell only slightly less precipitously, with around 35% as many riders as in April 2019, according to data from the Spokane Transit Authority.
Recovery has been steady but slow. By April 2021, ridership had increased by about 34% and by another 21% by the same time in 2022. By January 2023, ridership levels were at about 77% of what they had been three years prior.
Spokane Valley resident JoDee Dugger was one of those daily riders that stopped as COVID-19 flared, and it wasn't for lack of need.
Living on a low income with a disability and no car, Dugger said the bus was and is a lifeline for her. For the past five years, except for an extended break during the pandemic, she used the bus every day to commute, grocery shop and visit friends. It takes her six buses just to commute to work in Spokane and get back home to the valley.
For a while, the pandemic put a stop to that. She relied on family to help her get to work and would walk part of the way to her destination so she could use the bus less often.
"In the lockdowns, with the rules and everything, it was hard to take the bus," Dugger said. "I only used it when I really needed to, so I had to do a lot of walking."
As mask mandates and other restrictions were lifted, Dugger started using the bus more regularly again. If anything, the experience of taking the bus was better when she started riding again, if only because it was less crowded, she said.
Though the pandemic carries most of the blame for decreased ridership, bus use had been seeing a steady decrease for years leading up to 2020. Spokane ridership in 2019 was down more than 10% compared to 2013, from around 11 million to 10 million rides.
Flagging bus ridership and slow recovery has had some nominal political costs. Conservative members on the Spokane City Council have pointed to the disappointing statistics as evidence that the city shouldn't be moving forward with expensive investments in the bus system, including a proposed rapid transit line on Division Street.
But improvements to the bus system will help attract new riders and convince old ones to return to the system, said Spokane Transit Authority Chief Operations Officer Brandon Rapez-Betty.
And despite the sharp drop in ridership during the pandemic, Rapez-Betty noted that even at its nadir in April 2020 the bus network was used over 323,000 times.
"I think that demonstrates how essential the service is," he said.
For many, there was never any option but to use the bus.
Michael Dougherty has been using Spokane's public transit system nearly every day for around seven years. The pandemic didn't change that.
"I kind of need it to get around," he said, dryly. "I can't afford a car."
Ridership in recent months has also been buoyed by a partnership launched last summer with Spokane Public Schools, creating several "school tripper" routes that are open to the public but primarily serve high school students.
Alongside a state-funded program to provide free fare for all riders ages 18 and younger, youth ridership has taken off. In January 2022, youth used public transit in the city approximately 32,000 times; in January 2023, that number surged to over 122,000.
Eisley Abila and Nebaeh Newman, two North Central High School students, started using the bus regularly during the summer of 2021, when a pilot program offered free fare for youth riders during the season. That free ride gave Abila the opportunity to meet friends at the Spokane Valley Mall without her mother having to spend money on gas, she said.
These days, both use the bus multiple times a day, going to and from school, as well as to each other's houses.
Public transit can be intimidating at times, Newman said. The pair often feel uncomfortable around some older riders, and once felt like they were being followed by a man. Sometimes delays lengthen their trips, and route changes can be frustrating.
Still, the bus system has greatly increased the teenagers' ability to get around town. And though they're both looking forward to the day when they own their first cars, Newman expects she'll still sometimes use the bus to save money.
Madelyn Maxwell, a 17-year-old Running Start student studying at Eastern Washington University, already has her first car but still parks it at a park-and-ride and finishes her daily trips on transit.
The bus ride may take an hour each way, but Maxwell still prefers it to driving. Rather than having to keep her eyes on the road or trying to find parking, she enjoys being able to catch up on schoolwork while someone else drives for her.
Work to watch for
T.J. Meenach Drive closes Monday between Pettet Drive and Northwest Boulevard for stormwater improvements. Motorists will need to use detours south to Maxwell Avenue and north to Northwest Boulevard during construction, which is expected to last until August.
Wellesley Avenue will close Monday between Haven and Market streets for work to add a lane of traffic in anticipation of completion of the North Spokane Corridor project. Water mains will also be replaced and lowered. Market Street will be converted to one lane in each direction outside of work areas. The two-phase project is expected to last three to five months.
Intermittent lane closures will occur in the area of the Thor and Freya reconstruction project from Hartson to Sprague avenues this month as work is finalized following last summer's rebuilding project.
Local journalism is essential.
Give directly to The Spokesman-Review's Northwest Passages community forums series -- which helps to offset the costs of several reporter and editor positions at the newspaper -- by using the easy options below. Gifts processed in this system are not tax deductible, but are predominately used to help meet the local financial requirements needed to receive national matching-grant funds.
Subscribe now to get breaking news alerts in your email inbox
Get breaking news delivered to your inbox as it happens.
---