Sports > Gonzaga basketball
'I'm always supporting him, he's always supporting me.' From young age Gonzaga's Nolan Hickman, No. 1 draft pick Paolo Banchero have been in each other's corner
March 14, 2023 Updated Tue., March 14, 2023 at 8:03 p.m.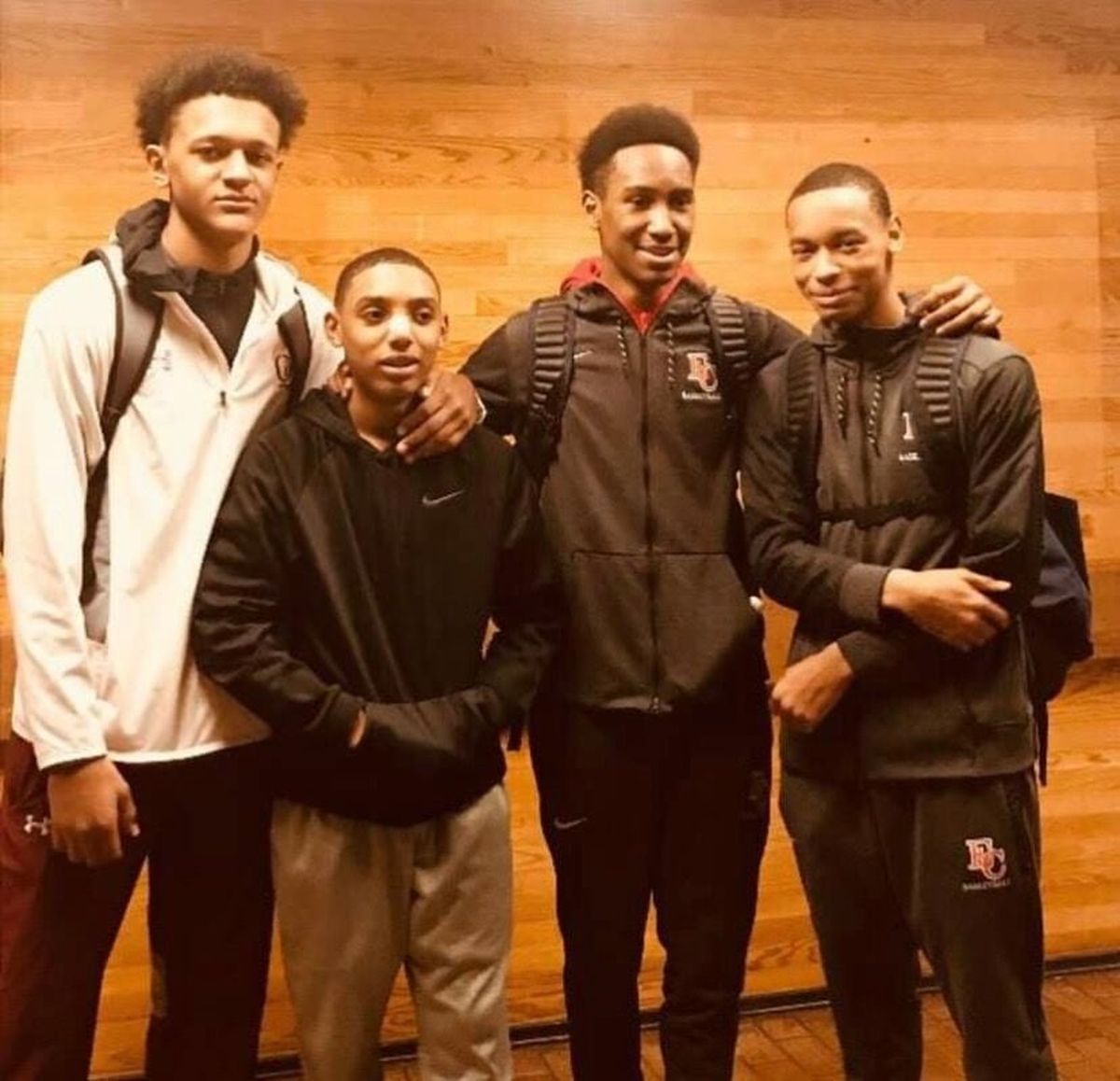 Paolo Banchero, left, and Nolan Hickman, right, pose for a photo in high school. (Courtesy photo)
In 2010, you could have found Nolan Hickman and Paolo Banchero on a blacktop in Seattle hoisting jump shots, discussing the future, plotting out nights like Jan. 7.
Banchero, once a priority recruit for Mark Few's staff, is now a Gonzaga fan by proxy who tunes in to watch Hickman, the Bulldogs' starting point guard – one of his oldest and closest friends – whenever the jammed NBA calendar allows it.
As schedules often do, though, they conflicted the first Saturday of the New Year.
The No. 1 overall draft pick and Orlando Magic rookie was busy carving up the reigning NBA champions for 25 points at the Chase Center in San Francisco when Hickman delivered one of the biggest shots of Gonzaga's season 45 miles down the road at Santa Clara's Leavey Center.
Banchero, who'd score 25 points for a third consecutive night in Orlando's 115-101 win over Golden State, obtained the footage later that night: Hickman putting the moves on Santa Clara guard Carlos Stewart, taking a jab-step forward, cutting back with a crossover and rising up for an elbow 3-pointer to give the Zags a two-point lead in an eventual 81-76 victory.
"He always has never been afraid of big moments and he thrives under pressure," Banchero said. "That's always been who he is. He's a big-time player."
Hickman's parents faced a conflict of their own that night. They'd traveled to a variety of Zags games already and Orlando's visit to the West Coast gave them a rare chance to see Banchero in an NBA uniform for the first time. Hickman's father, Nolan Sr., and mother, Champale, also have a close relationship with Banchero's parents, Rhonda and Mario.
They mulled the options before eventually settling on Gonzaga-Santa Clara. Thankfully, too.
Nolan hit a late go-ahead 3-pointer but scored a career-high 20 points on 8-of-9 shooting from the field to lead the Zags past the Broncos.
"I was actually torn, because I thought about missing the Santa Clara game to go check out Paolo," Nolan Sr. said. "I was like, good thing we didn't skip Nolan's game to go. We would've missed one of the biggest moments this season. Me and my wife laugh about that all the time."
Five days later, Hickman delivered another clutch moment for Gonzaga. This time, Banchero had a front-row seat.
One night before a road game against the Utah Jazz, Banchero and Orlando teammate/former Bulldogs star Jalen Suggs made the short trek to Provo, Utah, for Gonzaga's game at BYU, sitting one row behind the visiting bench.
At a similar stage of the game, with Gonzaga needing another big shot from somewhere, Hickman received a pass in the corner from Hunter Sallis, set his feet and made a 3-pointer to cut the Cougars' lead to 73-72. As the home crowd let out an audible groan, Banchero and Suggs popped out of their chairs and pumped their fists in excitement.
Hickman and Banchero chatted for nearly 5 minutes in a Marriott Center hallway after Gonzaga's 75-74 win, exchanging a hug before both left the venue.
"That's my dog. When I knew he was going to come, it was just like any other time of him supporting me," Hickman said. "He's made it past this level, so it's dope to see him come back and support his bro. It's dope."
Hickman, the sophomore point guard who's helped lead Gonzaga to a No. 3 seed at the upcoming NCAA Tournament, and Banchero, a runaway favorite to win NBA Rookie of the Year honors, have pushed each other on the court and developed a close bond away from it since they were 3 years old.
"I mean, ever since I can remember, I ain't going to lie," Hickman said last week at the WCC Tournament in Las Vegas. "We've been hooping at (Seattle) Rotary since I can remember, 3 years old is when I started. We just grew up talking about it, cherishing it, chasing our dreams."
Until they split off to different colleges – one to Duke, the other to Gonzaga – Banchero and Hickman played summer basketball on the AAU circuit for the popular Seattle Rotary program. When the offseason hit, they found other ways to keep competitive juices flowing.
On the football field, they made a dynamic quarterback-receiver tandem. On the track they were archrivals, competing against each other in the 100- and 200-meter sprint events.
How did races normally play out?
"I was (faster) when I was younger and Nolan became faster than me," Banchero said. "Nolan has a national record, actually. 100 meter. Nine-year-olds."
That's Hickman's account, too.
"Me, me definitely," he said. "But that's the thing, back in the day Paolo used to be super fast so we always used to win, lose. It used to always be the head to head … but I'm definitely faster than him."
Providing additional context, Nolan Sr. recalls Banchero having the edge in many of the early season events as Hickman was getting his track legs back.
Once that happened, the results usually flipped.
"Paolo would start off every track season killing Nolan, blowing him out of the water and right about middle of the summer, Paolo would almost even stop running because now he was losing the races because Nolan's in track shape, so Nolan's beating him," Nolan Sr. said. "Only looking for Paolo in races, everybody else he's winning and taking first place, so Paolo would hide until it came to junior nationals and have to meet and Nolan would go on.
"So it was always bragging rights, I've got to get faster until I could beat him and then it would just go back and forth. It was hilarious, the whole thing."
The short-distance rivalry transformed into a productive partnership when Hickman and Banchero were on the AAU basketball court.
Banchero's ball-handling as a 6-foot-10 forward helped the O'Dea High School product become a coveted recruit, college sensation and standout rookie in the NBA. Those skills were groomed playing alongside Hickman, who's taken on floor general duties in his first year as Few's starting point guard.
At times on the AAU circuit, both would jockey to be the team's lead ball-handler.
"So the weird dynamic would be, when Paolo would dribble Nolan would always tell him, 'Yo, give me the ball and let me do my job and you do your job,' " Nolan Sr. said.
Nolan Sr. recalled one instance from the summer circuit during Hiskman's seventh-grade season. Banchero committed a series of turnovers, prompting his teammate and longtime friend to intervene.
"Nolan ran over during the game and said, 'Hey what is my job?' And Paolo was like, 'What? Not now,' " Nolan Sr. said. "And he was like, 'No, no, I'm not moving until you tell me my job.' And he tells him what his job is and he goes, 'To dribble.' And he goes, ' OK, give me the ball and get out of the way.' "
The Rotary team later went on to win the junior nationals tournament played in Orlando, Florida.
"Our chemistry is crazy," Hickman said. "That's what's so dope about it is AAU, they were always shocked about how good we played together and all that, but it's been a thing for a long time."
Banchero's averaged 20 points, 6.6 rebounds and 3.7 assists for a young Orlando team that sits 13th place in the East. As of Tuesday, the forward is still the overwhelming favorite to win the NBA's Rookie of the Year award, sitting at -7,000, according to FanDuel Sportsbook.
"What he's been doing is legendary," Hickman said. "What he's been doing is legendary, not only for Seattle but for his last name, Banchero. That family, I love that family to death and what he's just doing, it's a legacy and he's leaving a stamp on the league, on the world and everything, so that's just dope. I'm glad to call him my bro."
Likewise, Banchero has been thrilled to watch his friend take a lead role for the top offensive team in college basketball. Hickman was an understudy to Andrew Nembhard in 2021-22 and played only 10 minutes when the Bulldogs faced Banchero's Blue Devils in Las Vegas. He's started in all but one game this season, averaging 28.2 minutes while scoring 6.8 points and dishing out 3.2 assists.
"I think he never gets rushed, he's always under control," Banchero said. "He's really creative, whether it's with the ball – he has a great basketball mind. He sees the game really well. He's really young, too. He's a full year younger than me, so he's only going to get better and I think this next year or two you're really going to see his game take the next step."
Hickman and Banchero are eager for their next reunion on a basketball court, should it come if the Gonzaga sophomore is able to find his way to the NBA.
"That's a moment I'm looking forward to, 100%," Banchero said. "That's going to be a special moment, just because we've been with each other all the way through."
Growing up, the two developed a motto, 'Pros knows pros,' which Hickman's father described as "You'll be where I'm at in no time. Another pro's on the way."
Paraphrasing a conversation between the two, Nolan Sr. said, "You'll be here when you need to be here, and I'll be waiting for you to block your shots and dominate you when I see you again."
Local journalism is essential.
Give directly to The Spokesman-Review's Northwest Passages community forums series -- which helps to offset the costs of several reporter and editor positions at the newspaper -- by using the easy options below. Gifts processed in this system are not tax deductible, but are predominately used to help meet the local financial requirements needed to receive national matching-grant funds.
Follow along with the Zags
Subscribe to our Gonzaga Basketball newsletter to stay up with the latest news.
---