News > K-12 education
Pi Day or Pie Day? Why not celebrate both, like local pie shop, math teacher?
Tue., March 14, 2023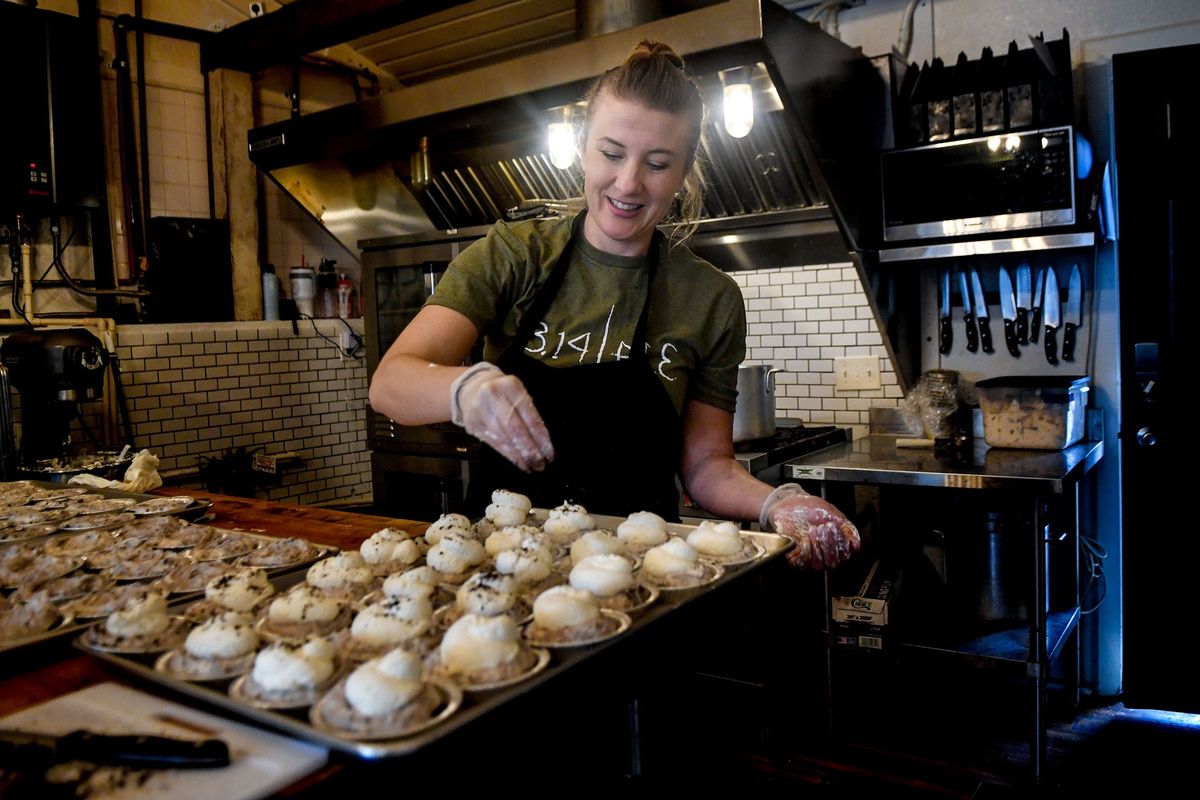 Birdie's Pie Shop owner Sharee Moss works Monday to prepare for Pi Day at her shop in Post Falls. (Kathy Plonka/The Spokesman-Review)
March 14. It's Pi Day! The day to celebrate 3.14, the ratio of a circle's circumference to its diameter.
Also, pie.
And Birdie's Pie Shop in North Idaho is ready. Today, they are charging $3.14 for a choice out of 20 personal sweet pies.
The flavors, ranging from traditional apple to "Caramelized Banana" and "PB & Jealous," were voted on by regular customers.
Personal pies are 5 inches across (or 15.7 inches around, according to pi).
Both Birdie's locations, one in Post Falls and one in Hayden Lake, each prepared about 5,000 pies for the occasion, owner Sharee Moss said.
For fun, kids can decorate their own pie bites, and if the weather is nice, they'll have yard games outside.
"My favorite thing about pie is it provides such an emotional connection among people, among family traditions, ancestry, that kind of thing," Moss said. "I love that especially on this date it helps unite community and families together over such an amazing dessert."
Overall, Birdie's rotates over 100 handcrafted pie flavors through the seasons.
Moss said meringue pies can be the trickiest to make because they can be affected by humidity on a wet day.
The shop makes savory pies too, like chicken pot pie, shepherd's, loaded baked potato, corned beef cabbage.
But March 14 isn't the only day to celebrate pie. Technically, Jan. 23 is National Pie Day.
Birdie's observes both dates.
"When you have a dessert this good, it's worth celebrating two times a year," Moss said.
Meanwhile, Mike Conklin, a math teacher at University High School in Spokane Valley, makes the day fun for his students too, with pi trivia and activities.
Students draw visual pi puns beyond pie.
Past puns? Pi-daho. Pi-casso. Pi-rate. Pi-ke Place Market. Pi-nocchio. Pi-phone.
For those less visually inclined, he provides creative writing prompts.
Instead of the usual 5-7-5 syllables of a haiku, write a "pi-ku" with a 3-1-4 syllable pattern.
"It's an opportunity for them to flex some creativity they often don't get to flex in their math class," Conklin said.
As an irrational number, pi has an infinite number of decimals.
Last year, Google Cloud announced it calculated 100 trillion digits, setting a new record.
Conklin, who also teaches computer science, said calculating pi is often used as a measurement of supercomputer's computing power.
In the past, he has challenged his students to memorize the digits of pi. The record was set by a freshman who was able to recite 141 digits.
NASA only uses 15 digits for their calculations.
In the real world, pi is used in just about every geometric calculation that involves circles or spheres, Conklin said.
In statistics it shows up in normal distributions or bell curves.
Conklin recalled celebrating with pie on March 13, 2020. It was a day early, but it was also a Friday. What he and the students did not know is that it was the day before the pandemic led school officials to cancel school for the rest of the year.
He has watched the math holiday evolve in popularity in recent years.
"It was always popular among math teachers, but seems to have picked up among the general population," he said.
Another reason to celebrate?
March 14 is Albert Einstein's birthday. He would have been 144.
Local journalism is essential.
Give directly to The Spokesman-Review's Northwest Passages community forums series -- which helps to offset the costs of several reporter and editor positions at the newspaper -- by using the easy options below. Gifts processed in this system are not tax deductible, but are predominately used to help meet the local financial requirements needed to receive national matching-grant funds.
Subscribe now to get breaking news alerts in your email inbox
Get breaking news delivered to your inbox as it happens.
---