News > Spokane
The Collector: Dave Crumley
Thu., March 16, 2023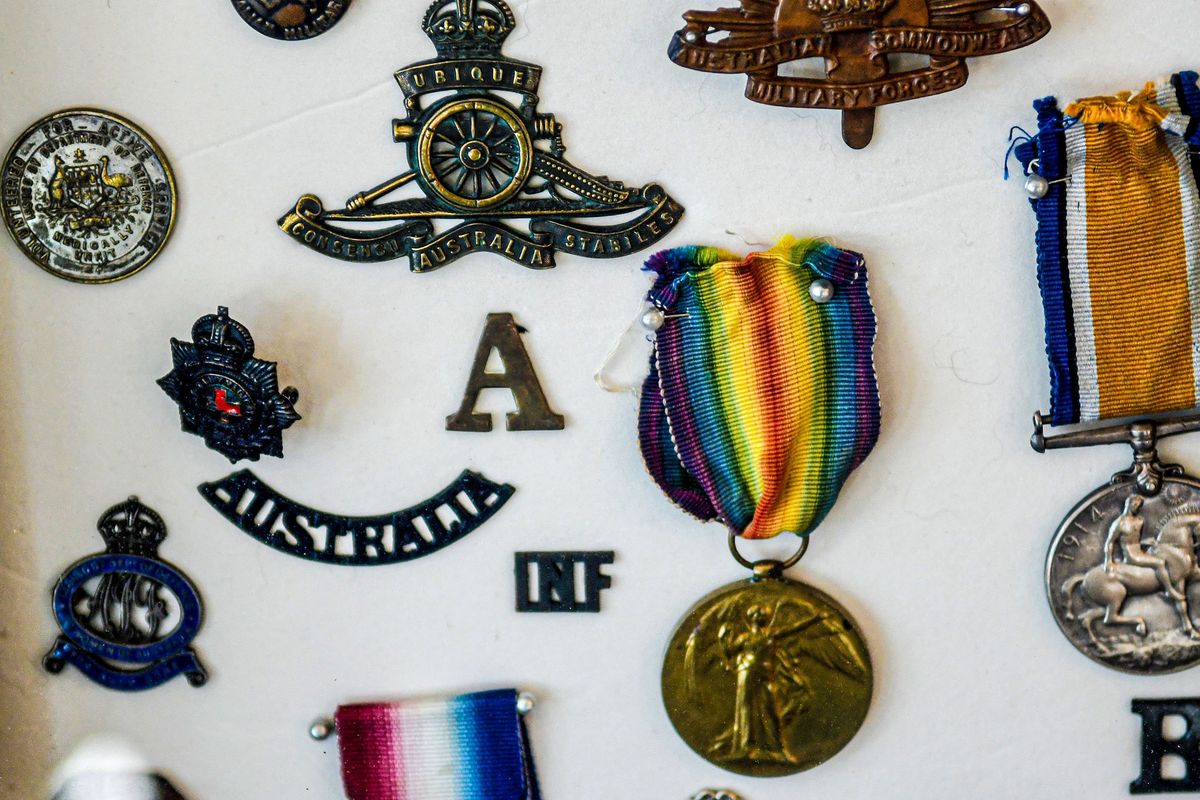 WWI Australian Light Horse Brigade medals and pins owned by Dave Brumley are photographed at his home in Spokane on Tuesday, March 7, 2023 (Kathy Plonka/The Spokesman-Review)
Dave Crumley's mother nurtured his love of history, which quickly sprouted into his collection of military memorabilia which he's refined and narrowed over the years.
His dad was from the Midwest and road trips to Nebraska provided ample educational opportunities.
"My mom was a teacher," Crumley said. "We stopped at all the military forts along the way because I was interested in history and she wanted to encourage that."
His fascination with the Old West and ghost towns gave way to an interest in the Civil War, but it was a pair of unexpected gifts that launched his collection.
"A friend of my parents gave me a pre-WWI Japanese cavalry saber and a WWII Japanese rifle that he'd gotten from his uncle," Crumley said. "Mom was none too pleased."
He was 10 at the time, but she let him keep the items and that's how he learned an important lesson about antiques.
"I thought swords should be shiny," he said. "I grabbed steel wool and sandpaper and buffed the heck out of the saber."
The historic patina disappeared.
"I learned you don't mess with antiques."
Ten-year-olds can't afford to collect such precious bits of history, but Crumley discovered military photographs were well within his allowance range.
"I could pick them up at flea markets and my brother kept an eye out for me."
Eventually, his collection numbered in the tens of thousands, featuring photos from the Franco-Prussian War, to the WWII Normandy landing.
"These were personal photos, not mass-produced – they offered a snapshot in time," he said.
After accumulating thousands of them, he turned his eye toward collecting military swords and sabers.
"But the older I got, the more I realized I couldn't collect everything," Crumley said. "How many swords do I really need?"
He'd also accumulated many other pieces of military history and decided to hone his focus.
"I didn't want to be the guy with 50 helmets, all the same," he said.
A trip to Australia with his wife to celebrate their 20th anniversary sparked his new focus.
"We went to the Australian War Memorial and I picked up my first WWI Australian uniform badge."
He started small, a badge here, an ammunition pouch there, and each addition required much time researching and scouring the internet.
In his South Spokane home, he displayed Australian military badges in shadow boxes next to an Australian WWI flag. Nearby, three mannequins wear WWI uniforms–one Australian infantry, one Australian Light Horse and one U.S. Army "doughboy" uniform.
During the Battle of Hamel on France's Western Front in 1918, U.S. forces fought under the command of one of Australia's most revered military leaders, Gen. Sir John Monash.
Adding to his collection has been challenging. He collects only WWI military items that were made and dated in Australia or British-produced items marked for use by Australian forces.
"It became problematic because it's so rare," Crumley said. "For example, the Australian defense industry didn't have access to a lot of canvas, so they used kangaroo leather. They did away with that by 1915 because the leather didn't do well in the cold European winter."
Still, in addition to uniform pieces, he's managed to gather items like Australian Light Horse spurs made in England but stamped for Australian units, and heavy chain tethers used for their horses.
"The Australian horsed chewed through the leather tethers," he said.
Two leather leggings made in Australia by the Marshall Shoe Company in 1916 rest near a pair of wire cutters. Crumley slid them from their leather pouch. They're stamped H.V. McKay, Australia 1915.
"It was trench warfare. You had to be able to cut through barbed wire," Crumley said.
But his favorite items are three cloth-backed maps. He carefully unfolded one stamped "8th Australian, 5 Oct. 1918, FIELD AMBULANCE."
"It's a live map – it's been written on," he said, pointing to markings denoting a field hospital, an aid station, and a motor pool. "It's from the second battle of the Somme."
He opened another map. On one edge, stamped in red ink are the words "NOTE CHANGE OF COLOUR. Enemy trenches in blue. Organisation in Red."
"It's a trench map – a battle map," he said.
He'd purchased the maps separately and unbeknownst to him they were all from the second battle of the Somme.
Finds like these energize him. Though he'd graduated from WSU with degrees in history and social studies and had planned to become a teacher like his mom, he ended up with a career in banking. His collection keeps his love of history alive.
"I wanted to collect something unique," Crumley said. "I'll bet no one else in the U.S. collects WWI Australian military equipment."
Are you an autograph collector? If you reached out to me regarding your autograph collection, please email me again at dchval@juno.com I've misplaced your contact information.
Local journalism is essential.
Give directly to The Spokesman-Review's Northwest Passages community forums series -- which helps to offset the costs of several reporter and editor positions at the newspaper -- by using the easy options below. Gifts processed in this system are not tax deductible, but are predominately used to help meet the local financial requirements needed to receive national matching-grant funds.
Subscribe now to get breaking news alerts in your email inbox
Get breaking news delivered to your inbox as it happens.
---