News > Business
Coeur d'Alene greenlights massive 2,800-home development that would effectively connect city to Post Falls
March 22, 2023 Updated Wed., March 22, 2023 at 9:47 p.m.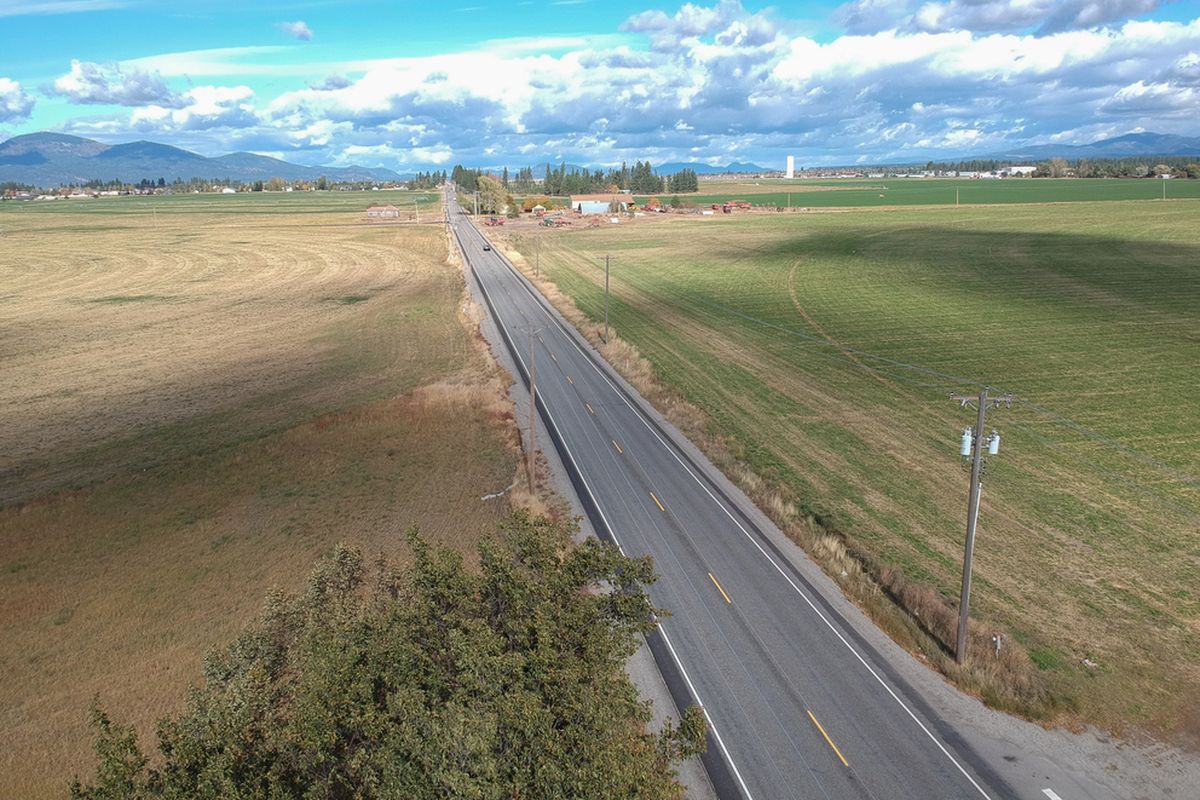 A thousand acres of farm land, some of which is seen in this photo looking north on Huetter Road near Mullan Road, between Coeur d'Alene and Post Falls, may soon to be developed in Kootenai County.
In the early 1990s, Coeur d'Alene city leaders approved a housing development so huge that it forever altered the footprint of the Lake City.
They just did it again.
On Tuesday night, the Coeur d'Alene City Council voted 4-2 to approve a development called Coeur Terre that includes 2,800 homes on about 440 acres north of Interstate 90 and just east of Huetter Road.
"If it weren't for the sheer scope of this, this wouldn't be a blip on the agenda," City Councilman Dan English said. "But of course, it is huge."
For a resort town hemmed in by mountains to the east, the iconic namesake lake to the south and Hayden to the north, the flat agricultural land of the Rathdrum Prairie to the west always offered developers the only room for major expansion.
Bordering those fields that once produced the blue grass seeds used in lawns and golf courses all over the world, developers built Coeur d'Alene Place. At the time, the sprawling housing development formed the city's northwest border.
English, the former Kootenai county clerk, now lives in the development, which has taken decades to build out. He served an earlier stint on the City Council, from 1992 to 1994, when the city approved Coeur d'Alene Place.
That project faced some of the same arguments against it that neighbors voiced against Coeur Terre on Tuesday night.
"I think most people would say (Coeur d'Alene Place) turned out pretty well. It did what it was supposed to. The green belts, the parks and the bike trails are terrific," English said. "That's what this is going to be over time."
The owners, Kootenai County Land Company LLC, have promised to provide land for two schools, 18 acres of land for new city parks and a new well site for the city water department. Some 5% of the homes will be classified as "workforce housing," which are homes that are intended to be affordable to working-class buyers.
As part of the 4-2 vote, the City Council voted to annex the 440 acres and to change the zone of the land from agricultural to one that would allow homes, English said.
English said one of the selling points was that the owners of Coeur Terre consented to a development agreement that limited how many homes it could build.
"They agreed they won't put more than 2,800 units on it even though they would be allowed a little more than 5,000" based on the new zone, he said. "The extra space is going to green belts and parks."
Road war
Council members Woody McEvers, Amy Evans and Kiki Miller joined English in voting to approve the project, English said. Council members Dan Gookin and Christie Wood both voted no.
Gookin and Wood sided with those residents who spoke against the project Tuesday night. Most of them live in the nearby Indian Meadows subdivision. Access roads from the new Coeur Terre development eventually will link to existing streets that flow through Indian Meadows.
Gookin said during the meeting that two-lane Huetter Road isn't big enough to handle the added traffic.
"This is just too much," Gookin said of Coeur Terre. "What you are talking about is another city. I think the project adversely affects the surrounding neighborhood."
Wood agreed, saying she respected the plan but wanted more answers for neighbors.
"I really appreciate the trails, the parks and the future planning for schools. We all ask for that all the time," she said. "I also appreciate the affordable housing. You are the first ones who are willing to do that."
But she couldn't get past the traffic implications.
"I want to see this project go through," Wood said. "I just cannot bring myself to impact a sitting neighborhood. It would decimate it. I want to look at other avenues for traffic."
English said he understood the concerns of Wood, Gookin and existing residents. However, he noted the developer proposed several potential solutions.
"They presented some concepts of how they would add traffic-calming things," he said. "If and when they put streets through existing neighborhoods, they are configuring them so emergency vehicles can get through but they will not be a convenient route for commuters."
Other future road improvements should help, said Brad Marshall, senior project manager for JUB Engineers, which is helping design Coeur Terre.
He noted the Idaho Transportation Department announced last June that it is studying an interchange from Interstate 90 that would use an upgraded Huetter Road to route northbound drivers away from the already congested U.S. Highway 95 and state Route 41. The new bypass using Huetter would tie back into Highway 95 north of Hayden.
"This is a slow build," Marshall said of Coeur Terre. "It's very similar to Coeur d'Alene Place, which has taken 30 years to build out. We are excited to meet the housing needs of our community."
The project also meets another milestone: Huetter Road is the dividing line between what's known as the area-of-city impact between Coeur d'Alene and Post Falls. That means that the two cities could eventually grow together.
Marshall said Kootenai County Land Company owns another 600 acres on the Post Falls side of Huetter Road. He declined to speculate about future development plans to the west.
English pointed out city services, including sewer, can be extended to Coeur Terre, but he doesn't think Post Falls can yet extend sewer service to the property just west of Huetter Road.
He noted that for each phase of expansion, the developers will meet with the city to get approvals for extensions of services.
"For me, the real bottom line is private property rights," English said. "I respect those in the neighborhood who want to keep it the same way. But on the other hand, the owners of the development have done everything the city has required for annexation.
"If private property rights and our ordinances mean anything, if someone follows all that, you have to have a real reason to turn it down."
Local journalism is essential.
Give directly to The Spokesman-Review's Northwest Passages community forums series -- which helps to offset the costs of several reporter and editor positions at the newspaper -- by using the easy options below. Gifts processed in this system are not tax deductible, but are predominately used to help meet the local financial requirements needed to receive national matching-grant funds.
Subscribe now to get breaking news alerts in your email inbox
Get breaking news delivered to your inbox as it happens.
---