Mark Hamill, as Luke Skywalker, voices air raid alerts in Ukraine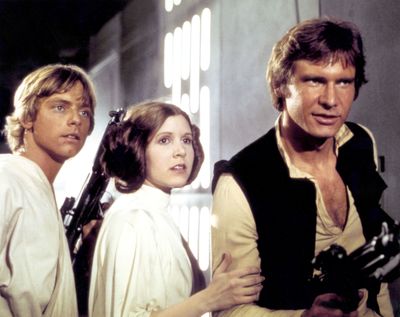 Mark Hamill, best known as Luke Skywalker from the Star Wars movies, has lent his famous voice to a popular Ukrainian air raid alert app, joining a growing list of celebrities to support the embattled nation.
"Attention. Air raid alert," Hamill's voice booms when the country's defense system detects a threat of aerial strikes by Russia. "Proceed to the nearest shelter."
To those who might not heed the warning immediately, Hamill goes on: "Don't be careless. Your overconfidence is your weakness," a nod to a Skywalker line from "Return of the Jedi."
Once the danger has passed, Hamill returns to announce the alert is over, adding: "May the force be with you."
The app is available for users on Apple and Android devices.
Hamill is one of the many Hollywood celebrities to contribute to aid and humanitarian efforts in Ukraine. Last year, he was named ambassador for an initiative set up by the Ukrainian armed forces to raise money for drones to combat Russian aggression.
The "Dronation" campaign (tagline: "These are the drones you're looking for") helped fund 1,400 drones in three months, according to the campaign website.
The good-versus-evil theme of Star Wars, Hamill told the Associated Press, is similar to the battle Ukraine is fighting for its future: "The Ukrainian people rallying to the cause and responding so heroically … it's impossible not to be inspired by how they've weathered this storm," he said.
For some in Ukraine, Hamill's voice is a balm during difficult moments. One fan wrote on Twitter that his voice "cheers me up." Another said, "It's such a little thing, but it keeps our spirits up and helps handle stress from almost daily air raid sirens."
Air raid alarms, such as the one voiced by Hamill, have sounded more than 19,000 times in one year of the war, the Associated Press said.
In previous interviews regarding his support for Ukraine, Hamill has sought to distinguish his movies from the real-life situation in Ukraine.
"One is really a fairy tale for children, originally that's what Star Wars was. And the reality, the stark reality of what's going on in Ukraine, is harrowing," he told Politico in February.
Video: "Star Wars" actor Mark Hamill lent his voice to "Air Alert," an app linked to Ukraine's air defense system that warns residents of incoming raids.
---