News > Education
WSU pediatric residency program launches at Sacred Heart Children's Hospital
Wed., March 29, 2023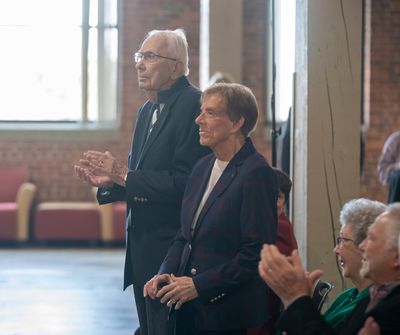 Regional doctors began in the 1980s with a quest to train pediatricians in Spokane. Now, Eastern Washington's first pediatric medical residency program is becoming a reality.
Providence Health Care and the Washington State University Elson S. Floyd College of Medicine announced a partnership Tuesday that launches a pediatric residency program at Sacred Heart Children's Hospital.
The program is expected to improve quality of care and access.
An inaugural group of six residents will begin training July 1, 2024. It's a three-year residency, so for each academic year, another six residents will be admitted for a total of 18 when all three cohorts are filled.
"It's a whole year for interviews and a match process, so actually this summer we'll start our interview process, then find out in March of '24 who the students will be," said Dr. Chris Rocholl, a Sacred Heart pediatric emergency medicine physician and director of the residency program.
The program already is accredited, Rocholl said. Medical school graduates across the U.S. can apply, but leaders hope it attracts a number of state residents.
Training will be at the Sacred Heart Children's Hospital, but residents also will get outpatient experience at pediatric clinics. The state has two other pediatric residency programs – at Seattle Children's and one for military members at the Madigan Army Medical Center on Joint Base Lewis-McChord, Rocholl said.
WSU President Kirk Schulz and Daryll DeWald, WSU Health Sciences executive vice president, said the new residency program's launch was made possible by funding from partners including Community Cancer Fund, Premera Blue Cross, Providence Inland Northwest Foundation and Children's Miracle Network Hospitals. Premera's support is a continuation of a $5.5 million grant awarded to the WSU medical college in 2019, to be used in part to grow its medical residency programs.
Also known as graduate medical education, a residency is three to seven years of training following graduation from a medical school to prepare physicians for independent practice within a specialized field of medicine.
"Nationwide, as health care demands continue to increase, residency training will help grow a pipeline of physicians committed to ensuring care for our state's rural and underserved communities and beyond," Schulz said.
Costs to start a residency program can vary, but it generally costs about $2 million to launch one, said Christina Verheul, WSU college of medicine spokeswoman.
It's most expensive in the first three years, before the program begins having residents and receiving some support from the Centers for Medicare and Medicaid Services.
Once established, the cost of the residency program is about $200,000 per resident. Smaller programs are often higher because fewer residents absorb the overhead costs.
"Our donor partners are helping us cover these significant startup costs," Verheul said.
This is the third residency program started by the WSU medical college. A family medicine residency program launched this year and will have three residents at Pullman Regional Hospital starting in July. WSU also has an internal medicine program in Everett that began three years ago. It has 28 residents, but by summer, that number will grow to 40.
The university's graduate medical education trainees receive a salary ranging from $66,000 to $70,000, based on the year of training for the 2023-24 academic year.
Spokane has other medical resident training programs at the Spokane Teaching Health Clinic and at Providence Sacred Heart facilities. Family Medicine Residency Spokane, STHC-sponsored, has a three-year family medicine program that started more than 50 years ago. It has about 36 residents a year.
The teaching clinic also has an internal medicine residency that attracts about 30 residents a year. Another 18 members at the clinic are one-year transition residents.
Independently, Spokane has Providence hospital-sponsored programs that include a psychiatry residency and one in physical medicine and rehabilitation.
Pediatricians can be recruited to come to Spokane, but Rocholl said having pediatric residents here means they learn more about the area's health care resources. And some will be the specialists tapped in the future.
"There are lots of providers who see kids, but I think pediatricians are the subspecialists that other people can turn to and use as a resource," Rocholl said.
WSU pediatric residency aims to have a rural footprint eventually.
"I think we first need to get established within the city of Spokane itself," Rocholl added. "Once we get the program up and going, a big part of the curriculum is community pediatrics and child advocacy, so we're working with partners like CHAS and we'd like to work with tribal health communities and native clinics to try to get residents out that way.
"The challenge is that residents need to be trained. They can't just go into a role or rotation if there is no one there to train them. The goal is as we open up experiences, and as residents are staying in the Northwest, then it will be amplified."
About 41% of new physicians practice in Washington if they attended medical school here, according to the Association of American Medical Colleges. That jumps to 70% if residencies are in-state.
Other than the two programs on the other side of the state, medical students have to go to Salt Lake City to find the next-closest pediatric medical residency program, DeWald said.
Rocholl said pediatrician training has widened to include mental health, developmental-behavioral pediatrics, child advocacy and adolescent medicine, and knowledge of childhood diseases and illnesses. The WSU Spokane residents will get this comprehensive training, he said.
WSU leaders also recognized Dr. Ken Kapstafer, a retired pediatrician in the audience. He was among physicians who pressed for a Spokane pediatric residency decades ago.
Kapstafer, who started his practice in 1966, said the needs and size of the region spurred the group of physicians to push for a pediatric residency.
"But the major thing all the time was money," he said. "We never had a source to put the money together. But there also never were enough of us then, until we started getting all these pediatric subspecialists. Then, I got older and the younger people took over."
Washington state has 168 graduate medical education programs. Of those, 78 are specialty residencies and 90 are subspecialty fellowship training programs. Most, 158, are west of the Cascades; 10 are on the East Side.
Schulz said that WSU wants to create hundreds more residency positions in the next 12 years.
Local journalism is essential.
Give directly to The Spokesman-Review's Northwest Passages community forums series -- which helps to offset the costs of several reporter and editor positions at the newspaper -- by using the easy options below. Gifts processed in this system are not tax deductible, but are predominately used to help meet the local financial requirements needed to receive national matching-grant funds.
Subscribe now to get breaking news alerts in your email inbox
Get breaking news delivered to your inbox as it happens.
---