News > Spokane
Rather patch a hole in your pants than throw them away? New event aims to keep your clothes from the landfill
Fri., May 19, 2023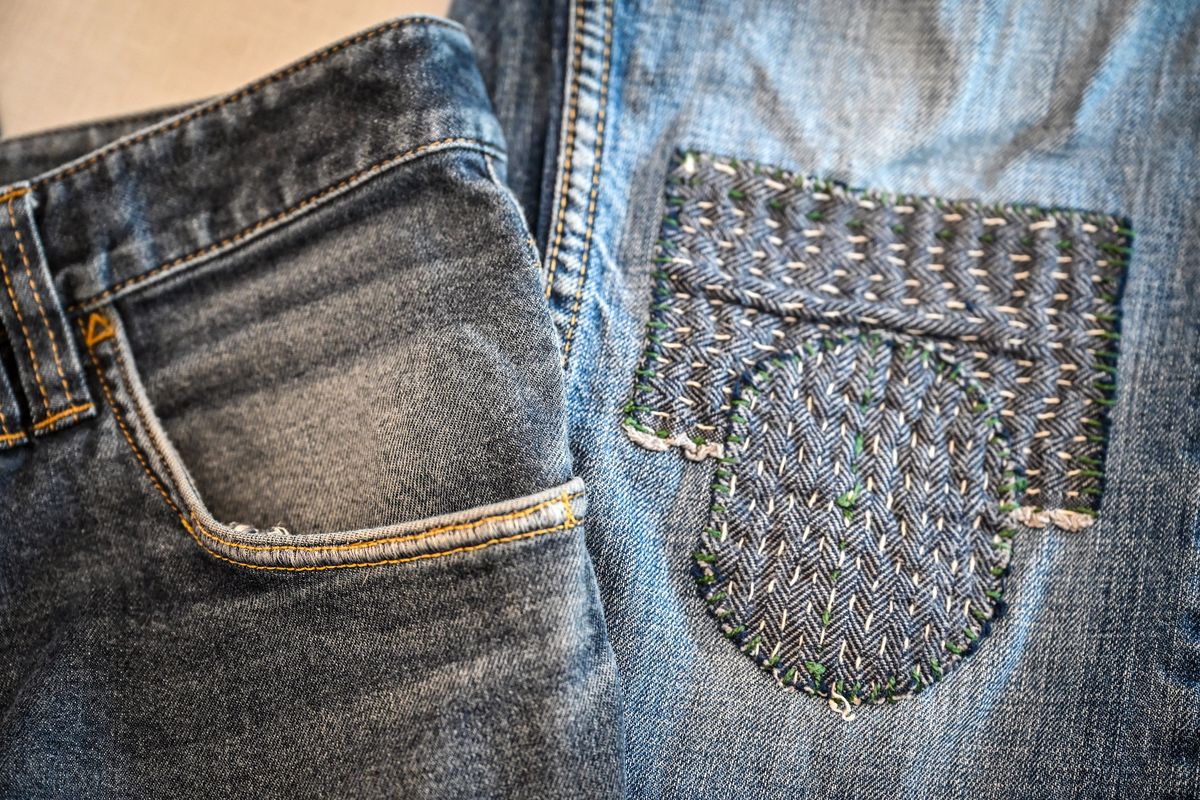 New pocket stitching and a patch to cover a hole are the type of free repairs the Mend-it Cafe will offer on Saturday at the Shadle Park Library. (DAN PELLE/THE SPOKESMAN-REVIEW)Buy a print of this photo
It's not unusual for those without sewing skills to throw out a favorite shirt because it lost a button or a pair of pants with a split seam.
But two Spokane nonprofits, Spokane Zero Waste and Art Salvage, are working to lessen the amount of textile waste heading to landfills or shipped overseas. In decades past, it was common to repair clothing and appliances to extend their life, Spokane Zero Waste Executive Director Elyse Hochstadt said.
"Things were made to repair," she said. "Things were made to mend. Now things are meant to be disposable. We're working against that."
The organizations are hosting an event Saturday where several skilled sewers and crafters will repair and mend clothes so they can remain usable. The repairs will be done for no charge, and people also can learn basic mending skills so they can do their own repairs in the future. The mending will go from 11 a.m. to 2 p.m. at the Shadle Park Library.
The current system that encourages disposal instead of repair generates millions of tons of waste and is expensive, Hochstadt said.
"We're offering an interruption to that system, taking care of your clothes and extending the life of it," Hochstadt said.
About 92 million pounds of textile waste is generated each year, Hochstadt said. At the Spokane Waste-to-Energy Plant, there are 30,000 pounds of textile waste incinerated every year. Textiles include bedding, pillows, belts and shoes in addition to clothing.
Both organizations teaming up for the Mend-It Café are devoted to reducing waste. Spokane Zero Waste is a nonprofit working toward building waste-free systems in the local community. Art Salvage diverts art supplies and materials from landfills and sells them to artists, crafters and educators.
They are not the only groups in town working to shift the focus from replace to repair. The Spokane Repair Café recently launched on the second Thursday of the month at the Perry Street Market from 3 to 7 p.m. That group repairs furniture, electronics and toys.
Hochstadt said she only recently learned about the Spokane Repair Café, but said it was always her intention to start with textile repair and perhaps branch out into other areas in the future.
"I'm a fiber artist, so this is in my wheelhouse," she said. "Our clothes are something we don't focus on in terms of waste."
Spokane doesn't have a place where people can drop off their old clothes that are no longer usable to be recycled. Old clothes in good condition can be donated to a local thrift store, but there's nothing for clothes that are stained or torn beyond repair, Hochstadt said.
Spokane Zero Waste is exploring the issue of reusing and upcycling unusable clothes , she said. Options could include shredding old clothes and making them into dog bed stuffing, for example.
"This is becoming a very rich territory of exploration," she said. "We will eventually become a collection site, but we're not ready yet."
The idea of focusing on repair and reuse instead of replacement gained popularity in Amsterdam more than a decade ago, Hochstadt said. "We can't take credit for the whole repair economy idea," she said.
The inaugural Mend-It Café is being funded by NextCycle Washington, a project of the Washington State Department of Commerce and private enterprise.
Hochstadt said she hopes to make the event a quarterly one.
She recommends that people show up early Saturday to get a spot in line since there are a limited number of skilled menders available. People should only bring one or two items, she said.
"If we can't get to you this time, we'll get to you next time," she said.
Local journalism is essential.
Give directly to The Spokesman-Review's Northwest Passages community forums series -- which helps to offset the costs of several reporter and editor positions at the newspaper -- by using the easy options below. Gifts processed in this system are not tax deductible, but are predominately used to help meet the local financial requirements needed to receive national matching-grant funds.
Subscribe now to get breaking news alerts in your email inbox
Get breaking news delivered to your inbox as it happens.
---