Badminton World Junior Championships takes a break from competing to celebrating culture at Riverfront Park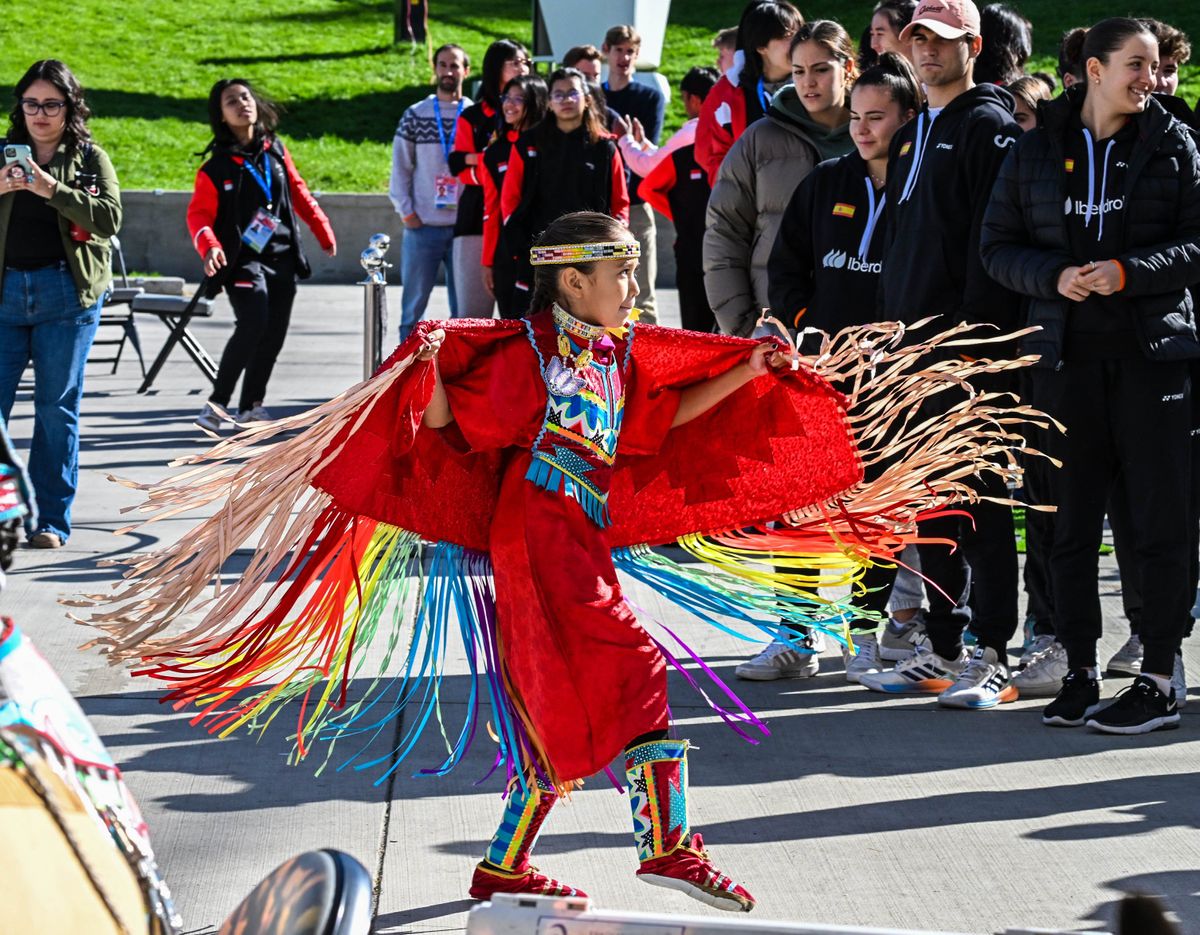 In the Badminton World Junior Championships, dedicated young athletes train with the racket and shuttlecock, putting in a part-time job's worth of practice weekly. Over 400 players, the best of the best age 12-18 from 40 countries have faced off in what has been steep competition so far. Many of them have spent more years than not playing badminton and are hopeful to one day compete for an Olympic medal, but they met their match in cornhole.
"It was difficult for me. I didn't really get it in that much," said 14-year-old Vita Crocombe-Ama, an athlete from the Cook Islands, who dominates on the badminton court, but quickly learned there isn't much skill transfer between the two lawn games.
"I thought it was going to be easier, but I cannot," said Namie Chiara Miyahira Tsukazan, 18, from Peru. "I'm a badminton player, not a cornhole player."
Cornhole is one of a few American cultural pastimes presented to athletes at Sunday's Cultural Day in Riverfront Park. A break from a week of competition, Spokane Sports hosted the day to showcase American culture in the form of Kalispel performances, baseball- and football -themed games, barbecue, tours of Riverfront Park and, of course, cornhole.
"The U.S. is so young, relatively speaking, compared to China or some of these other cultures that have been rooted for millennia," said Cherie Gwinn, senior director of events at Spokane Sports. "Being so young, what can we expose them to something that is native here, what was created here in the U.S. and how can we give them a little taste of what we live on a daily."
The sharp learning curve to cornhole isn't the only thing Spokane residents may take for granted. It's many of the athlete's first time in the states, and so far they have been impressed with the friendly people and scenery in the city.
"It's a lovely place. I love the people. They are so lovely and so kind," Miyahira Tsukazan, of Peru, said. "They always say 'hi' with a smile, and that's really good. It makes me feel like I'm at home, which is really far."
Ghanaian team manager Emmanuel Afedzi echoed the sentiment.
"Where I'm from in Ghana, we have a very friendly people there. People are very approachable here in Spokane, too; everyone wants to say 'hi' to you." Afedzi said. "It's a very positive thing; at least you can still see and feel that there is still humanity in this world."
Afedzi marveled at the proliferation of trees, even in the city. Others noted the roar of the Spokane River running through the park.
"It's all really pretty, all the nature and the river is just really pretty," said Maria Wilkinson, a 17-year-old from Portugal. Attending a Spokane Chiefs hockey game was a highlight from the team's experience.
"It was really violent," 16-year-old Erica Glória said while laughing with teammates Wilkinson and Marta Sousa, 18.
Spokane's fine cuisine was another standout for players. Namely, Red Robin.
Bringing Indigenous flair to the cultural exchange, the Kalispel drum circle reverberated through the U.S. Pavilion. Teams formed a wide circle and quietly observed the traditional Kalispel dancers prance in colorful blurs to the drum. When Cook Island athletes approached the performance, they opted to join the drum circle with the Kalispel performers, who willingly surrendered their mallets.
With Crocombe-Ama keeping the beat, 17-year-old Daniel Akavi began singing a Maori tune, confidently projecting his velvety tenor over the boom of the drum.
"That song is about light, we usually sing these songs at funerals, but that song is sort of like a blessing from the Lord," Akavi said. "It's like the light is shining upon us, so we always remember the Lord is there guiding your journey."
A fitting hymn, considering the athletes' pilgrimage to the states spanned three flights and 26 hours in total with no shower, much to Akavi's dismay.
Te Pa Tupa, 15, didn't miss a beat. She entered the dance circle, swayed her hips and fluttered her arms, in a traditional Cook Island Maori dance while her teammates and Kalispel drummers carried the tune.
"That was embarrassing," said Tupa, burying her face in her hands and laughing after the circle applauded her spontaneous dance.
Though separated by an over 5,400 miles and the Pacific, the Kalispel drumming felt familiar for the Maori athletes.
"We also have a set of drums that combines all our culture together," Tupa said. "It's really similar to what we use in Raro."
---