Then and Now: Developing Riverfront Park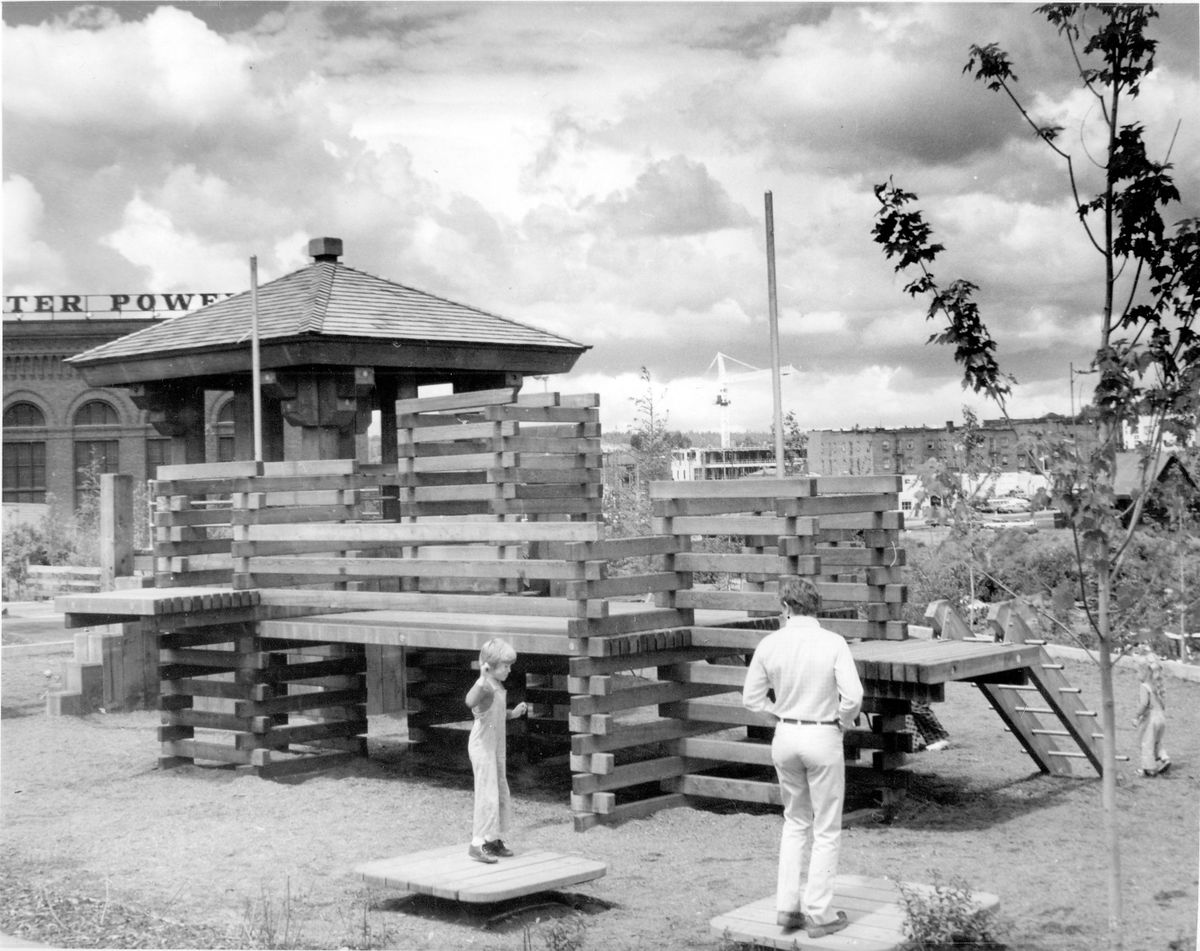 How to turn the grounds of the world's fair, Expo '74, into an urban park wasn't always clear. Although the fair was an overall success, people disagreed on what it should look like in the future.
A few promoters were pitching the idea of turning the park into a permanent international exhibit or an entertainment complex.
In March 1975, Thomas R. Main of the advertising business Profit Plusers Unlimited told the city council that he and others wanted to create a privately operated and profitable park with the theme "somewhere between Disneyland and Tivoli Gardens (an amusement park in Copenhagen, Denmark)." They imagined that the U.S. Pavilion would be reroofed and closed on the sides to create an area for museum exhibits, perhaps borrowed from the Smithsonian Institution. They proposed that the rest of the park be leased to foreign nations to their own exhibits, designed in their national architectural styles. Though the discussions went on for a few years, most council members were against any plan that would necessitate putting a fence around the park and charging citizens to enter.
The refurbished Looff Carrousel was installed in the park in 1975.
A few years after Expo, a smaller building was added to the U.S. Pavilion to house the Spokane Story, an indoor ride featuring audio, video and live actors telling the history of the city in front of theater sets in a 90-minute show. It opened in 1978 and ended a couple years later.
Although the idea of privatizing the entire park eventually died, various paid attractions have been added over the years, including the Ice Palace skating rink, games and miniature golf in the Pavilion, an upgraded IMAX theater, food concessions and various carnival rides.
An oft-proposed idea for the park was some kind of children's museum or science center, perhaps through an agreement with Seattle's Pacific Science Center which often sent touring exhibits to Spokane. After years of negotiations, voters rejected the proposed alliance in 1995. Independently, another group opened the Mobius Spokane children's museum in 2012, but it is housed outside the park.
In 2014, Spokane voters passed a park bond that would pay for new landscaping, new playgrounds, the new ice ribbon and upgraded Skyride, basketball courts, a skate park and a redesigned Pavilion usable for concerts and other ticketed events.
---