With 'Making It So," Patrick Stewart explores a new frontier - writing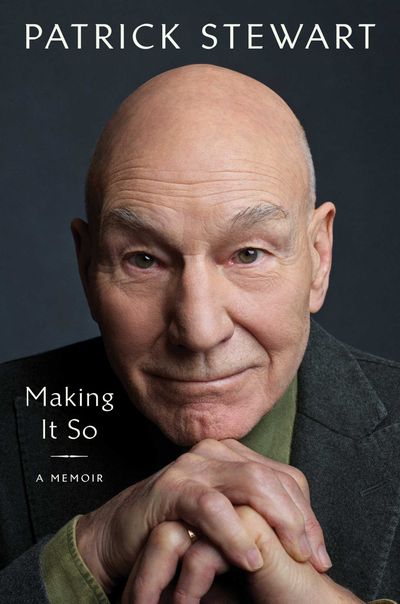 Perhaps the silver lining of going bald at 19, as Sir Patrick Stewart did, is looking ageless. The actor is now in fact 83, teeming with tales that span the decades.
With personable prose and dry wit, Stewart tells almost all in his memoir, "Making It So," a slightly overlong, mostly chronological account of his sprawling life story. He turns most of his attention to the early years, dedicating several hundred pages to his humble upbringing and industrious stage career before moving on to his days starring as Jean-Luc Picard on "Star Trek: The Next Generation" and Charles Xavier in the X-Men franchise.
Stewart's recollections of his childhood home in Yorkshire, England – a modest dwelling, lined with linoleum and heated by a black iron fireplace – are precisely rendered. "Here I must make a confession," Stewart writes. "The future twenty-fourth-century commander of the Enterprise grew up with neither a toilet nor a bathroom in his house."
"Making It So" offers a similarly rich depiction of his mother, a homebody so accommodating that Stewart's birth was delayed because, after going into labor, she didn't want to bother the midwife in the middle of a movie. His father – a World War II veteran who struggled to find purpose and prestige as a civilian – is the more challenging subject, thanks to his distant parenting approach and abhorrent violence against Stewart's mother. As the author muses, "It's taken me decades of analysis, beginning in the late 1980s, to understand and cope with the impact of the violence, fear, shame, and guilt I experienced as a child."
If there were any doubts as to where Stewart's artistic passions truly lie – onstage or on-screen – this memoir heavily implies it's the former. When it comes to "The Next Generation," Stewart provides largely known behind-the-scenes dish and rattles off perfunctory thoughts on the show's highs and lows. Less is said of "X-Men" and its sequels, other than the surface-scratching revelation that director Bryan Singer's behavior bordered on "authoritarian."
Stewart reflects on his stage work, meanwhile, with profound fondness for the craft. Memories of his early theatrical pursuits, in a blue-collar town not exactly known for the arts, astutely explain his empathetic instincts. Stewart also details the incremental successes that helped him escape obscurity, as he navigated through myriad youth theater programs en route to the Bristol Old Vic and the Royal Shakespeare Company.
Along the way, Stewart recalls crossing paths with many a recognizable name. His experience traveling the globe with Vivien Leigh on the 1961-62 Old Vic World Tour makes for a bittersweet portrait of a gracious star taken away too soon. In one entertaining anecdote, Stewart's performance as Oberon in "A Midsummer Night's Dream" is lifted by an assist from a young Ben Kingsley. In another, he recounts that time decades ago when a budding background actor named Malcolm McDowell imploded onstage. A story involving Paul McCartney and an Aston Martin is deliciously outlandish. Stewart shares insightful interactions with Ian McKellen, Kirk Douglas, Ian Holm, Al Gore, Peter Brook, Sting and, most amusingly, David Lynch (who, it turns out, may have cast Stewart in "Dune" by accident).
Also give Stewart credit for having the awareness to lean into his eccentric image. He happily embraces the memes he has inspired, as well as his steadfast belief in the supernatural. In perhaps the book's most endearing passage, the famed dog-lover sweetly swoons over his canine co-star from "The Two Gentlemen of Verona." ("No fussing, no tail-wagging … he was just there, present in the moment, a real Method dog.")
"Making It So" is at its best when Stewart candidly comments on the ways fame and fortune reshaped his perspective – completing, for better or worse, a dramatic rags-to-riches story. Unfortunately, "Making It So" tiptoes around several critical relationships while spinning that yarn. After Stewart's parents loom large through his youth, they all but disappear from the book once he embarks on his acting career. His three marriages – to choreographer Sheila Falconer from 1966 to 1990, producer Wendy Neuss from 2000 to 2003 and musician Sunny Ozell since 2013 – are glazed over, aside from his first divorce amid an affair with "The Next Generation" guest star Jennifer Hetrick. How raising two children fit into his professional pursuits is barely addressed either.
Having conquered film, TV and theater, Stewart may think of the written word as his final frontier. By pushing the introspection further, would he have gone where no memoirist has gone before? Not quite. And either way, "Making It So" remains enjoyable enough. But there's something to be said for facing down an uncomfortable reality and deciding – as Picard would put it – to engage.
Thomas Floyd is a writer and editor for the Washington Post.
---