Commentary: Paul Sewald points out obvious about Mariners: They don't spend, so they don't win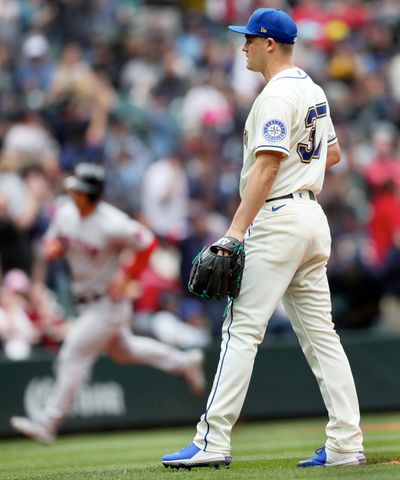 SEATTLE – Twenty teams, some Paul Sewald quotes and a call to action for Mariners ownership.
That's the column in one line, and time will tell if it will ring true.
We'll start with the ballclubs – more specifically, the last 20 teams to reach the LCS in the American and National leagues. Next to each will be where they ranked in MLB in payroll that season.
2019: Yankees (3rd), Cardinals (6th), Nationals (7th), Astros (8th).
2020: Dodgers (1st) Astros (5th), Braves (16th), Rays (28th).
2021: Dodgers (1st), Astros (5th) Red Sox (6th), Braves (10th)
2022: Yankees (3rd), Phillies (4th), Padres (5th), Astros (8th)
2023: Rangers (4th), Phillies (5th), Astros (7th), Diamondbacks (21st).
What does this tell us? Well, it doesn't necessarily tell us that spending guarantees a path to success. After all, the Mets, Yankees and Padres had the three highest payrolls in 2023 and none made the playoffs. And it doesn't tell us that teams must spend big money to contend for a title, as the 2020 Rays and '23 D'backs can attest to (although that Rays' run did come in a COVID-shortened season).
What's undeniable is this: Of the past 20 teams to reach a League Championship Series, 17 have been in the top 10 in payroll, 16 in the top eight and 10 in the top five.
Are you listening, Mariners chairman John Stanton?
You see, in the past five years, the M's have never had a top-10 payroll. They were 11th in 2019, 21st in 2020, 25th in 2021, 21st in 2022 and 18th last season. And in that span, they have made the playoffs once, when they were swept by Houston in the 2022 ALDS.
Mariners president of baseball operations Jerry Dipoto knows it's imprudent to spend for its own sake (he saw massive contracts given to Josh Hamilton and Albert Pujols cripple the Angels when he worked in Anaheim). But at some point, I'd have to think that he's expressed to his chairman that they have to shell out the dough.
Enter Sewald. It was just a few months ago that the Diamondbacks closer was the Mariners closer, but a deal at the trade deadline changed that. The Mariners had a seller's look at the time, holding a 55-51 record while sitting seventh in the wild-card standings. So they shipped Sewald to Arizona for Josh Rojas and Dominic Canzone … and surged into first place before a September descent left them just shy of the playoffs.
That shortcoming caused catcher Cal Raleigh to vent, lamenting the trading of Sewald and the Mariners' inability to beef up their roster via free agency. He would later apologize for the comments, but Sewald – new team and all – defended his former catcher.
"Had I been there, I probably would've echoed the exact same thing," Sewald said on the "Chris Rose Rotation" podcast. "I had my frustrations while I was there about the team we had put together as well. And, frankly, that's why I got traded."
There is debate as to what Sewald meant by "why I got traded." Some think he was implying that Dipoto dealt him in response to his expressing discontent, but I think it was in reference to the team being in sell mode because of its mediocre record.
That's not the important part, though. The important part is what Sewald said next regarding the Rangers.
"When your division rival literally takes you out at your home stadium like that, and all they did was go from last place to two games away from the World Series by spending money, it hits you harder," Sewald said of Texas, which was 15th in payroll last year and fourth this year. "They went from a team that we used to just wax, to taking our spot in two years by spending."
These comments aren't news to Mariners fans, who have been aware of what Sewald said for the past few days. And the frustrations certainly aren't new to those fans, who have watched this spendthrift organization reach the postseason just once in the past 22 years.
But when there is criticism from players within the clubhouse (Raleigh) and players outside the clubhouse (Sewald) – not to mention a palpable sense of resentment from die-hards around the city and beyond, perhaps it will finally strike a chord with ownership.
Spending doesn't always buy you success in this game. Not spending, however, will most often lead to failure.
Now the onus is on the man with the money to spend.
---