Category 3 Hurricane Lee to pose 'dangerous' risk at Florida beaches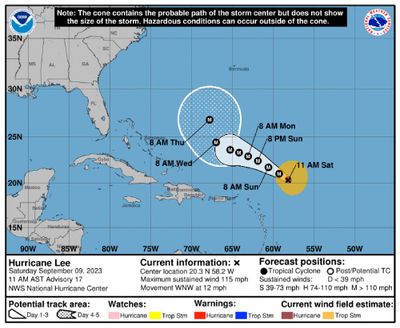 FORT LAUDERDALE, Fla. – Hurricane Lee was forecast to maintain its strength as a Category 3 hurricane Saturday and is expected to strengthen again into a major hurricane by Monday.
Although initially forecast to reach 180 mph winds, Lee is now forecast remain at or below 140 mph for the next several days.
Lee quickly exploded from a Category 1 storm to Category 5 on Thursday, with winds faster than 160 mph, doubling its power in less than 24 hours. As of Saturday afternoon, it was a Category 3 storm with maximum sustained wind speeds of 115 mph.
"Lee seems to be recovering from the effects of the strong southwesterly shear," according to the hurricane center. "The central dense overcast has expanded, with periodic bursts of deep convection and increased lightning activity near the center."
Lee is expected to pass well to the north of the northern Leeward Islands, the Virgin Islands and Puerto Rico into early next week.
Forecasts suggest Lee will begin to curve north and spare landfall in Florida.
"It remains too soon to know what level of impacts, if any, Lee might have along the U.S. East Coast, Atlantic Canada, or Bermuda late next week, particularly since the hurricane is expected to slow down considerably over the southwestern Atlantic," forecasters wrote in the 5 p.m. advisory Saturday.
In its 5 p.m. Saturday update, the hurricane center said the storm is located about 310 miles northeast of the Caribbean's northern Leeward Islands, moving west-northwest at 10 mph. Its hurricane-force winds extend out 40 miles and tropical storm-force winds extend out 185 miles.
The hurricane center warned that "dangerous surf and rip currents are expected to begin along most of the U.S. East Coast beginning Sunday and Monday."
The weather service added that South Florida beaches will experience "deteriorating beach and boating conditions" by the middle of next week with a likely risk of deadly rip currents starting as soon as Monday. As Lee gradually builds swells during the week, there could be some minor beach erosion from rough surf pounding against shore at high tide.
Lee is the fourth Atlantic hurricane of the 2023 season, behind Don, Franklin and Idalia, and the third major hurricane, meaning Category 3 or above. Franklin and Idalia were major hurricanes.
Meanwhile, Tropical Storm Margot is expected to become a hurricane next week. If so, it would become the season's fifth. The storm formed over the eastern tropical Atlantic on Thursday, and is forecast to turn north, not currently a threat to South Florida.
As of 5 p.m. Saturday, the system was about 1,020 miles west-northwest of the Cabo Verde Islands off the coast of Africa, moving northwest at 9 mph with maximum sustained winds near 45 mph. It should continue moving in that direction over the next several days.
Tropical-storm-force winds extend outward up to 45 miles from the center.
The season officially runs from June 1 to Nov. 30.
---