Mt. Spokane marching band and color guard show this year is a metaphor for life The Mt. Spokane High School marching band and color guard's 2023 show draws inspiration from Nimsdai Purja's memoir "Beyond Possible." Also known by its Netflix documentary, "Fourteen Peaks," the book chronicle's Purja's feat of climbing the world's 14 highest mountains in less than seven months.
"We're using that story as a way to discuss overcoming hard times in life," said Mt. Spokane's band teacher, Andrew Savage. "Climbing the mountain is all these difficult things, and when you get to the peak and you see the world, that's you finally overcoming whatever that difficulty was."
The eight-minute show will have a wintry color scheme of blues, grays and whites, a simulated avalanche – communicated through sound design and a white sheet – a dance feature, popular music including Coldplay and Labrinth, and even a 15-foot-tall mountain. Several orange tents featured in the show will represent Everest's base camp.
The group's costumes will be just as in-tune with the show's theme.
"We have our color guard uniform that's very specific to the show, and then all of our silks, the flags, those are all custom to the show as well," said Sy Hovik, Mt. Spokane's band director who has been with the school for seven years.
Even the drum majors will be in specialized gear.
"This year, they're going to look like mountain climbers as they're conducting the show," Savage said.
The school has already set a high bar. Mt. Spokane is one of the highest-ranked marching bands in the state, coming in third place at the statewide Puget Sound Festival of Bands last year.
Though more are still joining, Mt. Spokane's marching band is made up of around 115 students, including a color guard and a front ensemble of about 20 students each.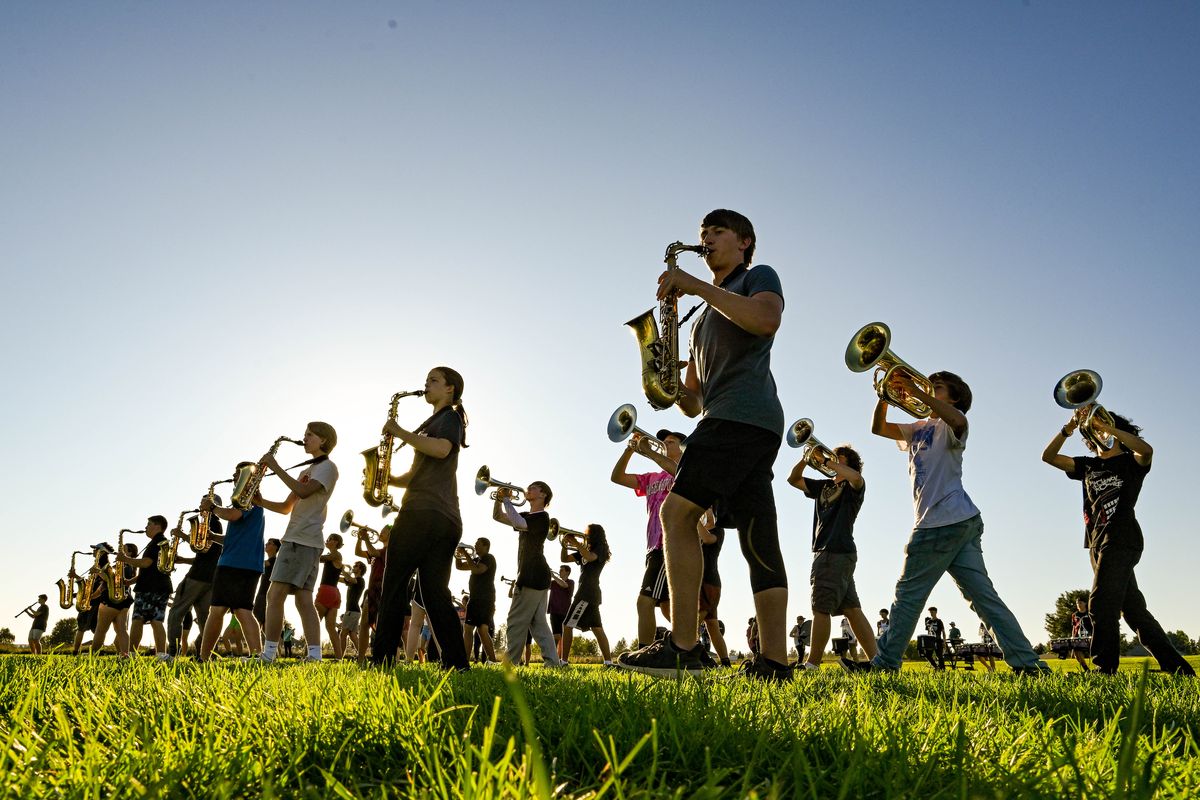 The group's numbers are still recovering from the COVID-19 pandemic. In previous years, the band had up to 135 students.
"But next year, we have a massive incoming class," Hovik said. "We have a freshman class incoming between both of our middle schools of over 100, so next year it's possible you could see us showing up, marching a group of around 150."
Those 115 students put in at least 20 hours a week outside of school to participate in marching band, not to mention the 40 hours weekly the group put in for three weeks this summer during band camp.
"It's a lot of pressure that these kids are under," Hovik said. "The preciseness of what is happening and what they're required to do, it's crazy. They have a judge running around in front of them while they're playing their music, and they're being judged visually and musically."
They are also judged on "how accurate they're playing the music, how well they balance and blend, if visually they match the marching technique, if they're hitting their forms, which is all their coordinates on the field," Savage added.
Each year, the marching band has a series of competitions including in Tri-Cities, Yakima, Pullman and Spokane, and also performs at the school's football games.
The first football game halftime performance is Friday, and the band's first competition is October 7 in the Tri-Cities.
Mt. Spokane Wildcat Marching Band and Color Guard does field marching, not to be confused with parade marching.
"With field marching, instead of marching down the street, they're using the field as like a stage; it's almost like a Broadway production where they're moving left and right, forward, backward, doing all this choreography," Savage said.
Mt. Spokane High School has a professional marching band staff to train its students.
Despite the added flair and excitement, marching band for Mt. Spokane is ultimately about the students.
"Let it be known that the No. 1 priority is being able to hear the contribution from the musicians on the field," Hovik said.
That flair and excitement does, however, cost money. Many high school marching bands spend a lot of time fundraising.
"It takes a lot of commitment, a lot of time," Hovik said "The Mead School District is extremely supportive of marching band and the marching arts, and they see what it does for kids. We're constantly working with our school district and our booster to just take the next steps."
Hovik has a message for indecisive high school students.
"If people are on the fence about doing marching band, they should at least give it a try, because what it can do for you as a person, as a growing person, is so incredible it'll change your life," he said.
Savage agreed.
"It's one of those unique activities where freshmen through senior classes get to know each other and form lifelong friendships," he said. "When the freshmen get to their first performance and realize, this is why I've been working so hard, just seeing that moment when they step off the field after their first performance and seeing all the smiles and they're all high-fiving each other, all the hugs, it's a really special moment to see."
---