Greg Woods: WSU coach Jake Dickert didn't backtrack from his comments on ESPN. He didn't need to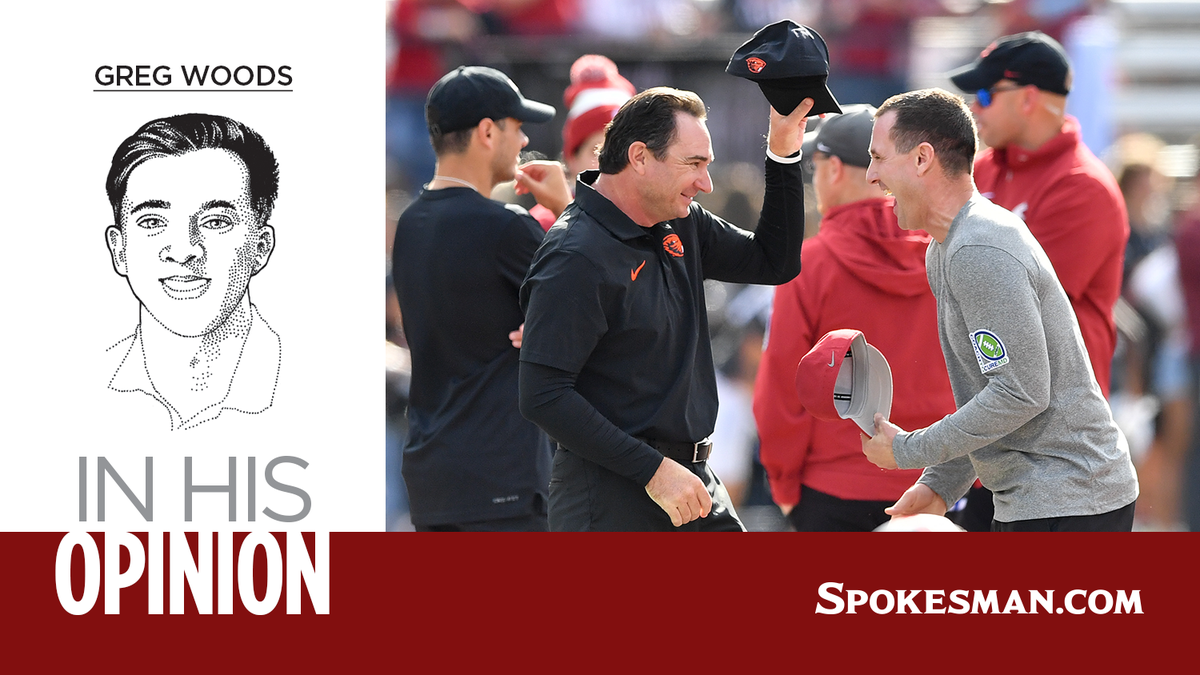 PULLMAN – Approximately zero people felt surprised to learn Jake Dickert called Lee Corso to set the record straight.
The same number probably felt surprised to hear that two days later, in his media availability, Dickert never said anything resembling an apology.
By now, we know the details: After Washington State took down Oregon State over the weekend, Dickert recalled that morning's College GameDay, when host Corso seemed to call the game between the final Pac-12 teams the "Nobody wants us bowl" – or maybe said the "Nobody watches bowl." Dickert heard the latter, which prompted him to unleash a postgame diatribe, criticizing ESPN – and Corso – for their role in dismantling the conference.
So even when Dickert shared the news of their Sunday phone call, relaying that he told Corso he "meant no disrespect" to him or the show, Dickert never said any of these words: sorry, apologize, regret. On Saturday, he said, "It's well-documented what ESPN has done to try to get our league to where it's at," and on Tuesday, he did nothing to retract that statement – because he's right about it.
In that way, few expected Dickert to miss the mark on this one. That's because he didn't.
Let's get one thing straight about Dickert's comments, the ones after the game and the ones during his availability on Tuesday: He was right, and he was right not to apologize. He stuck to his guns. He did not backtrack. Dickert made things right with Corso, because he understood the 88-year-old Corso's scripted comments were not the disease but a symptom, then proceeded to redirect his frustration to those who deserve it most.
That, he made clear on Tuesday, includes a lot of people "mostly out of our control": TV network executives and other college football brass who concluded the Cougars could not draw numbers other schools can.
"The lack of clarity, based on the metrics and the real facts, is where my frustration really comes from," Dickert said.
Well, let's check out some of those metrics.
Most recently, here are the numbers from WSU's win over Wisconsin on Sept. 9: 2.28 million viewers with a 1.3 rating, the eighth-most-watched college football game of that weekend – stacking up well against games in similar time slots, like Texas vs. Alabama (No. 1), Texas A&M vs. Miami (No. 3) and Oregon vs. Texas Tech (No. 7).
On Saturday, when Washington State toppled Oregon State, 1.48 million tuned in, according to Sports Media Watch. That's a lesser chunk, sure, but it topped games between the same teams that will land in other conferences: UCLA/Utah (1.32M) and Cal/Washington (1.16M).
Per a 2022 report from the Athletic, from 2015-2019 and 2021, national broadcasts televised 914 regular-season games that didn't involve USC and UCLA (headed to the Big Ten), or Oklahoma or Texas (headed to the SEC). Here's the list of schools that eclipsed 1 million viewers, a number that TV networks value like gold:
1. Clemson (34 games)
2. Florida State (31 games)
3. Washington (28 games)
4. Oregon (26 games)
5. Miami (22 games)
6. Washington State (21 games)
For the icing on top, throw in one more measure, average TV ratings for schools in the Pac-12 and Big 12 in the same time span:
1. Oregon (1.96 million)
2. Stanford (1.83 million)
3. Washington (1.73 million)
4. Washington State (1.59 million)
5. Colorado (1.49 million)
"The facts say people watch the Cougs," Dickert said after Saturday's game.
That they do. Dickert has been right in so many of these monologues. If there's a better man to lead Washington State through this stage in school history, he must not live on Earth. Dickert has shown bravery in the face of danger, compassion for players when people in suits showed them nothing of the kind.
Here is about where others might chime in and wonder about Pullman and its remote location. It's hard to get to, some say, which might explain why Wisconsin was only the second nonconference Power Five foe to visit Pullman in the past quarter century.
Know which place I've heard people sing the same tune about? Manhattan, Kansas, my hometown. Manhattan's airport is steadily growing, but when most people fly in for Kansas State games, they fly in to Kansas City, Missouri – a 2-hour drive away. That's even farther than the 1½ hours from Spokane to Pullman. While K-State's stadium seats some 17,000 more than Washington State's, if the argument is about remote location, the Cougars are hardly alone in that department.
Plenty of college towns fit that bill. Starkville, Mississippi, home of Mississippi State, isn't exactly near any major metros. Same goes for Iowa City, Iowa, home of the University of Iowa – a shade under 2 hours away from Des Moines. Heck, as an alum of the rival school, I'm not supposed to defend Kansas, but even Lawrence is a good 45-minute drive from Kansas City.
The dynamics of the sports at those schools aren't quite an apples-to-apples comparison to WSU's, but that's all beside the point, which is this: Dickert is the man for this job, and as the face of a program that has received the rawest of deals, he has almost always chosen the right words.
He's been a little cheesy at times, pie-in-the-sky at others, but for Dickert, it's all out of sheer passion for WSU and the Pullman community. On Tuesday, he went on to talk about some of his players, from Cam Ward to Ron Stone Jr. to Brennan Jackson, and he mentioned that some day, he hopes to open his mailbox and see a Christmas card from them and their families.
Maybe lots of college football coaches around the country might say something similar about their players, but Dickert has done that while putting on a brave face for a school that desperately needs it. He hasn't apologized yet. He doesn't need to.
Greg Woods can be reached by email at gregw@spokesman.com.
---