Greg Foster Jr.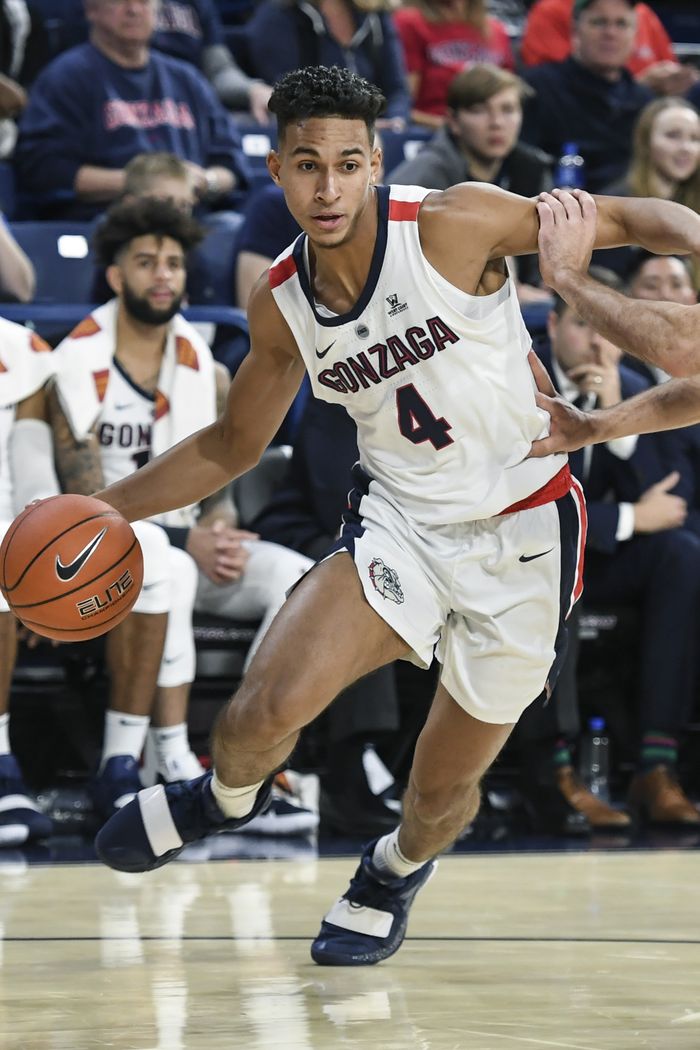 Jersey: 4 Position: G
Height: 6-5 Weight: 195
Hometown: Milwaukee, Wisconsin, United States
Bio: Started prep career in Milwaukee, where father Greg Foster Sr. is an assistant coach with the Milwaukee Bucks. Played senior season at Clark High in Las Vegas. Picked Gonzaga over Saint Mary's. Also visited Brown and UTEP. Foster Sr., a 6-foot-11 center, played 13 NBA seasons.
Fr.

Scouting report:
Pass-first point guard. Has good size and frame to make adjustment easier to physical nature of collegiate game. Preseason and early-season matchups will help determine if he redshirts or is the mix for playing time as a reserve guard. Played all 15 minutes in Kraziness in the Kennel scrimmage. Finished with scrimmage-leading three assists but was 0 of 4 from the field, including 0 of 3 on 3-pointers.
Career Stats
Per Game
Team
G
GS
MPG
PPG
RPG
APG
SPG
BPG
TOPG
PFPG
FG%
3P%
FT%
18-19
Gonz
27
0
4.6
0.7
0.4
0.4
0.1
0.0
0.3
0.4
.280
.143
.500
Career
27
0
4.6
0.7
0.4
0.4
0.1
0.0
0.3
0.4
.280
.143
.500
Totals
Team
G
GS
Min
FGM
FGA
3PM
3PA
FTM
FTA
OR
REB
A
Stl
Blk
TO
PF
Pts
18-19
Gonz
27
0
123
7
25
2
14
3
6
1
11
12
4
1
9
10
19
Career
27
0
123
7
25
2
14
3
6
1
11
12
4
1
9
10
19
Game Logs
| | | | | | | | | | | | | | | | | | |
| --- | --- | --- | --- | --- | --- | --- | --- | --- | --- | --- | --- | --- | --- | --- | --- | --- | --- |
| Date | Opp | Result | Min | FGM | FGA | 3PM | 3PA | FTM | FTA | OR | REB | A | Stl | Blk | TO | PF | Pts |
| 11/6 | IdaSt | W 120-79 | 8 | 0 | 1 | 0 | 0 | 1 | 2 | 1 | 1 | 0 | 1 | 0 | 0 | 1 | 1 |
| 11/10 | TxSo | W 104-67 | 7 | 1 | 1 | 1 | 1 | 0 | 0 | 0 | 0 | 0 | 1 | 0 | 1 | 0 | 3 |
| 11/15 | TexA&M | W 94-71 | 6 | 0 | 0 | 0 | 0 | 0 | 0 | 0 | 0 | 0 | 0 | 0 | 2 | 0 | 0 |
| 11/19 | @Ill | W 84-78 | 0 | 0 | 0 | 0 | 0 | 0 | 0 | 0 | 0 | 0 | 0 | 0 | 0 | 0 | 0 |
| 11/20 | Ari | W 91-74 | 1 | 0 | 0 | 0 | 0 | 0 | 0 | 0 | 0 | 0 | 0 | 0 | 0 | 0 | 0 |
| 11/21 | Duke | W 89-87 | 0 | 0 | 0 | 0 | 0 | 0 | 0 | 0 | 0 | 0 | 0 | 0 | 0 | 0 | 0 |
| 11/26 | NDakSt | W 102-60 | 20 | 1 | 4 | 0 | 2 | 0 | 0 | 0 | 4 | 5 | 0 | 0 | 1 | 1 | 2 |
| 12/1 | @Cre | W 103-92 | 4 | 0 | 0 | 0 | 0 | 0 | 0 | 0 | 0 | 0 | 0 | 0 | 1 | 0 | 0 |
| 12/9 | @Tenn | L 73-76 | 5 | 0 | 0 | 0 | 0 | 0 | 0 | 0 | 1 | 0 | 0 | 0 | 0 | 0 | 0 |
| 12/15 | @UNC | L 90-103 | 4 | 1 | 1 | 0 | 0 | 0 | 0 | 0 | 0 | 0 | 0 | 0 | 1 | 1 | 2 |
| 12/18 | Tx-Ar | W 89-55 | 7 | 1 | 2 | 1 | 2 | 0 | 0 | 0 | 0 | 1 | 0 | 1 | 1 | 2 | 3 |
| 12/21 | Denver | W 101-40 | 10 | 1 | 1 | 0 | 0 | 0 | 0 | 0 | 2 | 2 | 0 | 0 | 1 | 2 | 2 |
| 12/28 | NortAL | W 96-51 | 9 | 1 | 3 | 0 | 1 | 0 | 0 | 0 | 0 | 0 | 0 | 0 | 0 | 2 | 2 |
| 12/31 | CS-Bk | W 89-54 | 4 | 0 | 2 | 0 | 2 | 0 | 0 | 0 | 0 | 1 | 0 | 0 | 0 | 0 | 0 |
| 1/5 | SantaC | W 91-48 | 6 | 0 | 2 | 0 | 2 | 2 | 4 | 0 | 0 | 1 | 0 | 0 | 0 | 1 | 2 |
| 1/10 | Pac | W 67-36 | 4 | 0 | 2 | 0 | 1 | 0 | 0 | 0 | 0 | 0 | 0 | 0 | 1 | 0 | 0 |
| 1/17 | LyMnt | W 73-55 | 1 | 0 | 0 | 0 | 0 | 0 | 0 | 0 | 0 | 0 | 0 | 0 | 0 | 0 | 0 |
| 1/19 | @Por | W 89-66 | 1 | 0 | 1 | 0 | 1 | 0 | 0 | 0 | 1 | 0 | 0 | 0 | 0 | 0 | 0 |
| 1/24 | @SantaC | W 98-39 | 7 | 0 | 1 | 0 | 0 | 0 | 0 | 0 | 0 | 0 | 1 | 0 | 0 | 0 | 0 |
| 1/31 | @BYU | W 93-63 | 2 | 1 | 1 | 0 | 0 | 0 | 0 | 0 | 0 | 0 | 0 | 0 | 0 | 0 | 2 |
| 2/7 | SanFr | W 92-62 | 3 | 0 | 0 | 0 | 0 | 0 | 0 | 0 | 1 | 0 | 0 | 0 | 0 | 0 | 0 |
| 2/9 | StMry | W 94-46 | 6 | 0 | 1 | 0 | 0 | 0 | 0 | 0 | 0 | 0 | 0 | 0 | 0 | 0 | 0 |
| 2/21 | Pepper | W 92-64 | 3 | 0 | 1 | 0 | 1 | 0 | 0 | 0 | 1 | 0 | 0 | 0 | 0 | 0 | 0 |
| 2/23 | BYU | W 102-68 | 2 | 0 | 1 | 0 | 1 | 0 | 0 | 0 | 0 | 1 | 1 | 0 | 0 | 0 | 0 |
| 2/28 | @Pac | W 86-66 | 1 | 0 | 0 | 0 | 0 | 0 | 0 | 0 | 0 | 0 | 0 | 0 | 0 | 0 | 0 |
| 3/2 | @StMry | W 69-55 | 0 | 0 | 0 | 0 | 0 | 0 | 0 | 0 | 0 | 0 | 0 | 0 | 0 | 0 | 0 |
| 3/11 | Pepper | W 100-74 | 2 | 0 | 0 | 0 | 0 | 0 | 0 | 0 | 0 | 1 | 0 | 0 | 0 | 0 | 0 |