Jack Beach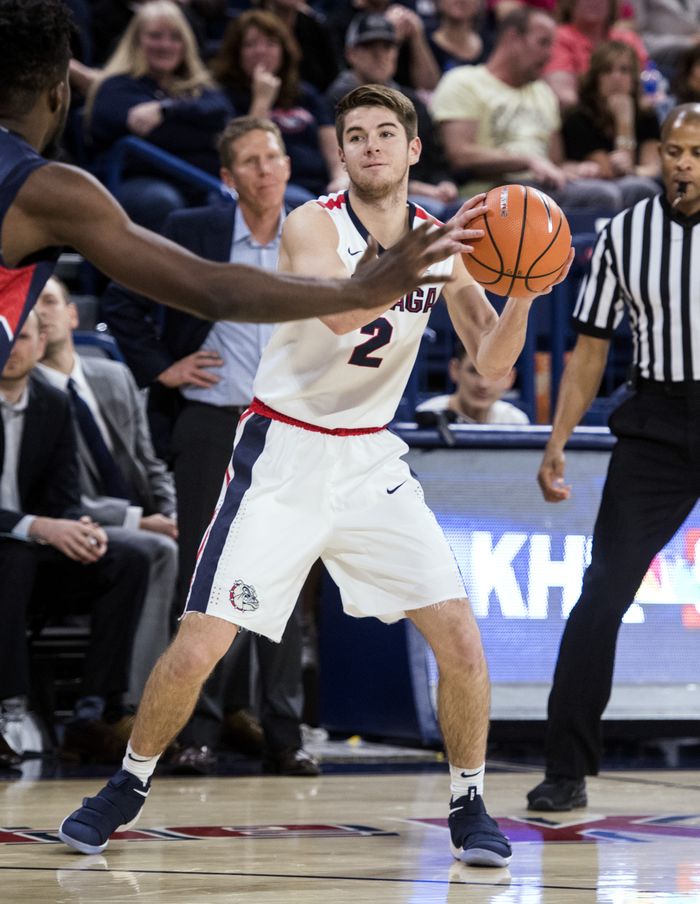 Jersey: 2 Position: G
Age: 26 Height: 6-3 Weight: 180
Hometown: San Diego, California, United States
Birthdate: Jan. 28, 1997
Bio: Fourth season in GU's program. Averaged 12.1 points and 4.3 rebounds as a senior at Torrey Pines High in San Diego. Team finished 31-4 and was unbeaten in league play. Made 60 3-pointers as a senior and 130 in his career. Named to San Diego Section All-Academic Team. Father played baseball at Gonzaga.
Jr

Scouting report:
Walk-on guard adds depth at the guard position. Went scoreless in 6 minutes of playing time in Kraziness in the Kennel scrimmage.
So

Scouting report:
Played 39 minutes in 15 game appearances. Scored season-high two points with a pair of free throws against Portland. Collected four rebounds, three steals and two assists.
So.

Scouting report:
Redshirted.
Fr.

Scouting report:
Appeared in 13 games in 2016. Made collegiate debut against Northern Arizona in the season opener. Scored first points against Utah in the second round of the NCAA tournament.
Career Stats
Per Game
Team
G
GS
MPG
PPG
RPG
APG
SPG
BPG
TOPG
PFPG
FG%
3P%
FT%
15-16
Gonz
13
0
1.5
0.2
0.2
0.1
0.1
0.0
0.0
0.1
.250
.000
-
17-18
Gonz
15
0
2.6
0.1
0.3
0.1
0.2
0.0
0.0
0.2
.000
.000
.500
18-19
Gonz
17
1
2.8
0.7
0.2
0.1
0.0
0.0
0.0
0.2
.444
.444
-
Career
45
1
2.4
0.4
0.2
0.1
0.1
0.0
0.0
0.2
.227
.267
.500
Totals
Team
G
GS
Min
FGM
FGA
3PM
3PA
FTM
FTA
OR
REB
A
Stl
Blk
TO
PF
Pts
15-16
Gonz
13
0
20
1
4
0
2
0
0
1
2
1
1
0
0
1
2
17-18
Gonz
15
0
39
0
9
0
4
2
4
1
4
2
3
0
0
3
2
18-19
Gonz
17
1
47
4
9
4
9
0
0
1
4
2
0
0
0
4
12
Career
45
1
106
5
22
4
15
2
4
3
10
5
4
0
0
8
16
Game Logs
| | | | | | | | | | | | | | | | | | |
| --- | --- | --- | --- | --- | --- | --- | --- | --- | --- | --- | --- | --- | --- | --- | --- | --- | --- |
| Date | Opp | Result | Min | FGM | FGA | 3PM | 3PA | FTM | FTA | OR | REB | A | Stl | Blk | TO | PF | Pts |
| 11/6 | IdaSt | W 120-79 | 4 | 0 | 0 | 0 | 0 | 0 | 0 | 0 | 0 | 0 | 0 | 0 | 0 | 0 | 0 |
| 11/10 | TxSo | W 104-67 | 1 | 0 | 0 | 0 | 0 | 0 | 0 | 0 | 0 | 0 | 0 | 0 | 0 | 0 | 0 |
| 11/15 | TexA&M | W 94-71 | 1 | 0 | 0 | 0 | 0 | 0 | 0 | 0 | 0 | 0 | 0 | 0 | 0 | 0 | 0 |
| 11/26 | NDakSt | W 102-60 | 7 | 1 | 1 | 1 | 1 | 0 | 0 | 1 | 1 | 0 | 0 | 0 | 0 | 0 | 3 |
| 12/18 | Tx-Ar | W 89-55 | 2 | 0 | 0 | 0 | 0 | 0 | 0 | 0 | 1 | 0 | 0 | 0 | 0 | 0 | 0 |
| 12/21 | Denver | W 101-40 | 6 | 1 | 2 | 1 | 2 | 0 | 0 | 0 | 1 | 2 | 0 | 0 | 0 | 0 | 3 |
| 12/28 | NortAL | W 96-51 | 5 | 1 | 2 | 1 | 2 | 0 | 0 | 0 | 0 | 0 | 0 | 0 | 0 | 0 | 3 |
| 12/31 | CS-Bk | W 89-54 | 3 | 0 | 0 | 0 | 0 | 0 | 0 | 0 | 0 | 0 | 0 | 0 | 0 | 1 | 0 |
| 1/5 | SantaC | W 91-48 | 3 | 1 | 1 | 1 | 1 | 0 | 0 | 0 | 0 | 0 | 0 | 0 | 0 | 1 | 3 |
| 1/10 | Pac | W 67-36 | 2 | 0 | 1 | 0 | 1 | 0 | 0 | 0 | 0 | 0 | 0 | 0 | 0 | 0 | 0 |
| 1/19 | @Por | W 89-66 | 1 | 0 | 0 | 0 | 0 | 0 | 0 | 0 | 1 | 0 | 0 | 0 | 0 | 0 | 0 |
| 1/24 | @SantaC | W 98-39 | 2 | 0 | 0 | 0 | 0 | 0 | 0 | 0 | 0 | 0 | 0 | 0 | 0 | 1 | 0 |
| 2/7 | SanFr | W 92-62 | 2 | 0 | 0 | 0 | 0 | 0 | 0 | 0 | 0 | 0 | 0 | 0 | 0 | 0 | 0 |
| 2/9 | StMry | W 94-46 | 3 | 0 | 1 | 0 | 1 | 0 | 0 | 0 | 0 | 0 | 0 | 0 | 0 | 1 | 0 |
| 2/21 | Pepper | W 92-64 | 3 | 0 | 1 | 0 | 1 | 0 | 0 | 0 | 0 | 0 | 0 | 0 | 0 | 0 | 0 |
| 2/23 | BYU | W 102-68 | 2 | 0 | 0 | 0 | 0 | 0 | 0 | 0 | 0 | 0 | 0 | 0 | 0 | 0 | 0 |
| 3/11 | Pepper | W 100-74 | 0 | 0 | 0 | 0 | 0 | 0 | 0 | 0 | 0 | 0 | 0 | 0 | 0 | 0 | 0 |