Jeremy Jones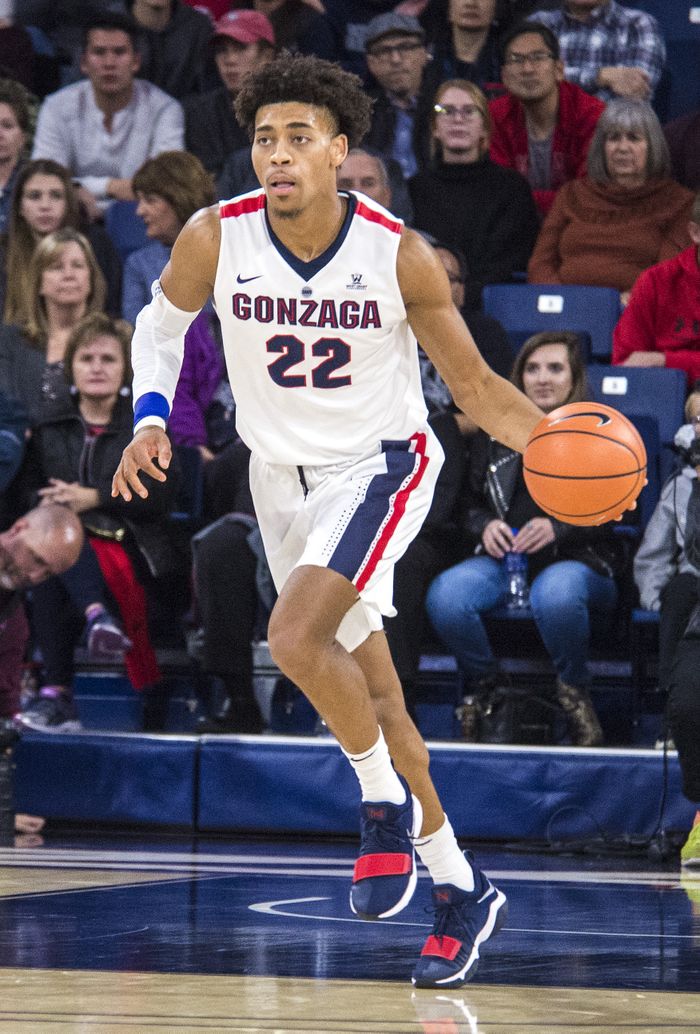 Jersey: 22 Position: F
Age: 26 Height: 6-7 Weight: 213
Hometown: San Antonio, Texas, United States
Birthdate: June 11, 1996
Bio: Transferred to GU after playing football and basketball at Rice. Averaged 2.8 rebounds and 2.2 points on Rice's basketball squad. Redshirted as a quarterback on football team. Two-sport standout at East Central High in San Antonio. Averaged 9.9 points, 6.1 rebounds as a senior. Threw for 1,264 yards and 10 touchdowns in football, despite missing four games due to injury. Father Michael played football at Houston. Brother Michael Thompson played football at Sam Houston State.
Sr

Scouting report:
Rice transfer adds experience, versatility and athleticism to GU's frontcourt and wing positions. Solid defender capable of guarding multiple positions. Utilizes 6-7 frame and athleticism well when stationed at the front of full-court press. Five points and three steals in Kraziness in the Kennel scrimmage. Fourth year in program with 60 career game appearances.
Jr

Scouting report:
Played in 36 games and logged 234 minutes. Shot 57.6 percent from the floor. Averaged 1.7 points and 1.3 rebounds. Scored career-high 11 points and snagged season-high five rebounds versus Santa Clara. Tallied seven points in regular-season win over Ohio State. Contributed three rebounds and two steals versus Loyola Marymount. Sidelined during preseason with right wrist/forearm injury.
So

Scouting report:
Played 88 minutes in 24 games. Sidelined during the preseason and early portion of season with a high ankle sprain. Averaged 1.1 rebounds. Scored season-high four points against San Francisco.
So.

Scouting report:
Redshirted after transferring from Rice.
Career Stats
Per Game
Team
G
GS
MPG
PPG
RPG
APG
SPG
BPG
TOPG
PFPG
FG%
3P%
FT%
14-15
Rice
24
2
14.4
2.2
2.8
0.3
0.9
0.4
0.7
2.3
.500
.333
.424
16-17
Gonz
24
0
3.7
0.6
1.1
0.3
0.2
0.1
0.2
0.3
.375
.000
.600
17-18
Gonz
36
0
6.5
1.7
1.3
0.2
0.3
0.2
0.3
0.8
.576
.286
.677
18-19
Gonz
32
1
14.7
3.5
3.4
0.9
0.5
0.2
0.4
1.3
.625
.500
.750
Career
116
3
9.8
2.1
2.1
0.4
0.5
0.2
0.4
1.2
.552
.389
.624
Totals
Team
G
GS
Min
FGM
FGA
3PM
3PA
FTM
FTA
OR
REB
A
Stl
Blk
TO
PF
Pts
14-15
Rice
24
2
346
19
38
1
3
14
33
15
67
7
21
10
16
54
53
16-17
Gonz
24
0
88
6
16
0
4
3
5
8
26
6
5
3
5
7
15
17-18
Gonz
36
0
234
19
33
2
7
21
31
11
45
8
10
6
10
30
61
18-19
Gonz
32
1
471
35
56
11
22
30
40
20
109
30
17
5
14
43
111
Career
116
3
1139
79
143
14
36
68
109
54
247
51
53
24
45
134
240
Game Logs
| | | | | | | | | | | | | | | | | | |
| --- | --- | --- | --- | --- | --- | --- | --- | --- | --- | --- | --- | --- | --- | --- | --- | --- | --- |
| Date | Opp | Result | Min | FGM | FGA | 3PM | 3PA | FTM | FTA | OR | REB | A | Stl | Blk | TO | PF | Pts |
| 11/6 | IdaSt | W 120-79 | 13 | 1 | 1 | 0 | 0 | 0 | 2 | 1 | 1 | 5 | 0 | 0 | 0 | 0 | 2 |
| 11/10 | TxSo | W 104-67 | 14 | 1 | 1 | 1 | 1 | 4 | 4 | 0 | 5 | 0 | 0 | 0 | 0 | 1 | 7 |
| 11/15 | TexA&M | W 94-71 | 8 | 0 | 0 | 0 | 0 | 2 | 2 | 2 | 3 | 1 | 0 | 0 | 0 | 1 | 2 |
| 11/19 | @Ill | W 84-78 | 17 | 5 | 5 | 1 | 1 | 3 | 4 | 2 | 11 | 0 | 0 | 0 | 0 | 2 | 14 |
| 11/20 | Ari | W 91-74 | 17 | 1 | 2 | 0 | 0 | 2 | 2 | 1 | 6 | 1 | 1 | 0 | 1 | 4 | 4 |
| 11/21 | Duke | W 89-87 | 18 | 2 | 3 | 1 | 1 | 0 | 0 | 2 | 4 | 0 | 0 | 0 | 0 | 2 | 5 |
| 11/26 | NDakSt | W 102-60 | 16 | 0 | 0 | 0 | 0 | 4 | 5 | 1 | 4 | 0 | 0 | 0 | 0 | 2 | 4 |
| 12/1 | @Cre | W 103-92 | 17 | 1 | 1 | 1 | 1 | 0 | 1 | 0 | 4 | 0 | 0 | 0 | 0 | 1 | 3 |
| 12/5 | Wash | W 81-79 | 14 | 0 | 0 | 0 | 0 | 0 | 0 | 0 | 3 | 2 | 0 | 0 | 1 | 0 | 0 |
| 12/9 | @Tenn | L 73-76 | 11 | 0 | 0 | 0 | 0 | 0 | 0 | 0 | 2 | 0 | 0 | 0 | 1 | 1 | 0 |
| 12/15 | @UNC | L 90-103 | 14 | 2 | 2 | 0 | 0 | 0 | 1 | 0 | 2 | 1 | 0 | 0 | 0 | 3 | 4 |
| 12/18 | Tx-Ar | W 89-55 | 23 | 0 | 1 | 0 | 1 | 0 | 0 | 0 | 6 | 2 | 1 | 0 | 1 | 0 | 0 |
| 12/21 | Denver | W 101-40 | 18 | 1 | 2 | 0 | 1 | 3 | 4 | 1 | 5 | 5 | 1 | 0 | 1 | 1 | 5 |
| 12/28 | NortAL | W 96-51 | 19 | 1 | 2 | 0 | 0 | 2 | 2 | 0 | 3 | 0 | 2 | 0 | 1 | 3 | 4 |
| 12/31 | CS-Bk | W 89-54 | 29 | 4 | 5 | 1 | 2 | 2 | 3 | 3 | 10 | 2 | 1 | 1 | 0 | 0 | 11 |
| 1/5 | SantaC | W 91-48 | 15 | 0 | 1 | 0 | 1 | 0 | 0 | 1 | 2 | 1 | 0 | 0 | 1 | 3 | 0 |
| 1/10 | Pac | W 67-36 | 11 | 2 | 2 | 1 | 1 | 0 | 0 | 0 | 0 | 2 | 0 | 0 | 0 | 2 | 5 |
| 1/12 | @SanFr | W 96-83 | 12 | 0 | 1 | 0 | 0 | 2 | 2 | 0 | 2 | 0 | 0 | 0 | 0 | 1 | 2 |
| 1/17 | LyMnt | W 73-55 | 11 | 2 | 2 | 1 | 1 | 0 | 0 | 0 | 0 | 0 | 1 | 0 | 0 | 3 | 5 |
| 1/19 | @Por | W 89-66 | 2 | 0 | 0 | 0 | 0 | 0 | 0 | 1 | 2 | 0 | 0 | 0 | 1 | 0 | 0 |
| 1/24 | @SantaC | W 98-39 | 12 | 0 | 1 | 0 | 1 | 0 | 0 | 0 | 2 | 1 | 1 | 1 | 1 | 0 | 0 |
| 1/31 | @BYU | W 93-63 | 5 | 1 | 2 | 0 | 0 | 2 | 2 | 1 | 4 | 0 | 0 | 0 | 0 | 1 | 4 |
| 2/2 | SD | W 85-69 | 16 | 0 | 1 | 0 | 0 | 0 | 0 | 0 | 2 | 2 | 1 | 1 | 0 | 2 | 0 |
| 2/7 | SanFr | W 92-62 | 13 | 1 | 3 | 0 | 0 | 2 | 2 | 1 | 3 | 0 | 1 | 0 | 1 | 0 | 4 |
| 2/9 | StMry | W 94-46 | 15 | 3 | 3 | 1 | 1 | 0 | 0 | 0 | 2 | 0 | 1 | 0 | 0 | 0 | 7 |
| 2/14 | @LyMnt | W 73-60 | 11 | 0 | 1 | 0 | 1 | 0 | 0 | 0 | 2 | 1 | 0 | 1 | 1 | 2 | 0 |
| 2/16 | @SD | W 79-67 | 21 | 0 | 2 | 0 | 1 | 0 | 0 | 0 | 2 | 0 | 2 | 0 | 0 | 3 | 0 |
| 2/21 | Pepper | W 92-64 | 10 | 1 | 1 | 1 | 1 | 1 | 2 | 1 | 4 | 1 | 0 | 0 | 0 | 0 | 4 |
| 2/23 | BYU | W 102-68 | 20 | 3 | 5 | 1 | 2 | 0 | 0 | 1 | 6 | 1 | 2 | 0 | 0 | 2 | 7 |
| 2/28 | @Pac | W 86-66 | 14 | 0 | 1 | 0 | 1 | 0 | 0 | 0 | 1 | 0 | 0 | 0 | 2 | 3 | 0 |
| 3/2 | @StMry | W 69-55 | 20 | 0 | 1 | 0 | 1 | 0 | 0 | 1 | 4 | 2 | 2 | 1 | 1 | 0 | 0 |
| 3/11 | Pepper | W 100-74 | 15 | 3 | 4 | 1 | 2 | 1 | 2 | 0 | 2 | 0 | 0 | 0 | 0 | 0 | 8 |