Johnathan Williams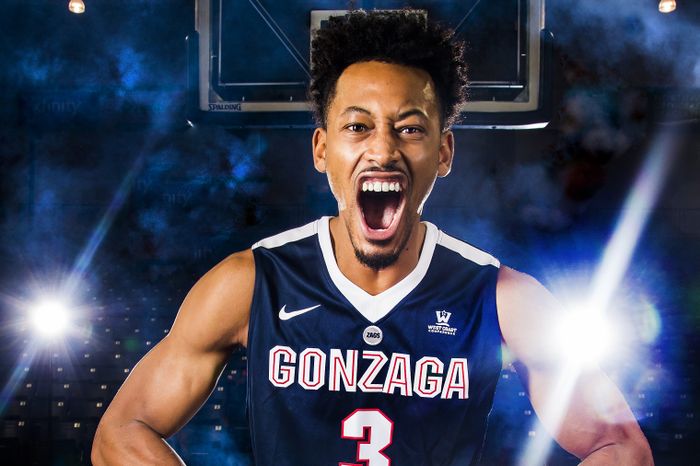 Jersey: 3 Position: F
Age: 27 Height: 6-9 Weight: 228
Hometown: Memphis, Tennessee, United States
Birthdate: May 22, 1995
Bio: Williams played two seasons at Missouri before opting to transfer. Picked Gonzaga over Georgetown and SMU. Led Southwind High in Memphis to Tennessee state title in his senior year. Earned All-State honors by averaging 18.9 points and 9.5 rebounds. Ranked 42nd nationally by Rivals and 55th by ESPN. Gained international experience playing for Team USA in U17 World Championships and on the U16 squad that won the FIBA Americas title in 2011. Averaged 7.0 points and 4.6 rebounds at the U17 World Championships.
Sr

Scouting report:
Versatile defender and skilled offensive player was named to Naismith Trophy preseason watch list. One of 30 nominees nationally for Senior CLASS Award for his contributions on and off the court. Memphis native starts at center after starting at power forward in 2017. WCC player of the year candidate leads team in scoring (13.7 points per game) and rebounding (7.3) through 24 games. Poured in career-high 39 points on 16-of-22 shooting in loss to Florida at PK80. Scored 30 points and grabbed 10 rebounds in victory over Loyola Marymount. Posted double-double (23 points, 12 boards) in road win against Washington. Shooting 55.6 percent from the field. Seven double-doubles through 24 games.
Jr

Scouting report:
Started all 39 games and helped Zags reach first Final Four. Named most outstanding player at West Regional in San Jose as GU beat West Virginia and Xavier to clinch trip to Final Four. Led Zags in rebounding (6.4). Top returning scorer (10.2) from 2017 squad. All-WCC first-team selection who was third in conference in field-goal percentage and eighth in rebounding. Scored season-high 20 points against Bryant and grabbed season-high 18 boards against San Diego.
Jr.

Scouting report:
Sat out under NCAA transfer rules.
So.

Scouting report:
At Missouri: Led Tigers in scoring (11.9) and rebounding (7.1) as a sophomore. Reached double figures in 20 games and led Tigers in free throws made (99) and attempted (159). Made 22 3-pointers as a sophomore and blocked 57 shots as a freshman. Scored 27 points against Mississippi State and 22 versus Oklahoma State.
Get To Know Johnathan Williams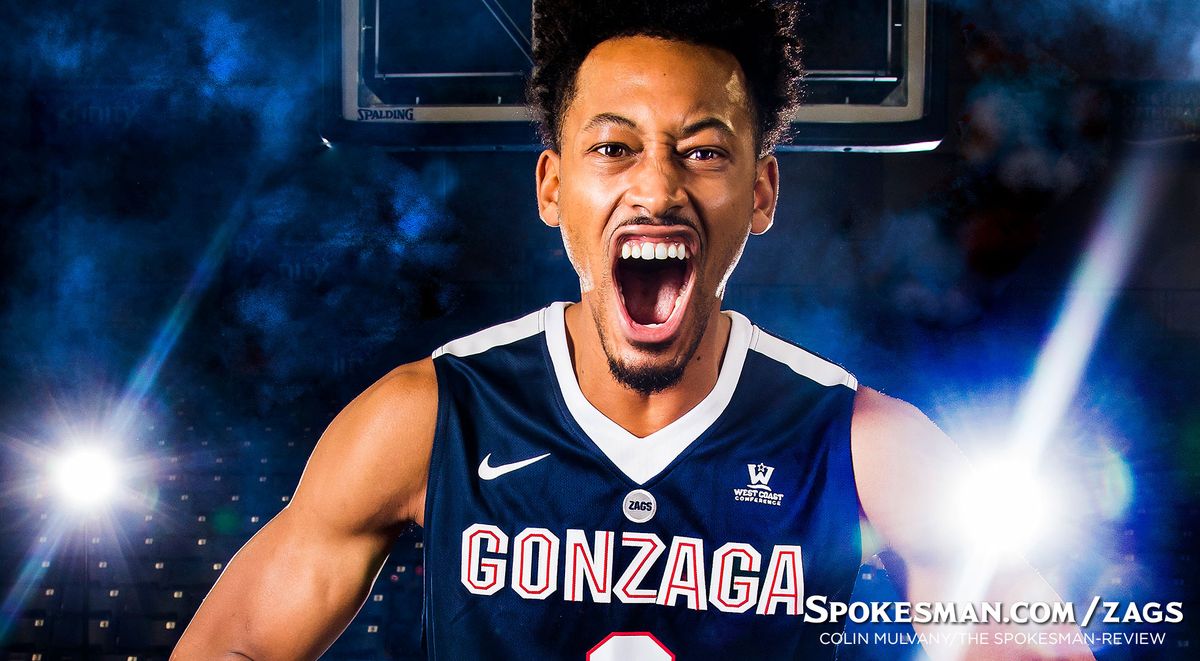 (Colin Mulvany / The Spokesman-Review)
Career Stats
Per Game
Team
G
GS
MPG
PPG
RPG
APG
SPG
BPG
TOPG
PFPG
FG%
3P%
FT%
13-14
Missou
35
35
26.3
5.8
6.5
0.7
0.4
1.6
1.1
2.8
.454
.364
.565
14-15
Missou
32
32
29.4
11.9
7.1
0.8
0.3
0.6
2.6
2.7
.412
.344
.617
16-17
Gonz
39
39
24.3
10.2
6.4
0.8
0.7
0.9
1.3
2.1
.592
.400
.563
17-18
Gonz
37
36
29.2
13.4
8.5
1.6
0.7
1.1
2.2
2.6
.563
.229
.540
Career
143
142
27.2
10.3
7.1
1.0
0.5
1.1
1.8
2.5
.510
.333
.572
Totals
Team
G
GS
Min
FGM
FGA
3PM
3PA
FTM
FTA
OR
REB
A
Stl
Blk
TO
PF
Pts
13-14
Missou
35
35
922
74
163
4
11
52
92
99
227
24
14
57
38
97
204
14-15
Missou
32
32
941
128
311
22
64
103
167
78
228
27
10
19
82
86
381
16-17
Gonz
39
39
946
155
262
16
40
71
126
70
251
31
27
36
52
82
397
17-18
Gonz
37
36
1079
197
350
8
35
94
174
87
313
59
27
40
80
98
496
Career
143
142
3888
554
1086
50
150
320
559
334
1019
141
78
152
252
363
1478
Game Logs
| | | | | | | | | | | | | | | | | | |
| --- | --- | --- | --- | --- | --- | --- | --- | --- | --- | --- | --- | --- | --- | --- | --- | --- | --- |
| Date | Opp | Result | Min | FGM | FGA | 3PM | 3PA | FTM | FTA | OR | REB | A | Stl | Blk | TO | PF | Pts |
| 11/10 | TxSo | W 97-69 | 30 | 5 | 11 | 1 | 1 | 5 | 9 | 1 | 8 | 3 | 1 | 1 | 2 | 3 | 16 |
| 11/14 | Howard | W 106-69 | 21 | 4 | 8 | 0 | 1 | 4 | 11 | 3 | 9 | 1 | 0 | 0 | 2 | 1 | 12 |
| 11/18 | UtahSt | W 79-66 | 22 | 1 | 5 | 0 | 0 | 3 | 4 | 3 | 5 | 2 | 1 | 0 | 1 | 4 | 5 |
| 11/24 | OhioSt | W 86-59 | 27 | 8 | 10 | 0 | 0 | 5 | 7 | 3 | 5 | 0 | 1 | 2 | 6 | 4 | 21 |
| 11/24 | Fla | L 105-111 | 44 | 16 | 22 | 1 | 3 | 6 | 8 | 6 | 12 | 3 | 1 | 2 | 3 | 2 | 39 |
| 11/26 | Tex | W 76-71 | 38 | 3 | 10 | 1 | 4 | 3 | 6 | 2 | 4 | 0 | 1 | 2 | 6 | 4 | 10 |
| 11/29 | IncWor | W 103-68 | 17 | 4 | 7 | 0 | 2 | 1 | 2 | 0 | 7 | 3 | 1 | 0 | 1 | 1 | 9 |
| 12/1 | Cre | W 91-74 | 33 | 6 | 14 | 0 | 2 | 3 | 5 | 0 | 5 | 2 | 1 | 1 | 4 | 3 | 15 |
| 12/5 | Vill | L 72-88 | 18 | 1 | 5 | 0 | 0 | 3 | 4 | 0 | 0 | 2 | 0 | 0 | 3 | 5 | 5 |
| 12/10 | @Wash | W 97-70 | 32 | 9 | 14 | 0 | 0 | 5 | 9 | 6 | 12 | 4 | 0 | 0 | 1 | 1 | 23 |
| 12/16 | NorDak | W 89-83 | 37 | 6 | 11 | 0 | 1 | 2 | 4 | 2 | 6 | 0 | 2 | 0 | 5 | 2 | 14 |
| 12/18 | IUPUI | W 101-71 | 26 | 6 | 9 | 0 | 1 | 5 | 9 | 3 | 14 | 1 | 1 | 1 | 2 | 3 | 17 |
| 12/21 | @SDSU | L 70-72 | 35 | 4 | 8 | 1 | 1 | 3 | 6 | 3 | 15 | 2 | 1 | 4 | 1 | 4 | 12 |
| 12/28 | Pac | W 81-48 | 22 | 1 | 6 | 0 | 1 | 0 | 2 | 1 | 4 | 1 | 1 | 3 | 1 | 2 | 2 |
| 12/30 | SantaC | W 101-52 | 19 | 2 | 2 | 0 | 0 | 0 | 0 | 0 | 6 | 0 | 0 | 0 | 1 | 3 | 4 |
| 1/4 | @Pepper | W 89-59 | 21 | 5 | 8 | 0 | 0 | 3 | 5 | 0 | 2 | 0 | 1 | 1 | 0 | 2 | 13 |
| 1/6 | @LyMnt | W 85-66 | 34 | 13 | 18 | 0 | 1 | 4 | 8 | 4 | 10 | 1 | 1 | 1 | 1 | 3 | 30 |
| 1/11 | Por | W 103-57 | 14 | 2 | 4 | 0 | 0 | 0 | 1 | 3 | 4 | 1 | 0 | 1 | 0 | 0 | 4 |
| 1/13 | @SanFr | W 75-65 | 34 | 7 | 12 | 0 | 0 | 3 | 5 | 2 | 9 | 3 | 0 | 1 | 2 | 3 | 17 |
| 1/18 | StMry | L 71-74 | 34 | 6 | 12 | 1 | 2 | 0 | 0 | 3 | 6 | 1 | 1 | 2 | 1 | 3 | 13 |
| 1/20 | @SantaC | W 75-60 | 26 | 2 | 4 | 0 | 0 | 5 | 6 | 3 | 8 | 3 | 2 | 0 | 1 | 2 | 9 |
| 1/25 | @Por | W 95-79 | 30 | 3 | 6 | 0 | 0 | 2 | 2 | 3 | 7 | 3 | 1 | 0 | 1 | 3 | 8 |
| 1/27 | SanFr | W 82-73 | 31 | 5 | 7 | 1 | 2 | 5 | 6 | 3 | 4 | 0 | 1 | 2 | 2 | 3 | 16 |
| 2/1 | SD | W 69-59 | 31 | 6 | 12 | 0 | 0 | 2 | 5 | 6 | 12 | 2 | 0 | 1 | 4 | 3 | 14 |
| 2/3 | BYU | W 68-60 | 35 | 6 | 9 | 0 | 1 | 1 | 2 | 2 | 10 | 1 | 0 | 1 | 3 | 1 | 13 |
| 2/8 | @Pac | W 71-61 | 35 | 5 | 11 | 0 | 1 | 0 | 0 | 3 | 13 | 1 | 0 | 2 | 1 | 2 | 10 |
| 2/10 | @StMry | W 78-65 | 36 | 6 | 13 | 0 | 1 | 0 | 1 | 3 | 11 | 2 | 0 | 0 | 0 | 2 | 12 |
| 2/15 | LyMnt | W 76-46 | 25 | 3 | 5 | 1 | 2 | 5 | 9 | 2 | 13 | 2 | 1 | 1 | 2 | 4 | 12 |
| 2/17 | Pepper | W 81-67 | 36 | 7 | 11 | 1 | 2 | 3 | 6 | 2 | 12 | 1 | 0 | 3 | 2 | 3 | 18 |
| 2/22 | @SD | W 77-72 | 28 | 5 | 7 | 0 | 0 | 1 | 2 | 2 | 9 | 1 | 1 | 2 | 1 | 4 | 11 |
| 2/24 | @BYU | W 79-65 | 30 | 8 | 12 | 0 | 2 | 0 | 1 | 1 | 6 | 3 | 0 | 2 | 1 | 4 | 16 |
| 3/3 | LyMnt | W 83-69 | 33 | 8 | 11 | 0 | 1 | 4 | 8 | 2 | 10 | 3 | 2 | 1 | 4 | 1 | 20 |
| 3/5 | SanFr | W 88-60 | 27 | 5 | 9 | 0 | 1 | 0 | 1 | 0 | 10 | 2 | 2 | 1 | 4 | 3 | 10 |
| 3/6 | BYU | W 74-54 | 31 | 4 | 9 | 0 | 0 | 2 | 3 | 2 | 13 | 1 | 2 | 2 | 2 | 2 | 10 |
| 3/15 | UNCG | W 68-64 | 34 | 8 | 12 | 0 | 0 | 3 | 9 | 2 | 13 | 1 | 0 | 0 | 2 | 1 | 19 |
| 3/17 | OhioSt | W 90-84 | 19 | 4 | 9 | 0 | 1 | 1 | 4 | 5 | 8 | 1 | 0 | 0 | 4 | 4 | 9 |
| 3/22 | FlaSt | L 60-75 | 34 | 3 | 7 | 0 | 1 | 2 | 4 | 1 | 11 | 2 | 0 | 0 | 3 | 3 | 8 |