Killian Tillie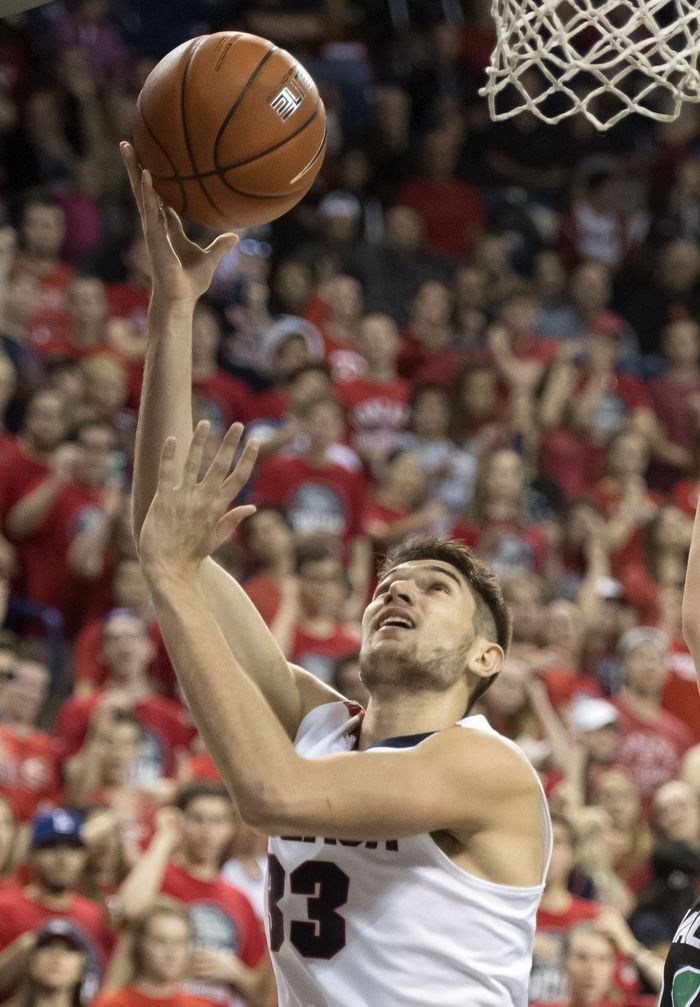 Jersey: 33 Position: F
Age: 25 Height: 6-10 Weight: 220
Hometown: Cagnes-sur-Mer, Provence-Alpes-Cote d'Azur, France
Birthdate: March 5, 1998
Bio: Long-time standout on French age-group national teams. Earned MVP honors and helped France win the title at the 2013 FIBA U16 Division A European Championships. Averaged 14.3 points and 9.6 rebounds and posted a tournament-leading 63.4 field-goal percentage. Helped France win bronze medal at the 2015 FIBA 3-on-3 U18 World Championships. Produced 22 points and 17 rebounds for France in 2017 FIBA U19 World Cup quarterfinals. Chose Gonzaga over Georgia Tech and Utah. Brother Kim played basketball at Utah and later with French national team at Rio Olympics. Brother Kevin played for French volleyball national team, coached by his dad Laurent, in Rio Olympics. Laurent was an Olympian for France. Mom Caroline played for Netherlands national volleyball team.
Sr.

Scouting report:
Versatile forward expected to start at forward. Declared for NBA Draft but pulled his name after spraining ankle in first workout. Battled injuries in each of his first three seasons, but a proven performer when healthy. Underwent knee surgery in early October but not expected to be sidelined for long. Great natural instincts, particularly on offensive glass, and one of the top 3-point shooters in the country (47% for career). Soft touch around the rim and a rim protector defensively. Named to Karl Malone Power Forward of the Year Award preseason watch list. Named preseason third-team All-America by CBS Sports.
Jr.

Scouting report:
Projected starter was limited to 15 games, all coming off the bench, by a stress fracture in ankle and partially torn plantar fascia in foot. Scored season-high 17 points against Fairleigh Dickinson in NCAA Tournament opener. Averaged 16.6 minutes, 6.2 points and 3.9 rebounds. Hit 43.8% of 3-point attempts. Reached double figures in three games. Named to preseason Kareem Abdul-Jabbar Award and preseason Naismith Trophy watch lists.
So.

Scouting report:
Earned second-team All-WCC after averaging 12.9 points and 5.9 rebounds. Team's most accurate 3-point shooter (47.9 percent). Connected on 13 of 14 3s while earning WCC Tournament most outstanding player honors. Made 58 percent of field-goal attempts and 77 percent of free throws. Swatted 37 shots, second on the team. Started 35 games while averaging 26.2 minutes. Missed season-ending loss to Florida State in Sweet 16 with hip injury. Recorded first double-double with 21 points and 10 rebounds vs. Pacific. Nine 20-point games, including career-best 27 against IUPUI and Portland. Scored 28 points on 11-of-11 field-goal shooting in exhibition win over College of Idaho.
Fr.

Scouting report:
Earned spot in Zags' eight-man rotation. Averaged 4.2 points and 3.2 rebounds. Led rotation players in 3-point shooting percentage (47.8). Scored in double figures three times. Pulled down nine rebounds in NCAA championship game against North Carolina. Hit two free throws in closing seconds to seal 77-73 win over South Carolina in national semifinal. Scored eight points and had five rebounds in NCAA Tournament win over Northwestern. Scored season-high 12 points against San Francisco.
Career Stats
Per Game
Team
G
GS
MPG
PPG
RPG
APG
SPG
BPG
TOPG
PFPG
FG%
3P%
FT%
16-17
Gonz
33
0
12.3
4.2
3.2
0.6
0.7
0.3
0.6
1.8
.511
.478
.778
17-18
Gonz
36
35
26.2
12.9
5.9
1.7
0.8
1.0
1.6
2.4
.580
.479
.773
18-19
Gonz
10
0
17.0
6.3
4.4
1.5
0.8
0.8
1.0
3.1
.489
.391
.727
Career
79
35
19.2
8.4
4.6
1.2
0.8
0.7
1.1
2.3
.557
.464
.771
Totals
Team
G
GS
Min
FGM
FGA
3PM
3PA
FTM
FTA
OR
REB
A
Stl
Blk
TO
PF
Pts
16-17
Gonz
33
0
406
46
90
11
23
35
45
26
107
21
24
10
21
60
138
17-18
Gonz
36
35
944
181
312
45
94
58
75
61
212
60
30
37
57
88
465
18-19
Gonz
10
0
170
23
47
9
23
8
11
11
44
15
8
8
10
31
63
Career
79
35
1520
250
449
65
140
101
131
98
363
96
62
55
88
179
666
Game Logs
| | | | | | | | | | | | | | | | | | |
| --- | --- | --- | --- | --- | --- | --- | --- | --- | --- | --- | --- | --- | --- | --- | --- | --- | --- |
| Date | Opp | Result | Min | FGM | FGA | 3PM | 3PA | FTM | FTA | OR | REB | A | Stl | Blk | TO | PF | Pts |
| 1/5 | SantaC | W 91-48 | 9 | 2 | 3 | 1 | 2 | 0 | 0 | 2 | 2 | 0 | 1 | 2 | 1 | 5 | 5 |
| 1/10 | Pac | W 67-36 | 19 | 2 | 8 | 0 | 3 | 0 | 1 | 1 | 5 | 0 | 2 | 0 | 2 | 3 | 4 |
| 1/12 | @SanFr | W 96-83 | 19 | 6 | 7 | 2 | 3 | 0 | 1 | 3 | 6 | 3 | 0 | 3 | 0 | 5 | 14 |
| 1/17 | LyMnt | W 73-55 | 24 | 2 | 7 | 1 | 5 | 2 | 2 | 3 | 7 | 2 | 2 | 1 | 4 | 1 | 7 |
| 1/19 | @Por | W 89-66 | 21 | 3 | 4 | 1 | 2 | 3 | 3 | 0 | 4 | 6 | 0 | 1 | 0 | 4 | 10 |
| 1/24 | @SantaC | W 98-39 | 24 | 0 | 4 | 0 | 3 | 1 | 2 | 1 | 7 | 0 | 1 | 0 | 0 | 4 | 1 |
| 1/31 | @BYU | W 93-63 | 12 | 2 | 3 | 1 | 1 | 0 | 0 | 0 | 2 | 2 | 1 | 0 | 0 | 4 | 5 |
| 2/2 | SD | W 85-69 | 16 | 1 | 4 | 0 | 1 | 2 | 2 | 1 | 2 | 0 | 0 | 0 | 1 | 2 | 4 |
| 2/7 | SanFr | W 92-62 | 11 | 2 | 3 | 0 | 0 | 0 | 0 | 0 | 3 | 1 | 0 | 1 | 1 | 2 | 4 |
| 3/11 | Pepper | W 100-74 | 15 | 3 | 4 | 3 | 3 | 0 | 0 | 0 | 6 | 1 | 1 | 0 | 1 | 1 | 9 |