Zach Norvell Jr.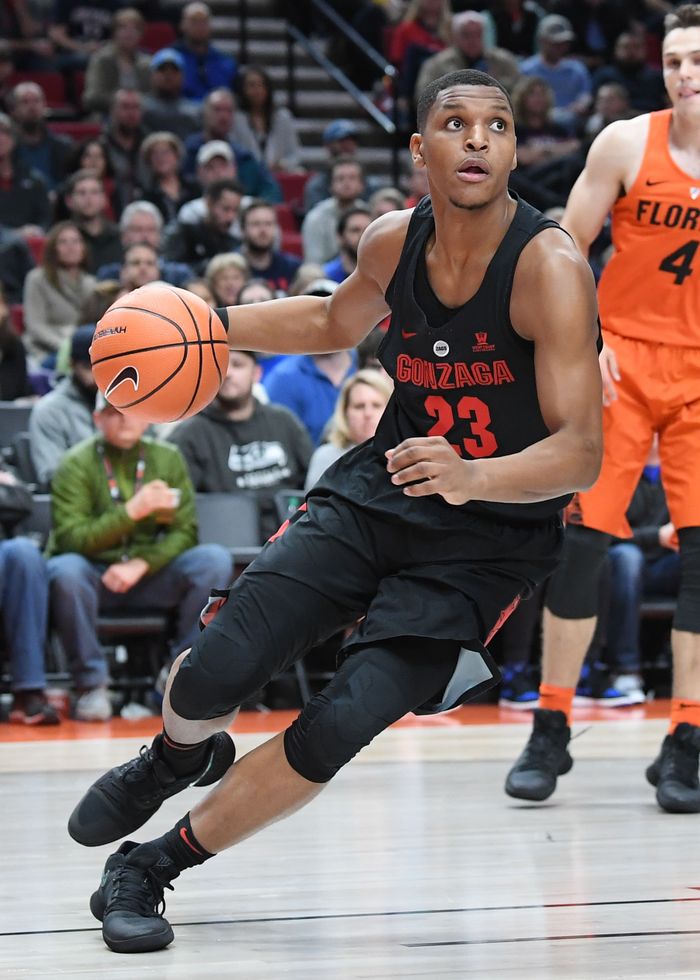 Jersey: 23 Position: G
Age: 25 Height: 6-5 Weight: 205
Hometown: Chicago, Illinois, United States
Birthdate: Dec. 9, 1997
Bio: Product of Simeon Career Academy, powerhouse Chicago program that counts Derrick Rose and Jabari Parker among its graduates. Nominated for the McDonald's All-American game but didn't make final roster. Ranked No. 76 in the ESPN Top 100. Averaged 18 points, 8 rebounds and 4 assists his senior season. Led Simeon to a 30-4 record and third in Class 4A state tournament. Averaged 13 points, 4 rebounds and 3 assists as a junior. Poured in 53 points, including 14 3-pointers, in an AAU game in Las Vegas. Chose Gonzaga over Florida State, Georgetown and Iowa State. Nicknamed 'Snacks' because of his affinity for sweets as a youngster. Also referred to as 'Microwave' by teammates because of his ability to provide instant offense.
So

Scouting report:
Projected starter at wing. Took over starting role in eighth game last season following Corey Kispert's ankle injury. Good size, strength and toughness. Confident player who led team in clutch baskets. High basketball IQ, clever passer and crafty working off ball screens. Left-hander has great shooting range and strong finisher inside.
Fr

Scouting report:
Earned WCC Newcomer of the Year award. Averaged 12.7 points, 3.9 rebounds and 2.3 assists. Shot 45.6 percent from the field, 37 percent on 3-pointers and 80 percent at the free-throw line. Made numerous crunch-time baskets, including 3-pointers that spurred NCAA Tournament wins over UNC Greensboro and Ohio State. First double-double came in tourney win over Ohio State with season-high 28 points and 12 boards. Season-high eight assists vs. Santa Clara and five steals vs. North Dakota. Averaged 37 minutes in three NCAA Tournament games. Posted 20-point games against Washington and Creighton.
Fr.

Scouting report:
Redshirted after a summer knee injury was slow to heal. Scored 18 points in 23 minutes in exhibition win over West Georgia.
Career Stats
Per Game
Team
G
GS
MPG
PPG
RPG
APG
SPG
BPG
TOPG
PFPG
FG%
3P%
FT%
17-18
Gonz
37
29
27.0
12.7
3.9
2.3
1.1
0.1
1.6
2.1
.456
.370
.800
18-19
Gonz
32
31
30.4
15.8
4.3
3.1
1.4
0.1
1.3
1.7
.459
.387
.856
Career
69
60
28.6
14.1
4.1
2.7
1.3
0.1
1.4
1.9
.457
.379
.829
Totals
Team
G
GS
Min
FGM
FGA
3PM
3PA
FTM
FTA
OR
REB
A
Stl
Blk
TO
PF
Pts
17-18
Gonz
37
29
999
161
353
77
208
72
90
39
143
85
42
3
58
79
471
18-19
Gonz
32
31
973
167
364
87
225
83
97
23
137
100
45
2
40
54
504
Career
69
60
1972
328
717
164
433
155
187
62
280
185
87
5
98
133
975
Game Logs
| | | | | | | | | | | | | | | | | | |
| --- | --- | --- | --- | --- | --- | --- | --- | --- | --- | --- | --- | --- | --- | --- | --- | --- | --- |
| Date | Opp | Result | Min | FGM | FGA | 3PM | 3PA | FTM | FTA | OR | REB | A | Stl | Blk | TO | PF | Pts |
| 11/6 | IdaSt | W 120-79 | 28 | 5 | 12 | 3 | 9 | 10 | 10 | 2 | 7 | 2 | 2 | 0 | 3 | 0 | 23 |
| 11/10 | TxSo | W 104-67 | 18 | 3 | 7 | 2 | 5 | 0 | 0 | 1 | 5 | 4 | 0 | 0 | 0 | 4 | 8 |
| 11/15 | TexA&M | W 94-71 | 30 | 7 | 14 | 4 | 9 | 4 | 5 | 1 | 5 | 2 | 2 | 0 | 1 | 3 | 22 |
| 11/19 | @Ill | W 84-78 | 28 | 5 | 11 | 2 | 6 | 3 | 5 | 1 | 6 | 3 | 0 | 0 | 2 | 3 | 15 |
| 11/20 | Ari | W 91-74 | 40 | 6 | 18 | 3 | 13 | 5 | 7 | 5 | 10 | 6 | 2 | 0 | 2 | 2 | 20 |
| 11/21 | Duke | W 89-87 | 36 | 6 | 13 | 4 | 7 | 2 | 2 | 0 | 3 | 1 | 3 | 0 | 1 | 2 | 18 |
| 11/26 | NDakSt | W 102-60 | 25 | 5 | 9 | 4 | 8 | 1 | 2 | 0 | 3 | 8 | 2 | 0 | 0 | 0 | 15 |
| 12/1 | @Cre | W 103-92 | 39 | 9 | 21 | 6 | 17 | 4 | 5 | 1 | 5 | 1 | 1 | 0 | 0 | 1 | 28 |
| 12/5 | Wash | W 81-79 | 34 | 3 | 6 | 2 | 4 | 6 | 6 | 0 | 6 | 7 | 2 | 0 | 1 | 5 | 14 |
| 12/9 | @Tenn | L 73-76 | 30 | 5 | 13 | 3 | 9 | 0 | 0 | 0 | 3 | 1 | 1 | 0 | 1 | 2 | 13 |
| 12/15 | @UNC | L 90-103 | 37 | 7 | 17 | 2 | 8 | 5 | 6 | 1 | 2 | 1 | 2 | 0 | 3 | 2 | 21 |
| 12/18 | Tx-Ar | W 89-55 | 28 | 4 | 9 | 1 | 6 | 0 | 0 | 0 | 5 | 4 | 1 | 0 | 2 | 3 | 9 |
| 12/21 | Denver | W 101-40 | 26 | 4 | 7 | 3 | 5 | 1 | 1 | 0 | 2 | 4 | 1 | 0 | 1 | 0 | 12 |
| 12/28 | NortAL | W 96-51 | 26 | 6 | 13 | 3 | 8 | 5 | 5 | 0 | 4 | 5 | 3 | 0 | 1 | 0 | 20 |
| 12/31 | CS-Bk | W 89-54 | 31 | 5 | 10 | 3 | 7 | 3 | 4 | 0 | 3 | 5 | 3 | 0 | 3 | 3 | 16 |
| 1/5 | SantaC | W 91-48 | 27 | 1 | 9 | 0 | 4 | 3 | 4 | 1 | 1 | 5 | 2 | 0 | 1 | 0 | 5 |
| 1/10 | Pac | W 67-36 | 27 | 4 | 8 | 3 | 6 | 0 | 0 | 0 | 6 | 0 | 0 | 0 | 2 | 2 | 11 |
| 1/12 | @SanFr | W 96-83 | 38 | 4 | 12 | 3 | 6 | 2 | 2 | 2 | 6 | 2 | 1 | 0 | 0 | 2 | 13 |
| 1/17 | LyMnt | W 73-55 | 24 | 7 | 15 | 3 | 8 | 0 | 0 | 2 | 4 | 4 | 1 | 0 | 1 | 2 | 17 |
| 1/19 | @Por | W 89-66 | 34 | 4 | 17 | 3 | 12 | 3 | 3 | 0 | 6 | 4 | 1 | 0 | 1 | 1 | 14 |
| 1/24 | @SantaC | W 98-39 | 23 | 6 | 11 | 3 | 6 | 1 | 2 | 0 | 8 | 3 | 1 | 0 | 0 | 0 | 16 |
| 1/31 | @BYU | W 93-63 | 33 | 5 | 11 | 2 | 7 | 0 | 0 | 1 | 7 | 4 | 0 | 0 | 2 | 2 | 12 |
| 2/2 | SD | W 85-69 | 38 | 7 | 10 | 5 | 7 | 2 | 4 | 0 | 6 | 2 | 2 | 0 | 3 | 0 | 21 |
| 2/7 | SanFr | W 92-62 | 30 | 5 | 9 | 3 | 5 | 3 | 4 | 0 | 0 | 2 | 2 | 1 | 0 | 3 | 16 |
| 2/9 | StMry | W 94-46 | 25 | 3 | 6 | 2 | 5 | 4 | 4 | 1 | 4 | 2 | 1 | 0 | 1 | 0 | 12 |
| 2/14 | @LyMnt | W 73-60 | 33 | 4 | 8 | 3 | 6 | 2 | 2 | 1 | 4 | 3 | 0 | 0 | 1 | 2 | 13 |
| 2/16 | @SD | W 79-67 | 37 | 7 | 11 | 1 | 4 | 3 | 3 | 0 | 3 | 0 | 0 | 0 | 1 | 1 | 18 |
| 2/21 | Pepper | W 92-64 | 30 | 8 | 14 | 4 | 9 | 1 | 1 | 1 | 3 | 4 | 4 | 0 | 2 | 3 | 21 |
| 2/23 | BYU | W 102-68 | 33 | 8 | 18 | 4 | 9 | 5 | 5 | 1 | 2 | 1 | 2 | 0 | 1 | 1 | 25 |
| 2/28 | @Pac | W 86-66 | 29 | 4 | 7 | 1 | 2 | 3 | 3 | 0 | 1 | 4 | 0 | 0 | 1 | 2 | 12 |
| 3/2 | @StMry | W 69-55 | 32 | 2 | 8 | 0 | 4 | 2 | 2 | 0 | 4 | 3 | 1 | 1 | 0 | 1 | 6 |
| 3/11 | Pepper | W 100-74 | 24 | 8 | 10 | 2 | 4 | 0 | 0 | 1 | 3 | 3 | 2 | 0 | 2 | 2 | 18 |