Mon., June 11, 2012, 8:04 p.m.
Anglers endure wind, rain to catch lunkers in Sprague Trout Derby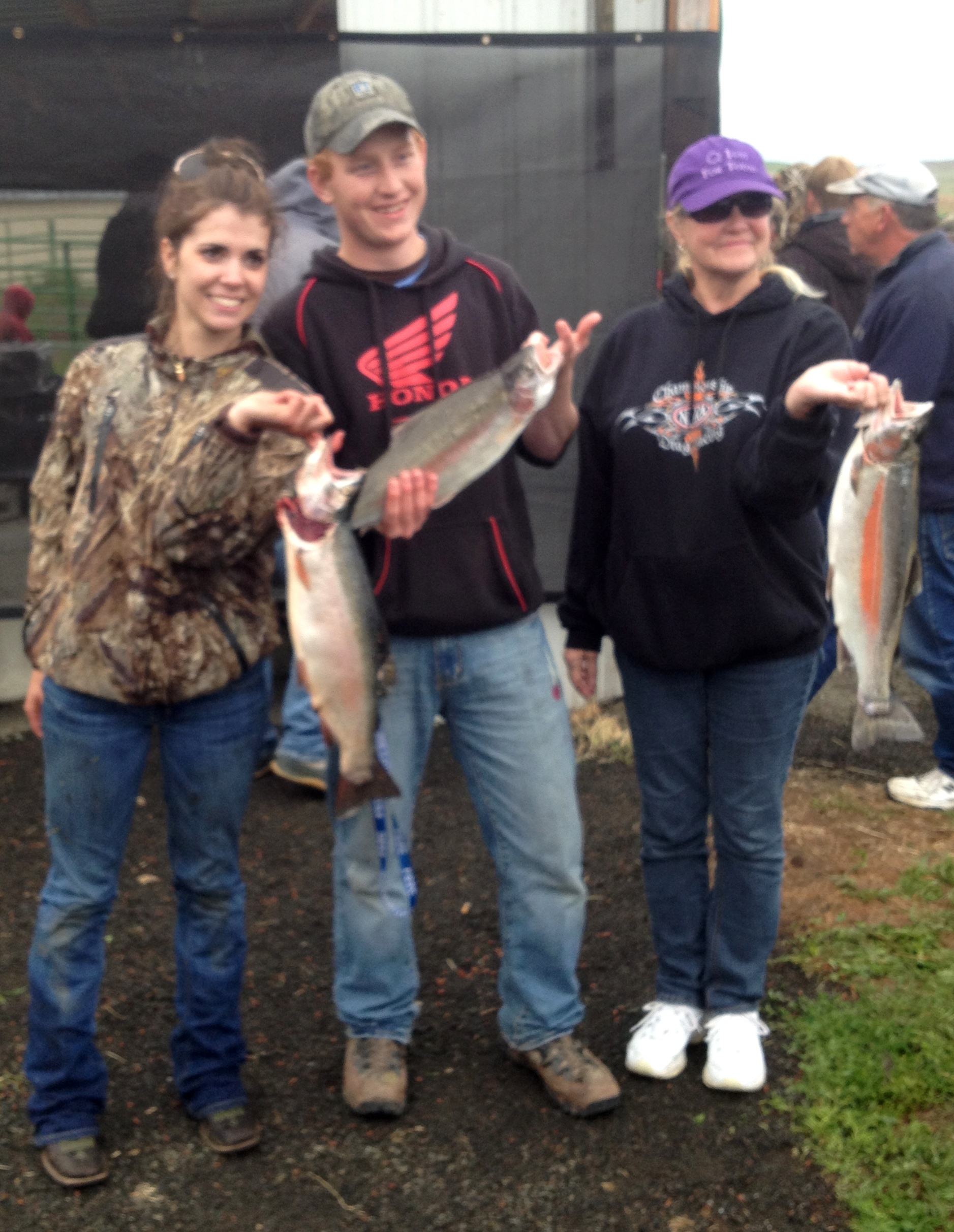 FISHING — A mere ounce separated the top three rainbows caught Saturday in the first Sprague Lake Trout Derby.
Despite a nasty day of wind and rain, 202 anglers participated. Many anglers went home with fish, but the one with the largest trout also bagged prizes and gift cards totaling $500.
While KHQ TV weatherman Dave Law didn't win, he should at least get a prize for knowing how to present a 4-pound 5-ounce rainbow to the camera (above).
Meanwhile, the winners are pictured at left:
Clinton Hartman of Lamont, Wash., was the winner with a rainbow trout that weighed 4 pounds 9 ounces and measuring 21 1/2 inches long.
The runnerup was Marrissa Young (left) of Cheney, winning $100 in prizes with a trout measuring 22 inches long and weighing 4 pounds 8 1/2 ounces.
Victoria Huston of Coeur d' Alene (right) came in third and $50 in prizes with a 22 3/4-inch long rainbow that weighed 4 pounds 8 ounces.
"We weighed in a lot of fish in the 4-pound range," said Dave Broxson, derby organizer with the Sprague Lake User Group.
The wind was so bad on the 1,840-acre lake, the Sheriff's marine patrol pulled off the water at noon because they couldn't make any contacts with boaters on the lake, said Scott Haugen at Four Season's Campground Resort.
"But people just kept fishing," he said, noting that he snapped Law's photo as the weatherman tied up his boat briefly at the resort docks as he fished up the lake. "Most of the rainbows were in the 3- to 4-pound range. I weighed in one over 5 pounds before the derby. I also had a fisherman who caught a largemouth bass over 17 inches long."
"We had a wonderful turnout and hope it can get better next year," Broxson said.
---
---