THURSDAY, MARCH 24, 2011, 9 A.M.
Cocaine suspect already on DEA's radar
A Canadian man arrested with 71 pounds of cocaine near the international border is believed to be a major drug smuggler who's been on the Drug Enforcement Administration's radar since 2009, prosecutors said Wednesday.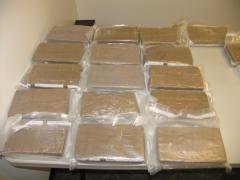 Family members of Jonathan Darren Smith, 39, wrote letters to the court describing Smith as a former professional rugby player known as Grundy.
The DEA suspects Smith is the same "Grundy" described as a major drug smuggler during a briefing with a drug informant in 2009, Assistant U.S. Attorney Tim Ohms said Wednesday at Smith's bail hearing.
Smith matches the physical description of Grundy, and aspects of his personal life match what the informant told drug investigators, Ohms said. Smith also has a "Grundy" tattoo.
Ohms said the informant described four or five drug smuggling trips conducted by Grundy, including the transport of Ecstasy into the United States by foot, then to Redding, Calif., by automobile, and the transportation of 11 kilos of cocaine from the United States into Canada.
Grundy's father also was convicted of flying a plane full of marijuana into Redding. He served 60 months in prison, Ohms said. Grundy also "has done extensive traveling" including trips to Australia, the United Kingdom, Singapore and Mexico.
"The inference is that this defendant is, in fact, occupied as a smuggler," Ohms said. "That's what he does. This is not an isolated incident."
Should Smith be allowed to return to Canada, "he's going to be subject to answering to that organization, and perhaps that organization won't want him to return. Because why would they? He might cooperate," Ohms said.
Smith's lawyer, Jeff Niesen, emphasized that Smith has "serious medical problems" that likely won't be address at the Spokane County Jail.
"It would have been nice if he had been married. It would have been nice if he had 15 kids," but he's still entitled to be considered for pre-trial release, Niesen said, noting that Smith has never been accused of violence.
Smith, who played on the Canadian Rugby Junior National team in 1990 and 1994, has been at the Spokane County Jail since his arrest Feb. 16.
U.S Magistrate Cynthia Imbrogno's decision on whether to hold Smith without bond has not yet been filed.
---
---