Don Adair: Ford F-350 Super Duty: Strong enough to tow your house?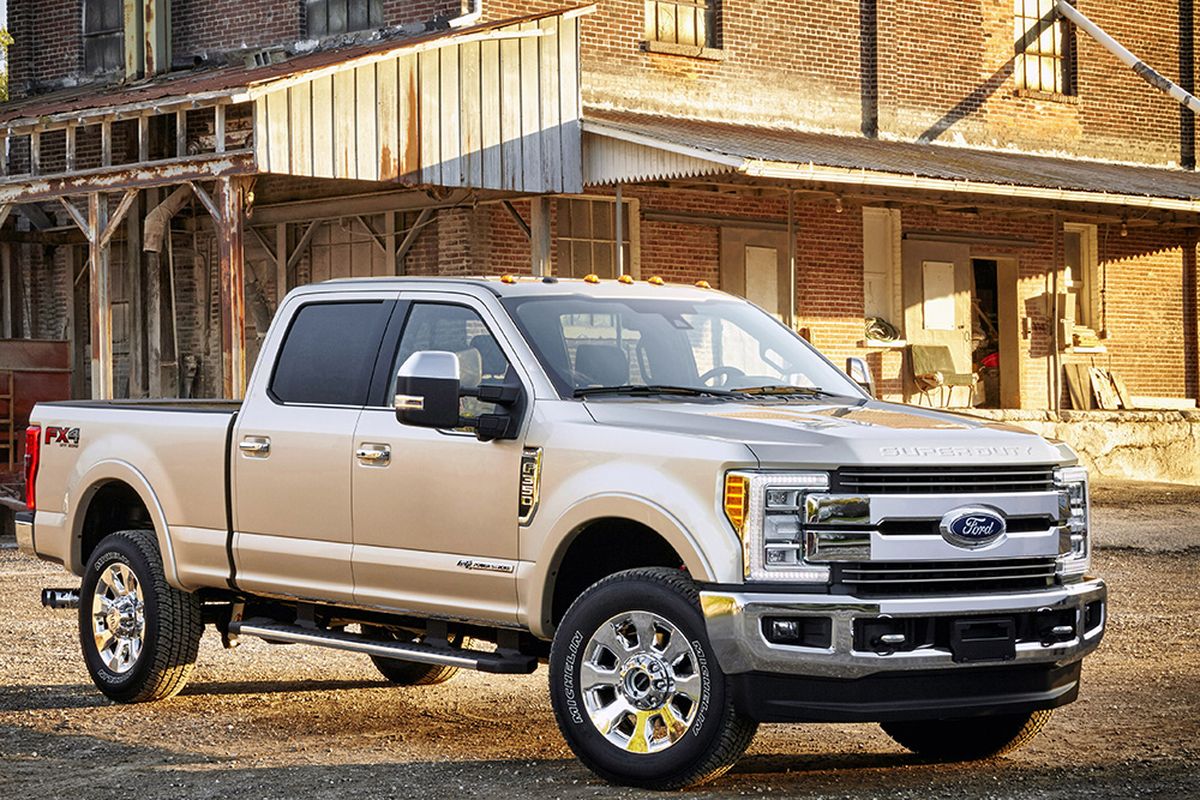 Let's be clear.
You won't be dragging your bungalow behind Ford's monster F-350 pickup any time soon, though we talked to a fellow who suggested as much.
Pretty sure he was joking.
Setting the stage: The made-over, 2017 F-350 Heavy Duty pickup is available with a choice of two engines. The base 6.2-liter gasoline V-8 makes 385 horsepower and 430 pound-feet of torque.
Should you require more grunt, an optional 6.7-liter V-8 turbodiesel turns out 440 hp and 925 lb-ft.
That's some serious torque. And, since torque is the force that enables a rig to pull big loads, we asked two experts for perspective.
Gus Johnson, principal at Gus Johnson Ford, told us two kinds of buyers need power of that magnitude. Contractors and RVers.
A properly equipped turbodiesel F-350, with single rear wheels, can tow a conventional travel trailer weighing up to 18,000 pounds. Adding dual rear wheels bumps that to 21,000 lb. An integrated hitch receiver extends deeper into the frame this year, eliminating the need for a weight-distributing equalizer hitch when towing a conventional trailer.
One could tow a 27,500-lb. fifth-wheel. Or a gooseneck trailer — a close cousin to the fifth-wheel — weighing as much as 32,000 lb.
The turbodiesel makes more than enough power to tow the largest trailer carried by RnR RV Center, said RnR's Mike Duncan.
It's enough, he offered, that, " … you could probably tow your house."
He was kidding, of course, but the point is made; this is a big, strong truck. And, as we learned during our test, it's also a good ride. Ford's new fully boxed truck frame is 24 times stiffer than before. Towing and hauling capacities benefit, as do ride and handling, as rigid frames abet precise suspension tuning.
With 8.5 inches of ground clearance and a curb weight that ranges from 6,000-7,000 pounds, the F-350 carries considerable mass up high. Even so, the big truck feels buttoned down and under control even in the curves.
With an empty bed, over rough or undulating surfaces, a modicum of bounce is expected. But our turbodiesel tester never felt jittery or light on its feet.
The F-350 is available in Regular Cab ($35,000), Super Cab ($37,430) and Crew Cab ($38,600) body styles, and with a choice of 6.75- and 8-foot bed lengths
The turbodiesel is available as an $8,480 upgrade on all trims.
Ford's big trucks grow roomier for 2017, and are skinned in military-grade aluminum alloy that Ford says resists dents and dings better than steel.
Across the line, cabin materials are improved this year and available amenities elevate the high-end King Ranch ($56,930) and Platinum ($63,270) trims into the luxury classes.
Our King Ranch tester brought fragrant and supple leather, automatic high-beams, rain-sensing wipers, keyless ignition and entry, heated and ventilated seats, a heated steering wheel and navigation.
Options included an industry-first adaptive cruise control system. It's integrated with the trailer braking system and allows drivers to maintain a constant speed through mountainous terrain, without risking loss of control of truck or trailer.
Contact Don at don@dadair.com, or visit www.dadair.com.
2017 Ford F-350 King Ranch 4x4
Vehicle base price: $33,705
Trim level base price: $58,630
As tested: $77,760
Options included turbodiesel V-8 engine; electronic locking axle; power running board; twin-panel moonroof; quad-beam LED headlights; blind-spot monitor; tailgate step; adaptive cruise control; 7-camera Ultimate Trailer Tow Camera package; 20-inch chrome-wrapped aluminum wheels
Tow rating: up to 32,000 lb
EPA rating: heavy duty trucks not rated
Regular unleaded fuel specified
---
---