Don Adair: Affordable Toyota 86 rewards drivers with its top-shelf dynamics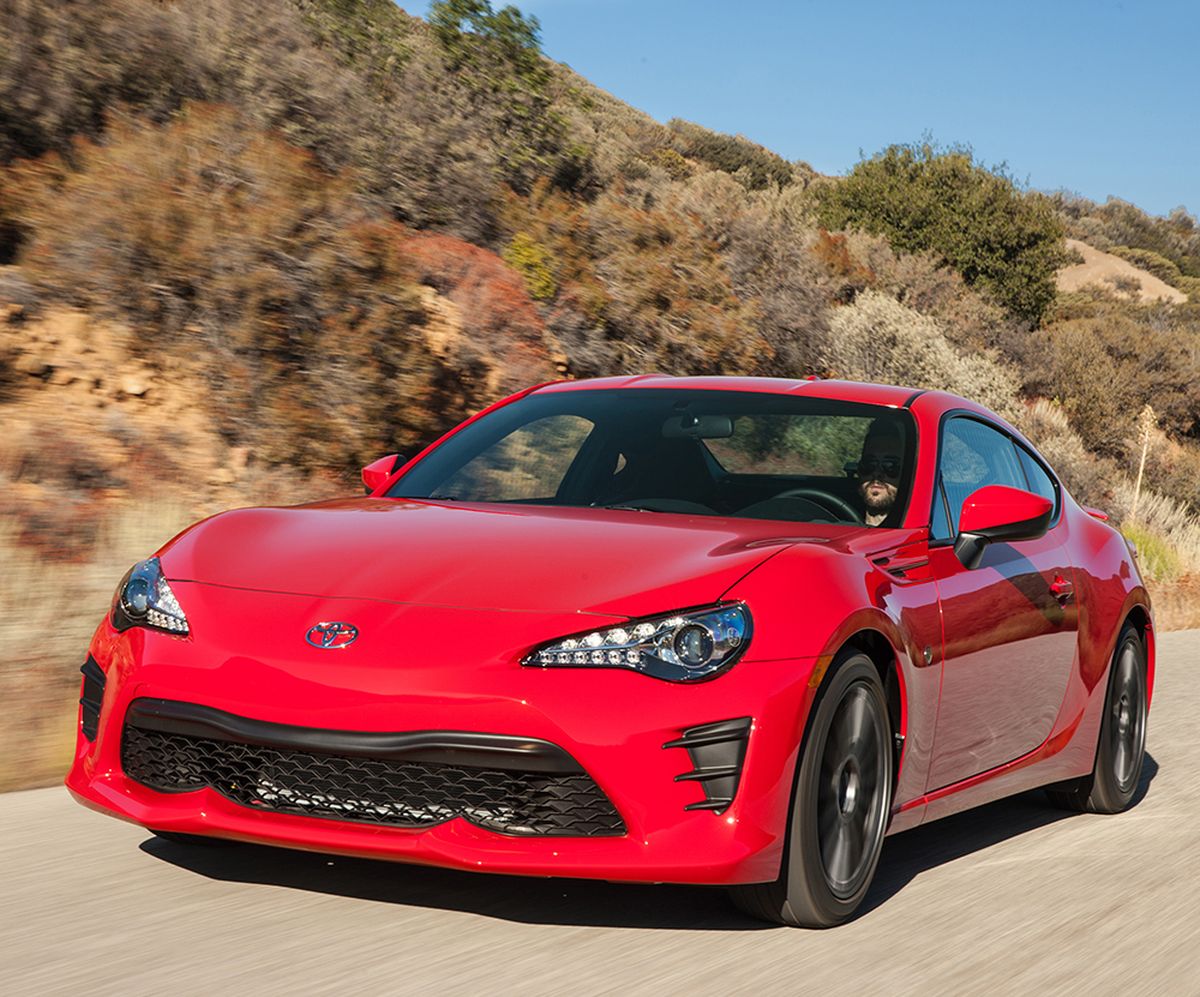 Following last week's wild romp in Honda's Civic Type R, let's dial it back a bit with a look at Toyota's take on the modern sports car.
The Toyota 86 is an affordable ($26,255) no-frills sport coupe now enjoying a second life. The 86 arrived in the States in 2012 as the Scion FR-S. When Toyota shuttered Scion last year, it rescued the FR-S, renamed it and gave it a spot in the main wing of the corporate garage.
For 2017, Toyota modifies the 86's suspension and stiffens its body shell, improving ride quality without degrading its impressive handling characteristics. Its sheet metal has been mildly updated and manual-transmission models receive a modest power bump.
Like the Type R, the 86 is a driver's car. It's reasonably comfortable and decently equipped, but its real strength lies in its sharp responses and deft handling. The 86 is all about rewarding drivers who like their roads with a few bends in them.
Fun for the masses
While the $34,000 Type R is a track car in street trim, the 86 holds out the promise of fun for the rest of us, sans the R's lethality.
Mishandle the 86 and it bites with far less drama than would the R. It's also less likely to spur the type of behavior frowned upon by law enforcement.
The 86 is the product of an odd-couple arrangement, which brought Toyota together with Subaru in its development. Subaru fields a near-twin version called the BR-Z.
Both cars run a naturally aspirated, Subaru-built flat-four engine. In the 86, it makes 205 hp and 156 pound-feet of torque when paired with a six-speed manual transmission. Mated with an optional six-speed automatic, those numbers slip to 200/151.
First-rate dynamics
Its rear-wheel-drive orientation endows the 86 with first-rate dynamics. The 86 enters corners with mild understeer and its torque-vectoring limited-slip rear differential produces a drama-free transition to oversteer.
The 86 wears 17-inch all-season tires grippy enough to produce modest lateral g-forces (0.86 g) before allowing the 86 to slip into (what we hope will be) a controlled drift.
Steering is quick, direct and well weighted. It communicates well enough to let the driver in on the negotiations taking place between the road surface and the tire's contact patches.
Brake and throttle and pedals are ideally aligned for the heel-and-toe technique and the short-throw shifter is rock-solid through the gates. Clutch take-up occurs in a narrow band of engagement and can be tricky until muscle memory takes over.
Wanted: More juice
Having recently driven two hot Civics — the 305-hp Type R and the 201-hp Si — I wanted more horsepower from the 86 and a broader torque curve. Peak torque occurs at a lofty 6,400 rpm, leaving a great midrange where not much thrust exists.
The four builds revs reluctantly and getting the most from it requires keeping engine speeds in the upper ranges. A stick-equipped 86 manages the 0-60 sprint in 6.7 seconds; the automatic arrives a second later.
Living with the 86 is a mixed bag. Some prospects will judge the 86 too stiffly suspended, too jiggly and rough. To limit curb weight, Toyota goes easy on the noise-reduction measures and a fair amount of wind and road noise find their way into the cabin.
No need to book track time

Supportive and well-bolstered, the sport seats are thinly padded and may not be ideal road-trip companions. The back seats are essentially fictional. The seatbacks fold to create a flat-floored cargo area.
Automatic LED headlights are standard, as are air-conditioning, cruise and a rearview camera. A 7-inch touchscreen manages infotainment duties, though the interface and its menu structures are awkward and lack hard-button support. Advanced smartphone apps like Apple CarPlay and Android Auto aren't available.
In the end, though, its modest output and rear-drive dynamics render the 86 an ideal platform on which novice track rats can develop their chops without serious risk to life and limb.
And besides, you don't have to book track time to explore the little coupe's limits — nor must you pursue its limits to enjoy its manifest pleasures.
Contact Don at don@dadair.com.
2017 Toyota 86
Vehicle base price: $26,255
Trim level base price: $26,255
As tested: $27,120 (includes destination)
Options: The 86 is a mono-spec car; our tester included no options.
EPA ratings: 24 combined/21 city/28 highway
Regular unleaded fuel specified
---
---