2018 Lexus LS 500h aims to conquer younger markets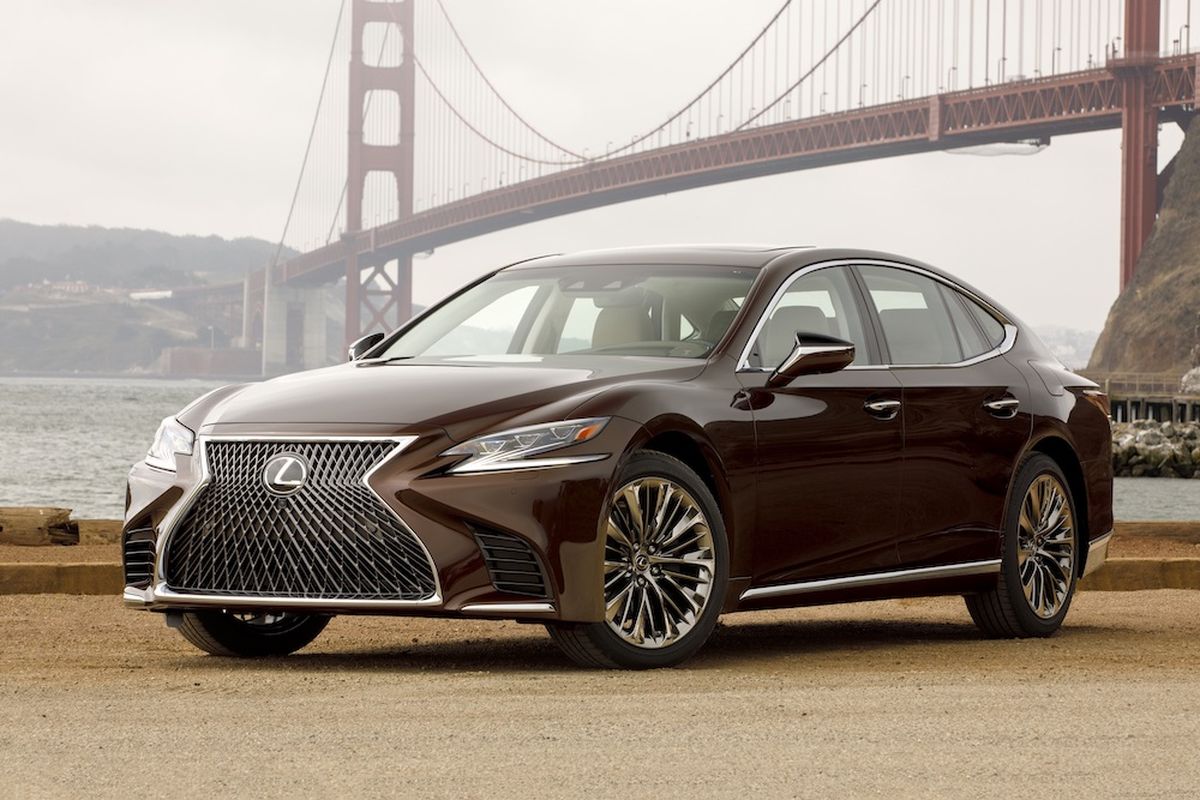 If you're a car company whose customers are of a certain vintage, your survival depends on your ability to adapt.
You're likely to begin building cars that are more dynamic, more aggressive and more tech-heavy.
Not to name names, but if you're Lexus, you might set out to reimagine the entire fleet, including your full-size flagship LS sedan. The LS debuted in 1989, the first offering from the then-new Lexus nameplate.
Its success proved that a Japanese company could compete at the top levels of the luxury segment. Over the years, it has served a large, faithful and aging audience.
Something new from Lexus
With the fifth-generation redesign, though, Lexus moves to entice a younger set of buyers. Its striking new shape, beautifully rendered cabin and enhanced dynamics upend traditional expectations.
The LS is, says Toyota "… made of the new for people who live in the new."
The LS is planted on a rigid new rear-drive (AWD is available) platform which lowers ride height and center of gravity. With its redesigned suspension, it's the most dynamic LS yet, responding crisply to driver inputs and handling corners with greater confidence.
Outside, Lexus's controversial spindle grille sets the stage for flowing flanks that swell at the wheels wells and pinch in at the midriff. A sweeping coupe-like roofline lowers overall height by more than an inch.
Oozing elegance
The LS is the most elegant LS ever, with a leather-and-wood-trimmed cabin that draws heavily on Japanese design. A flowing, organically contoured dash incorporates a potpourri of elements, including a unique interpretation of a Japanese cut-glass technique called Kiriko.
Nearly every surface but for a section of the lower dash are cushioned and leather-wrapped. On upper-level trims, the leather upholstery is hand-pleated, using an origami-like process that produces a dramatic quilted effect.
The effect is one of warmth, depth and great detail.
The front seats are large, enveloping and fully adjustable. Optional 28-way power-adjustable seats combine electric motors with a pneumatic control system that allows for fine adjustment of the entire seat.
Two new powertrain choices
Lexus' Remote Touch Interface (RTI) remains a difficult piece. Its touchpad controller is easier to use than in earlier generations, but its menus are complicated. Some key functions are buried three and even four levels deep, requiring too much driver attention.
Standard safety and driver-assist tech includes forward-collision warning and automatic braking with pedestrian detection; lane-keep assist; lane-departure warning; and adaptive cruise control. An Advanced Package brings front cross-traffic alert, road sign assist, and adaptive cruise control.
A pair of new powertrains include a twin-turbocharged, 3.4-liter V-6 that makes 416 horsepower and 442 pound-feet of torque. It's more efficient and more powerful than the V-8 it replaces.
The six is tuned to optimize torque production and spreads it across a broader power band. It powers the LS from 0-to-60 in a sports-car quick 4.6 seconds.
Also available is a hybrid system that combines the output of a six-cylinder gas engine and two electric motors to produce a total of 354 hp. That's down a bit from last year's hybrid, but fuel efficiency rises to 28 mpg combined.
Quiet, comfortable and compliant
The hybrid's centerpiece is an innovative 10-speed automatic transmission that marries elements of a standard gearbox with those of a continuously variable transmission. In our tester, it operated flawlessly, making smooth and quick shifts even in stop-and-go city traffic.
Both powertrains can be tailored to individual driving styles via three drive modes, Normal, Sport S or Sport S+.
Even so, the 5,000-pound LS has the heft of a heavyweight and its sheer size argues against vigorous romps on winding two-lanes.
Wearing optional 20-inch wheels, our AWD hybrid tester delivered a quiet, comfortable and compliant ride. The optional air suspension absorbed most road-surface irregularities and quickly dispersed the impact of larger potholes.
Since its introduction in 2012, Lexus's attention-grabbing spindle grille has stirred controversy. I've heard from unhappy readers convinced it would destroy Lexus sales. But the opposite is proven true; year-over-year LS sales are up 122 percent.
Change is good; just ask Lexus.
Questions or comments? Contact Don at don@dadair.com.
2018 Lexus LS500h AWD Luxury
Vehicle base price: $72,500
Trim level base price: $79,510
As tested: $104,720
Options included the Lexus Safety System; LED adaptive headlights; Luxury Package; adaptive variable air suspension; 20-inch split 10-spoke alloy wheels; heads-up display; Mark Levinson premium audio system; premium paint; panoramic-view monitor; premium wood trim; heated wood-and-leather trimmed steering wheel.
EPA ratings: 28 combined/25 city/33 highway
Premium gasoline specified
---
---