2019 Chrysler Pacifica Hybrid: Chrysler first to offer hybrid minivan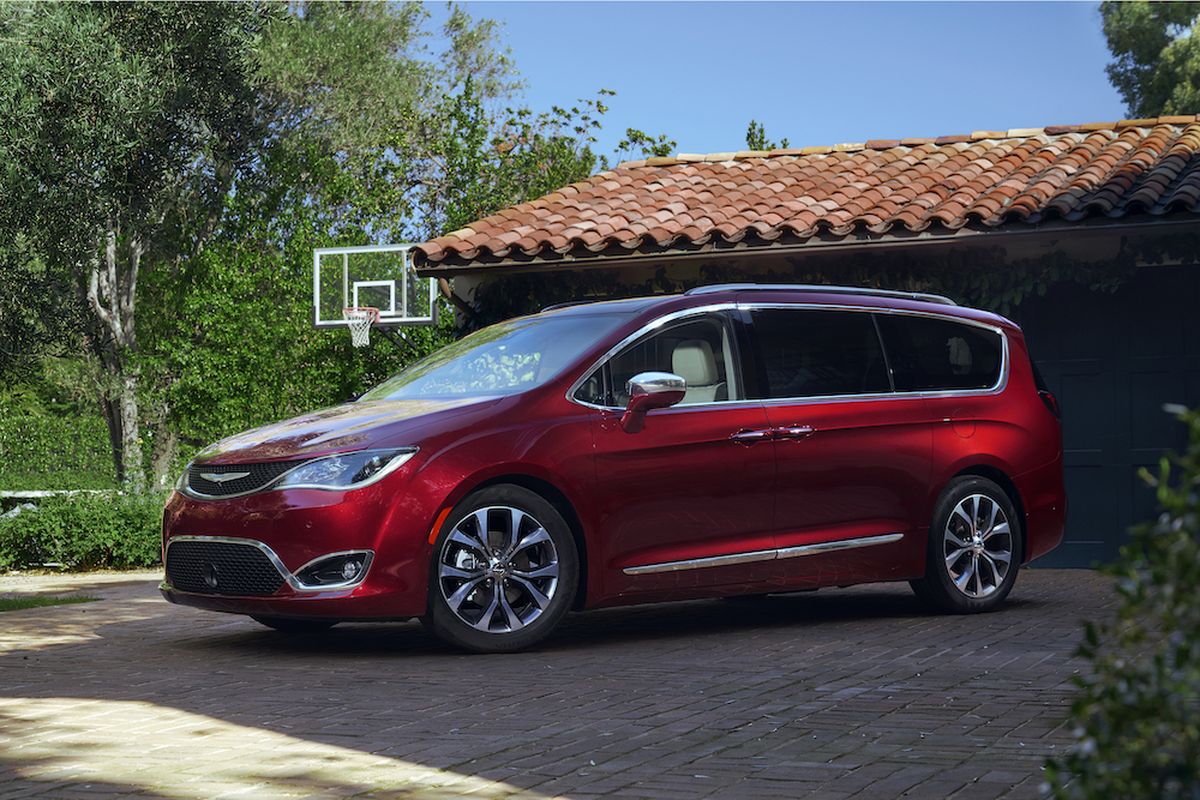 With apologies to Mark Twain, I can report that the death of the minivan has been exaggerated.
Three-row crossovers have wreaked havoc on van sales, but Chrysler's ground-breaking Pacifica proves the segment's heartbeat is strong.
The Pacifica is a state-of-the-art people-hauler. Roomy, comfortable and utilitarian in all the ways a minivan must be, it's also a technological tour de force, a better-than-expected ride and arguably the best-looking van on the market.
Its crisp lines and sleek profile make it a parking-lot standout. Its short, steeply pitched hood flows naturally into a swept-back windshield. The sliding-door tracks are hidden in the body work beneath the rear windows, making for a smooth, uncluttered look.
Chrysler says the Pacifica is the most aerodynamic of the minivans, contributing to class-leading fuel efficiency.
A slew of minivan firsts
The Pacifica replaced the Town & Country in 2017. Its rigid and lightweight new platform improved ride and handling and cut noise, vibration and harshness.
Chrysler claims for the Pacifica a long list of minivan firsts, including optional hands-free power sliding doors and liftgate, heated second-row seats and a pair of 10-inch touchscreens mounted on the backs of the front seatbacks.
New safety features include adaptive cruise control and a 360-degree camera, a great help in crowded parking lots.
More significantly, the Pacifica is the first minivan available as a hybrid. The 260-horsepower Pacifica Hybrid ($39,995) produces delivers more than 80 miles-per-gallon equivalent (MPGe). It can run up to 33 miles on battery power alone and has a total range of more than 500 miles.
When operating in gas-only mode, the hybrid earns an EPA-estimated 32 mpg combined/32 city/33 highway.
Smooth operator
The Pacifica Hybrid sprints smoothly from 0-60 in 7.8 seconds, which is about mid-pack in the segment (and a few clicks behind the 287-hp gas-only model). Its continuously variable transmission (CVT) matches up well with the engine's torque curve and slips into rubber-band mode only under heavy acceleration.
All Pacificas are equipped with Chrysler's Uconnect, a user-friendly, touch-screen-based infotainment system. It has a logical menu structure, while liberal use of knobs and buttons simplify its operations.
Last year, Chrysler added Apple CarPlay and Android Auto and a faster processor. Wireless connectivity was upgraded from 3G to 4G LTE.
Nix on Stow 'n Go
Inside its open and airy cabin, assorted cubbies, cupholders and slide-out bins offer abundant casual storage opportunities.
Fit, finish, and materials quality are vastly improved over the Town & Country, though a few plastic pieces felt out of place on our top-of-the-line tester.
The hybrid's battery pack is located under the second-row seats, where Chrysler's Stow 'n Go seats go when folded. Consequently, Stow 'n Go is not available on the hybrid. In compensation, the hybrid's second-row seats are more thickly padded — and more comfortable — than those in the standard van.
They also slide fore and aft and can be tipped forward.
Surprisingly responsive
Underway, the Pacifica Hybrid is surprisingly responsive. Steering feel is a bit light but builds heft with vehicle speed. The system communicates a fair bit of road-surface information, while a solid on-center valley keeps the van tracking straight.
The suspension shrugs off potholes, railroad crossings and broken road surfaces. In the curves, body roll is limited.
Our top-of-the-line Hybrid Limited tester rang up a healthy $50,375 price tag, sent soaring by such options as black exterior trim, Nappa leather, a rear-seat entertainment system and a panoramic sunroof.
The Advanced Safety Tec package ($995) brought the 360-degree camera and a suite of driver-assist and convenience features, including intelligent cruise control, lane-departure warning, automatic wipers and high-beam headlights and parallel and perpendicular park assist.
Incentives can help cut that price tag. As a plug-in hybrid, the Pacifica qualifies for a $7,500 federal tax rebate. As of Aug. 1, it also will qualify for up to $2,500 in Washington State incentives.
Hybrid or not, incentives or no, the 2019 Pacifica is a good reason to take another look at a nearly forgotten but still-dynamic segment.
Questions or comments? Contact Don at don@dadair.com.
2019 Chrysler Pacifica Hybrid Limited
Vehicle base price: $39,995
Trim level base price: $45,395
As tested: $50,375 (before rebates; includes destination and handling)
Options: Harmon Kardon audio system; Nappa leather; black trim and badging; 360-degrees surround-view camera; adaptive cruise control; lane-departure warning; automatic high-beam headlamps; streaming backseat entertainment system; panoramic sunroof; more.
EPA ratings: 82 MPGe/gas-only: 30 mpg combined
Regular unleaded fuel specified
---
---