Sun., Aug. 23, 2020
2020 Ford Mustang Ecoboost: New turbocharged four-cylinder powerplant energizes Mustang lineup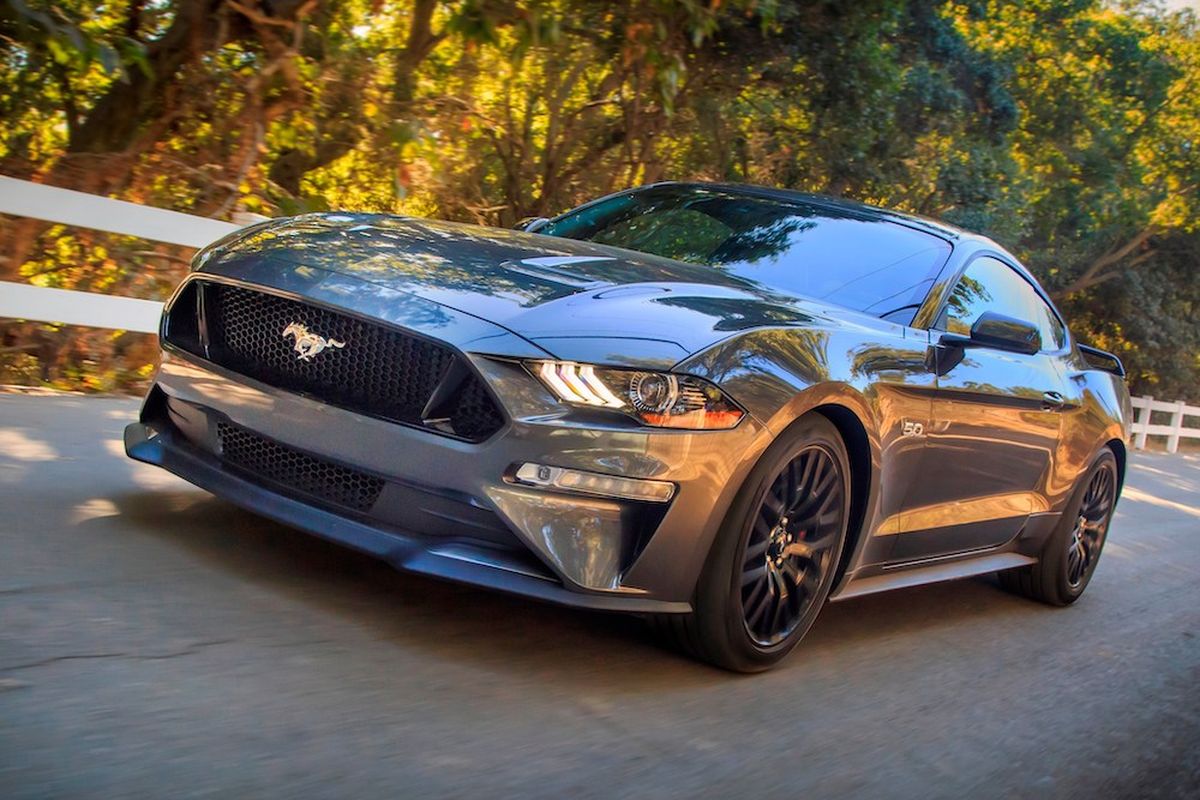 The 2020 Mustang builds on a 2015 makeover that axed the old solid rear axle for an all-independent setup. The change made for a night-and-day difference in both ride quality and handling. (Ford)
It may not be obvious to the world at large, but big doings are afoot for Ford's Mustang.
For starters, the very existence of the 2020 Mustang must be celebrated. As Ford shifts its focus to crossovers, trucks and SUVs, it is killing off all of its cars.
The Mustang debuted in 1964 and has survived the decades to become the last car standing at Ford.
For 2020, Ford resurrects the beloved Shelby GT500. Properly equipped, the $74,000, 760-horsepower GT500 is ready to roll right off the showroom floor and onto the racetrack.
Next year, Ford will launch the Mach-E, an electric crossover, and will bring back the Mach 1, a limited-edition, track-ready 'Stang.
Genuine performance
There's also big change at the less rowdy end of the lineup. This year, Ford drops a new turbocharged four-cylinder engine into the pony car's engine bay. The Ecoboost four makes either 310 or 332 horsepower, and turns the lesser 'Stang into a genuine performance piece.
Mustang is available as a coupe ($26,670) or convertible ($32,170). Powertrains include the new four or a 5.6-liter V-8, which makes 460 hp in the GT trim ($35,630), and 480 in the coupe-only top-of-the-line Bullitt ($46,705).
The 2020 Mustang builds on a 2015 makeover that axed the old solid rear axle for an all-independent setup. The change made for a night-and-day difference in both ride quality and handling.
Now the Mustang, which had been known for muscle-car acceleration, could handle the curves like a sports car. In most trims, its ride is quite compliant, softening the impact of potholes and the like.
Good vibes
Over the years, Mustang's cabin has evolved into a light-hearted blend of modern and retro. The tiered and scalloped dashboard feels a bit busy to my eyes and hard plastics dominate the forward cabin, but a whimsical vibe reflects the Mustang's essential joie de vivre.
The base infotainment system is uncomplicated and user-friendly, though its 4.2-inch display screen is cramped. The available Sync 3 system is less comprehensive than competing systems, but is dead-easy to use. Apple CarPlay and Android Auto are standard with Sync and a mobile hotspot is available.
Our tester's seats were broad and comfortable, though I suspect the available Recaro sport seats would be more supportive and grippier when the road turns twisty.
Other than a cell-phone tray and a large, covered center-console bin, there are few casual cabin-storage options. The 'Stang's trunk is generously sized, though its opening is small.
Safety gear absent
The back seats are present more or less in name only. Best to drop them and expand the trunk's capacity.
Safety and driver-assist features are essentially non-existent. Buyers seeking adaptive cruise control, blind-spot warning and emergency braking must invest in a pair of options packages.
The base 2020 EcoBoost is powered by a turbocharged 2.3-liter four-cylinder engine that makes 310 horsepower and 350 lb-ft of torque. A High Performance Package ($4995) bumps horsepower to 332.
Two transmissions are available, a sturdy and smooth-shifting six-speed manual or a 10-speed automatic that performed flawlessly during out test week.
The Ecoboost HHP 'Stang romps from 0-60 in the mid-four-second range. The base engine needs another second to get there.
Handling package
Equipped with the HHP, our tester accelerated in a rush, with little turbo lag and an ever-ready well of torque. The engine sound is coarse under hard acceleration and I found the augmented exhaust note off-putting.
A Handling Package ($1995) is available only on the coupe. It adds adaptive dampers, beefier sway bars and sticky Pirelli performance tires.
It is said to transform the coupe into a razor-sharp track beast but also produces a stiff and unforgiving ride.
The Handling Packages resolves my biggest gripe about the Mustang: without it, the Ecoboost steering is too lightly weighted and feels vague and numb on center. The 'Stang wanders in its lane at highway speeds and can easily be pulled off-course by ruts.
There's a large and loyal fanbase for eight-cylinder Mustangs but the new Ecoboost four is an alternative even an enthusiast could love.
Questions or comments? Contact Don at don@dadair.com.
2020 Ford Mustang Ecoboost Convertible
Vehicle base price: $26,670
Trim level base price: $32,170
As tested: $41,955 (includes destination and handling)
Options: High Performance Package; automatic transmission; hood accent stripe
EPA rating: 23 combined/20 city/28 highway
Regular unleaded gasoline
---
---