2021 Mazda Mazda3: New turbocharged engine deepens compact's pursuit of entry-level refinement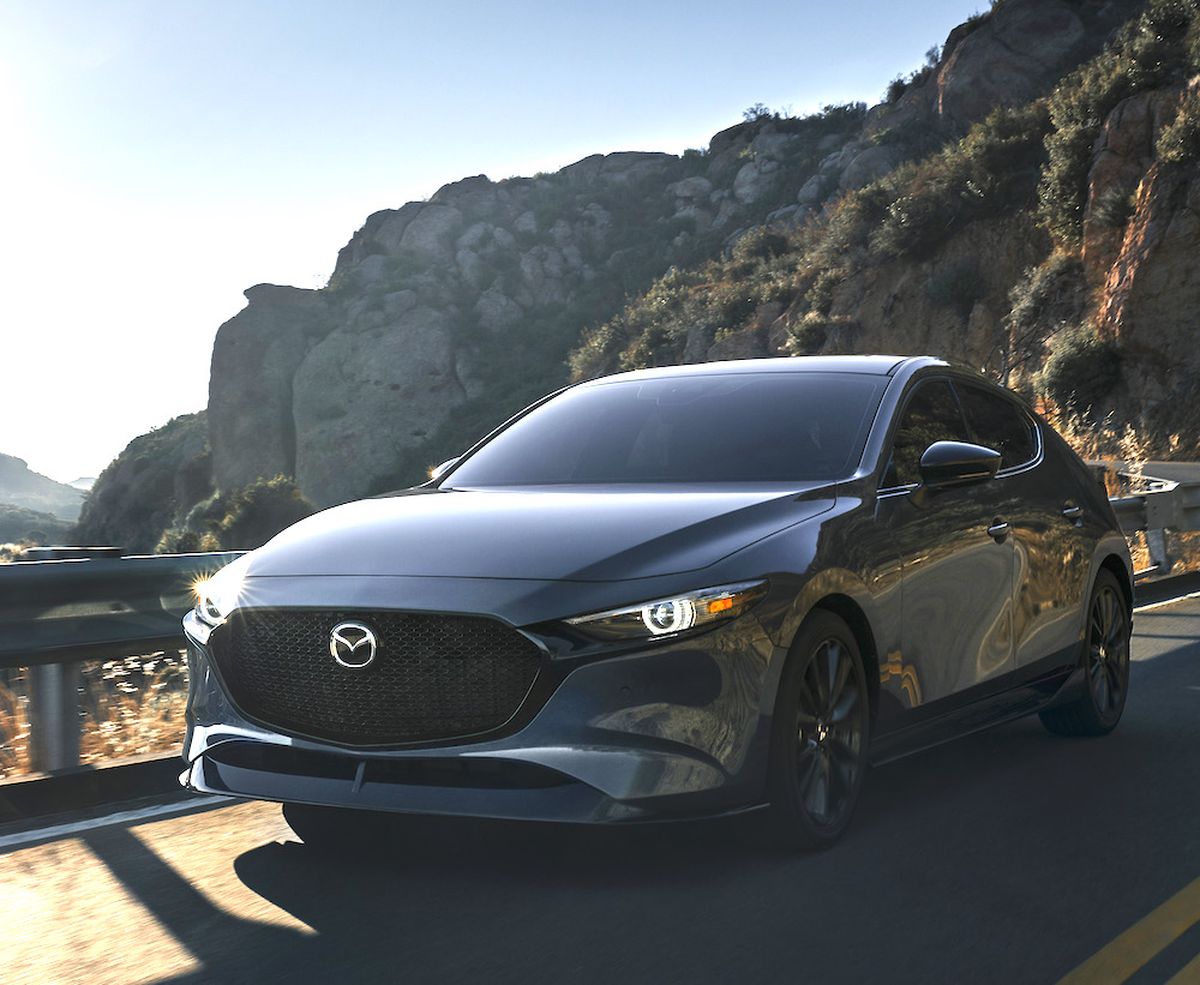 A small player in a land of giants, Mazda has created a unique survival strategy.
It leverages its under-the-radar stature with engaging, fun-to-drive cars with "above class" refinement and style.
In their upper trims, its vehicles approach European-level elan.
The 2021 Mazda3, illustrates the point. And a new-for-2021 engine reinforces it.
The Mazda3 ($21,500) is Mazda's entry-level compact. It's available in sedan and hatchback body styles, and in front- and all-wheel drive configurations.
Refinement meets engagement
It's one of the most engaging entrants in the segment, and one of only two to offer AWD.
It's a good-looking car in either body style, with simple lines and fluid contours. The current, fourth-generation model won World Car Design of the Year honors when it debuted in 2019.
The Mazda3's cabin also hews to Mazda's less-is-more aesthetic, with uncluttered lines and spare ornamentation. Most surfaces are covered in well-padded, soft-touch materials that are pleasing to the eye and touch.
Buttons, knobs and trim are of a uniformly high quality.
There are enough nooks and crannies to accommodate the phones, sunglasses, hand-sanitizers and other implements of modern life.
As it has migrated upscale, the cabin has grown quieter. At highway speeds, wind and road noise are minimal and the 3 feels planted and substantial.
Cramped back seats
Its compliant suspension absorbs most bumps and potholes, though broken pavement can produce a jolt that reaches the cabin.
The large display screen mounted high in the dash is not a touchscreen. Instead, Mazda uses a knob-based infotainment system controller. It has a distinct learning curve and its menus have grown a bit complex over time; audio controls should be front-and-center, for instance, and not buried under a screen or two.
Many of its functions can be controlled with steering wheel-mounted switches.
The front seats are comfortable and supportive, though tall drivers may find the cockpit too cozy.
In the hatchback, especially, the heavy rear pillar compromises sight lines.
The rear seats are cramped and the trunk is small. The trunk's narrow opening and high sill hamper access.
For that reason alone, I'd pick the hatchback.
Standard gear on all 3s includes LED headlights, rain-sensing wipers and keyless entry and ignition.
Driver-assist functions include automatic high beams; frontal collision mitigation; adaptive cruise control; lane keeping assist and a drowsy driver monitor.
Turbo strong, smooth
This year, the 3 adds a pair of new four-cylinder engines, boosting its powertrain lineup to three. A 155-horsepower four holds down the entry-level slot, while a turbocharged 250-hp powers top-level 2.5T trims ($29,900).
They bracket the 186-hp four that powers the bulk of the lineup.
The 3 last carried a turbo from 2007-13 with the MazdaSpeed 3. Driving that mad-quick, torque-rich little beast meant dealing with abundant torque steer that caused it to dart to one side under hard acceleration.
The new turbo isn't meant to turn the 3 into a track star. Instead, Mazda took the upscale route. It tweaked the suspension to compensate for the turbo's extra weight but left handling and steering feel largely untouched. Body lean is nicely controlled and steering is accurate and responsive.
Its ride is a bit stiffer than that of the non-turbo models' but never brittle or harsh.
Acceleration is impressive; 0-60 comes up in 5.2 seconds, about 2 seconds quicker than the naturally aspirated models. The engine's strong and creamy power delivery narrows the perception gap between the 3 and the Europeans that inspire it.
The engine is mated with a six-speed automatic. It's not ultra-quick nor always ultra-smooth, but it keeps the engine in the meaty part of its powerband.
Turbo output is octane-dependent. On 93-octane gas, the 2.5T is rated at 250 horsepower and 320 lb-ft of torque; 87-octane gas cuts output to 227 hp and 310 lb-ft.
Entry-level buyers in search of a fresh and distinctive approach with a Euro flair ought to include the Mazda3 in their search.
Questions or comments? Contact Don at don@dadair.com.
2021 Mazda Mazda3 Sedan AWD
Vehicle base price: $21,500
Trim level base price: $29,900
As tested: $32,065 (includes destination and handling)
Options: navigation; metallic paint; wireless charging
EPA ratings: 27 combined/23 city/32 highway
Regular gas specified (EPA data N/A for maximum 250-hp output)
---
---