2020 Toyota GR Supra: All-new sport-coupe rewards drivers who pay attention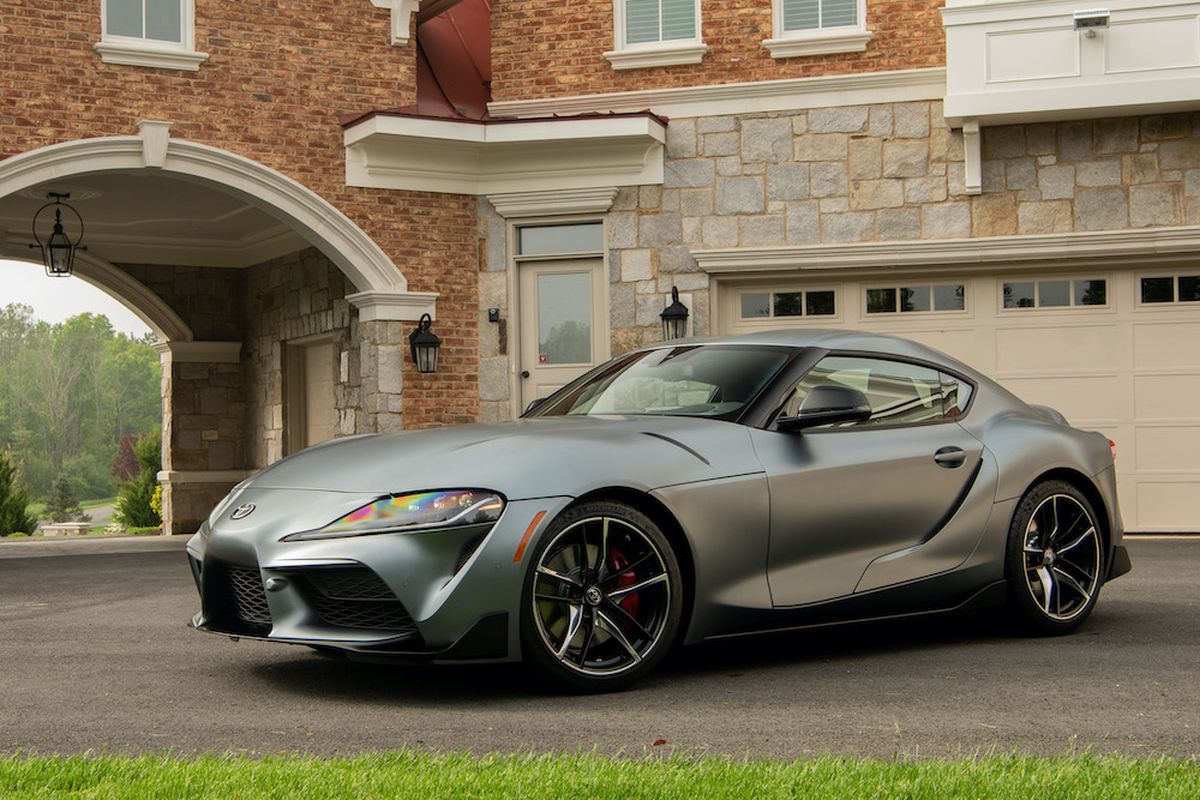 If you fail to approach Toyota's all-new Supra with caution, you're a supremely confident driver or you don't grasp the nature of the beast.
The 2020 GR Supra sport coupe is a sharp-tooth puppy that loves to play but sometimes bites.
So immediate is its acceleration, so sudden its steering responses and so exacting its chassis that trying to explore its limits on public roads is lunacy.
For a driver of, erm, modest skills, a car like this is best explored on the track, where a mistake isn't likely to cause death or disfigurement.
Gazoo Racing
The GR stands for Gazoo Racing, a new performance sub-brand developed under Toyota President Akio Toyoda, himself a race-car driver.
At its launch late last year, the Supra was available in three trims: the base 3.0 ($49,990), the Premium ($53,990) and the 1,500-unit Launch Edition ($55,250).
As aficionados know, the Supra is based on BMW's Z4 M40i roadster. The cars share mechanicals and even an infotainment system (BMW's very good iDrive).
Underway, the Bimmer is potent but relaxed; the Supra is no less potent but is also high-strung and exacting. It demands one's attention and rewards drivers who give it.
The sheet metal and cabin layout are Toyota-designed. The coupe's exaggerated curves may not be to everyone's tastes, but they are crazy eye-catching.
Somber, close-quartered cabin
The Supra's close-quartered cockpit is a somber, businesslike affair, though a carbon fiber center console adds visual spark to the all-black color scheme.
A blend of hard plastics and soft-touch surfaces covers the dash and door panels. Materials are of uniformly high quality.
Because it's low-slung and has wide door sills, ingress and egress can be challenging. Once inside, a pair of adults will find plenty of comfort in countered sport seats with adjustable side bolsters.
Not surprisingly, there's scant cabin storage and the trunk is undersized. Its short windows and swollen rear flanks create a sense of enclosure and impede sight-lines.
Fit-and-finish and build quality are top-notch.
Inline six a gem
Standard gear includes LED headlights, remote ignition, auto-dimming driver-side and rearview mirrors, adaptive suspension dampers, dual-zone automatic climate control, leather and simulated suede upholstery and power front seats with driver-seat memory.
There's also a 6.5-inch infotainment display (upgradable to 8 inches), a 10-speaker audio system, front collision warning with automatic emergency braking, lane-keeping assist and automatic high beams.
The Supra is powered by a BMW-built 335-horsepower turbocharged six-cylinder engine. It is mated to an eight-speed automatic that makes quick and sure shifts. In manual mode, it holds gears clear to the 6,500-rpm redline and beyond.
With the drive mode set to Sport, the Supra's adaptive suspension grows tauter and the shift points come higher in the engine's rev cycle.
The gearbox matches revs on the downshift, prompting a snarling, if not entirely natural, burst of exhaust barks and burbles.
0-60 in 3.9 seconds
The six produces 365 pound-feet of torque, which comes on hard at just 1,600 rpm, contributing to Supra's explosive acceleration. The Supra runs the 0-60 sprint in just 3.9 seconds.
Its steering is so quick that one observer claims the driver needs only think about turning to make it happen. Its short wheelbase and firm suspension can cause a case of the jitters when the Supra encounters a bump or an uneven road surface, especially mid-turn.
But, when you dial it all in and nail the apex and judiciously apply the throttle at the exit, the Supra delivers pure driving joy. Steering feel is nicely weighted and loads up progressively in the corners. It's precise, putting the car exactly where it's pointed.
Neither it nor the brakes provide much feedback, though, and the car can feel remote just when maximum communication is most desired.
Supra's suspension cuts body lean to near-zero. With it goes ride quality, at least in the traditional sense. Its adaptive dampers allow some compliance over bumps and rough surfaces, but the ride is stiff.
Toyota could have taken its collaboration with BMW in one of several directions. We're happy to that it chose one with a real bite.
Questions or comments? Contact Don at don@dadair.com.
2020 Toyota Supra 3.0 Premium
Vehicle base price: $49,990
Trim level base price: $53,990
As tested: $58,195 (includes destination and handling)
Options: dynamic radar cruise control, blind-spot monitor, rear cross-traffic alert, parking sensors with emergency-braking, carpeted cargo floor mat
EPA rating: 26 combined/24 city/31 highway
Premium fuel required
---
---