Sat., June 19, 2021
021 Toyota Corolla: Toyota bucks crossover craze with world's most popular passenger car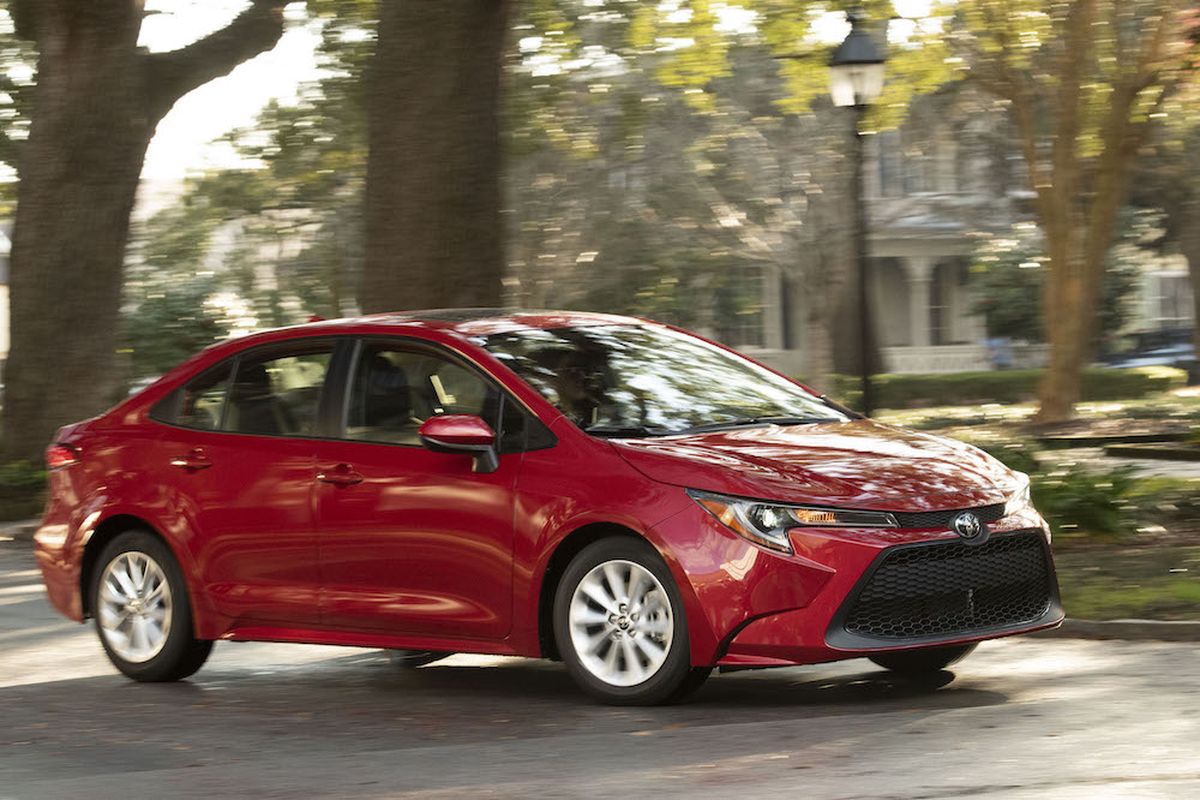 Corolla is a good-looking little piece, with clean lines and just-right proportions. Inside and out, it exudes a stylish, low-key vibe. (Toyota)
Toyota's compact Corolla is a little car with a big footprint.
It's the world's best-selling vehicle. It's built in plants located around the world and sold almost everywhere.
It's so popular in Japan that it's sold there in Corolla-only showrooms.
Corolla is a front-wheel-drive compact available as a sedan or four-door hatchback. All-wheel-drive is not available.
Corolla's reputation for reliability, durability and overall utility endears it to value-oriented buyers.
Five main trims
It's a good-looking little piece, with clean lines and just-right proportions. Inside and out, it exudes a stylish, low-key vibe.
To my eyes, the hatch is better looking than the sedan. It's less utilitarian, though, with less rear-seat headroom and legroom and a smaller cargo area.
We tested the hatchback last year; this year, Toyota sent us a top-level XSE sedan.
The 2021 Corolla sedan is offered in five main trims: L ($20,025) , LE ($20,475) , XLE ($24,425), SE ($22,475) and XSE ($25,725). A Nightshade ($23,175) version of the SE adds black exterior accents.
All Corollas are fitted with LED headlights and either a 7- or 8-inch touchscreen, with Apple CarPlay and Android Auto compatibility, and subscription-based WiFi.
Standard driver-assist features include forward collision mitigation, with emergency braking; lane departure warning; and adaptive cruise control.
Hybrid is available
Last made-over in 2020, Corolla is based on Toyota's newest unibody superstructure. It is sturdier and more agile than previous editions, though not as engaging as such competitors as the Honda Civic, Mazda3 and VW Golf.

A 139-horsepower 1.8-liter four powers the L, LE and XLE. The SE and XSE — the quote-unquote performance trims — get a 2.0-liter four that makes 169 hp. A hybrid Corolla ($23,600) earns an EPA-estimated 52 mpg combined.
In most cases, power is delivered to the front wheels via a continuously variable transmission (CVT). The sole exception is a six-speed manual gearbox that's available on the SE.
The 2.0-liter four in our tester was noisy when accelerating. With its simulated shift points, the CVT mostly behaved itself. When pushed hard, though, it lapsed into the high-revving elasticity typical of CVT behavior.
The SE and XSE lope from 0-60 in the low 8-second range, with the rest trailing by nearly a second.
No pretense of luxury
For 2021, Toyota spices up the lineup with a pair of sport-tuned limited-edition models. It built just 1500 copies of a Special Edition hatchback with a body kit and Supersonic Red paint.
Sedans are eligible for the Apex package, which brings a lowered suspension, tuned chassis and appearance upgrades. On the SE, it can be had with summer tires and the manual transmission, though Toyota built just 120 of the stick-shift models.
Both the sedan and the hatch offer a good ride in a pleasant and well-designed cabin. There's no pretense of luxury, even in the upper trims. There are plenty of plastic surfaces but overall materials quality and fit-and-finish are very good.
The touchscreen infotainment system has a simple menu structure. Large icons and supplemental knobs and buttons simplify its operation. Demerits for the hard-to-read touch-sensitive buttons that flank the screen.
Apple CarPlay and Android Auto are now standard on all models.
Excellent sightlines
The sport seats in our tester were well-contoured and supportive. Larger drivers may feel cramped in the tidy cockpit but most will fit just fine. Sightlines are very good and most drivers will find a comfortable driving position.
The new Corolla rides well, as the suspension tunes out all but the nastiest potholes. The Corolla SE and XSE run a stiffer, sport-tuned suspension and ride quality suffers somewhat as a result. Their larger, 18-inch wheels are less forgiving than the 15- or 16-inch rims found on other trims.
Extraneous body motions are well-controlled, though the Corolla exhibits moderate body lean in the corners.
Steering feel is vague, with a soft on-center channel.
At highway speeds, wind and road noise can be intrusive.
Despite the ongoing slump in sedan sales, Toyota still takes the segment seriously. The Corolla is small, but its footprint is large and durable.
2021 Toyota Corolla XSE
Vehicle base price: $20,025
Trim level base price: $27,725
As tested: $25,589 (includes destination and handling)
Options: 8-inch touchscreen; navigation; JBL audio with subwoofer and amplifier; adaptive front lighting; door edge guards; frameless Homelink mirror; alloy wheel locks; protection package
EPA rating: 34 combined/31 city/38 highway
Regular gasoline specified

---
---