Fri., Aug. 10, 2018
Lessons Learned at Quillisascut Farm's Summer Culinary Workshop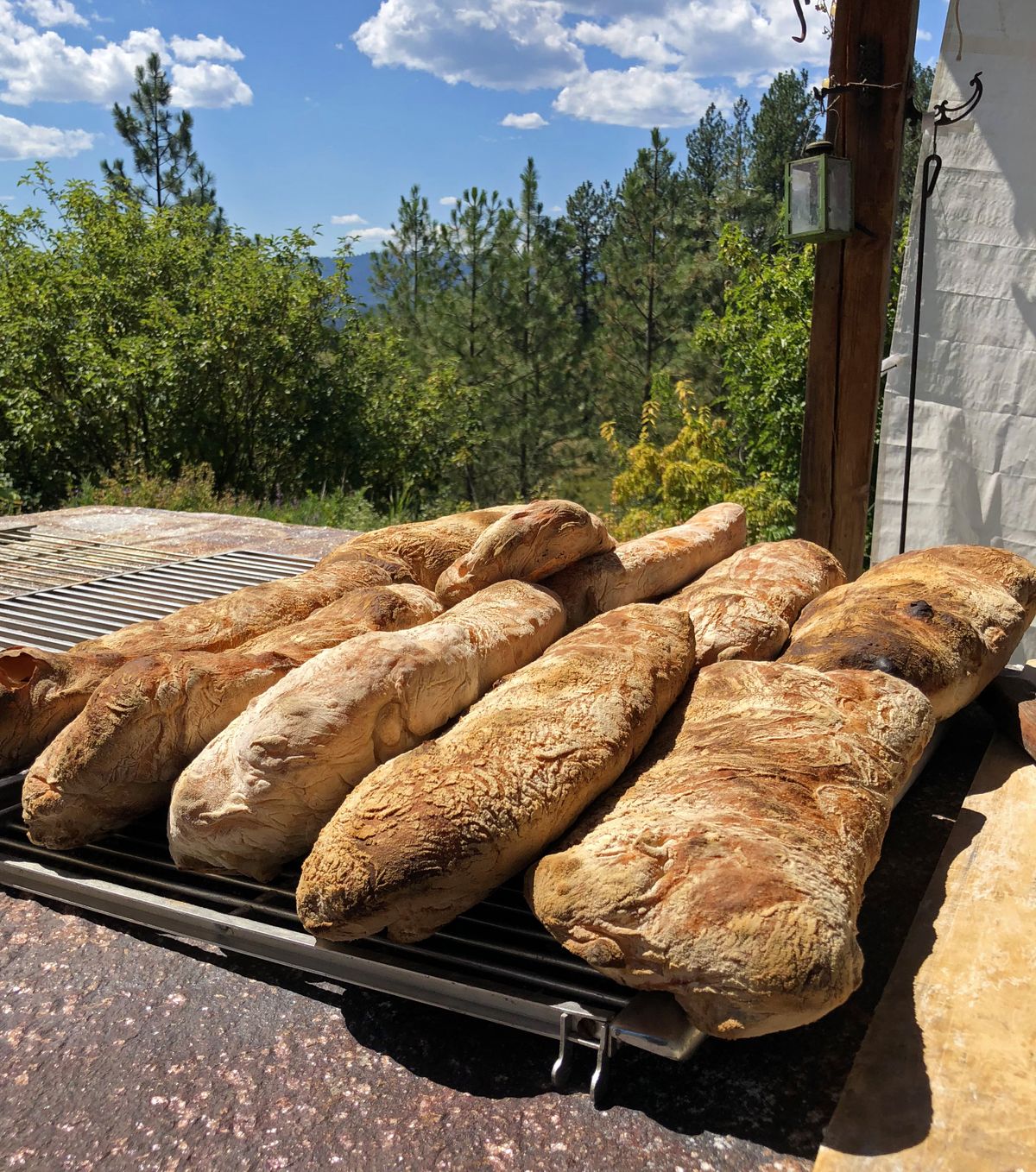 Ciabatta bread is just out of the wood-fired oven at Quillisascut Farm. (Leslie Kelly)
While John backpacked with buddies in the Kokanee Glacier Provincial Park, I spent a few days soaking up delicious lessons at Quillisascut Farm's Summer Culinary Workshop, just south of Kettle Falls.
I've always loved every minute of this hands-on culinary camp, but this year Quillisascut's owners are doing something brand new… offering access to their place to outdoor adventurers through Hipcamp.com. (More on that at the end of this story.)
There's never a dull moment during these intensive workshops, where students do farm chores such as butchering chickens, milking goats, making cheese, dead-heading flowers, picking apricots and prepping meals.
The owners of this special spot were on board the eat-local-and-sustainable bandwagon long before it was a red hot trend. Rick and Lora Lea Misterly bought the land in the early 1980s, started making cheese shortly after settling in, Lora Lea drawing on her childhood experiences growing up on a dairy farm in Leavenworth.
Fast forward a few decades and the couple shifted gears by offering chefs, culinary students and enthusiastic food lovers the opportunity to learn about the way those incredible ingredients get planted, tended, harvested, prepped and eaten. Seattle-based culinary instructor Karen Jurgensen has been a key member of this amazing team since the program debuted 16 summers ago.
During four action-packed days, I had so much fun doing all this and much more:
Meal planning with a team (I made my grandmother's potato salad to accompany our team's Southwestern spit-roasted chicken and an awesome sweet corn ice cream.)
A mountain picnic and huckleberry picking.
Field trips to an organic orchard and an ambitious family farm specializing in high-density planting and heritage varieties of apples.
Bread and pizza making in the wood-fired outdoor oven.
Picking fava beans.
Cracking walnuts.
Gathering eggs, feeding the goats.
Savoring many spectacular meals and stirring discussions at the long, communal table.
Taking a refreshing plunge in nearby Lake Roosevelt.
It was hard to say goodbye, but I might be coming back soon now that Quillisascut Goat Farm is part of the Hipcamp network. That means you can camp on the beautiful property for roughly what you'd pay at an RV Park. There are no electrical hookups or dumping station, but there are goats to visit -- bonus!
Lora Lea said: "People have asked in the past if they could come visit the farm and bring their kids, and Hipcamp is a great way for them to spend some time here and learn about farm life or just enjoy the peacefulness of the countryside."
Hipcamp offers all sorts of rustic options for getting your outdoors on, from primitive cabins and campsites to squee-worthy tiny houses in urban settings. It's like AirBnB, but with a focus on camping. Like similar sites, it offers the chance to post reviews of places you've stayed.
Today's Going Mobile question: What's the coolest place you've camped or parked your RV?
Want more? Check out our Instagram photos at instagram.com/ourgrandtour.
---
---