Fri., Dec. 14, 2018
Las Vegas has appeal for RVers as well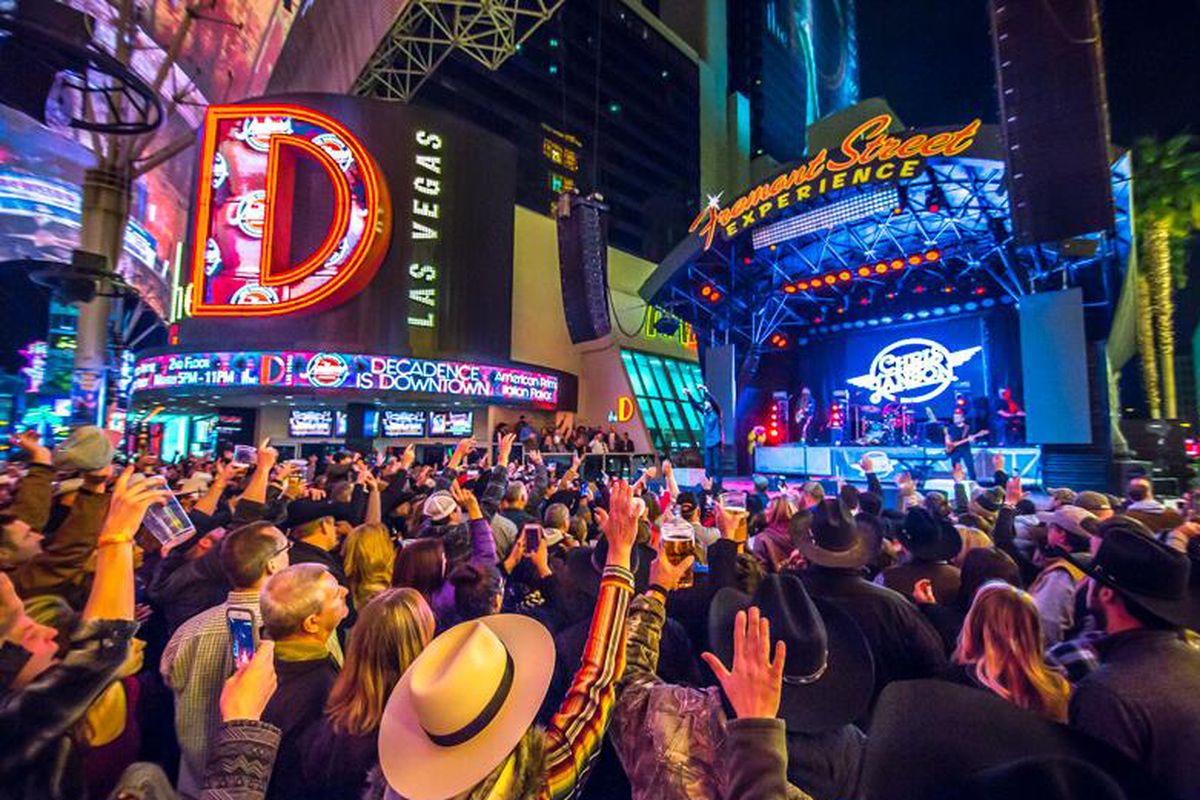 The Fremont Street Experience features live performers nightly amid the casinos of Downtown Las Vegas. (Courtesy of Fremont Street Experience)
After spending a few days in Las Vegas, here's the conversation we were having:
John: "I can't wait to get out of here!"
Leslie: "What's your deal, anyway? Can't you just go with it?"
John: "It's so artificial. It's so bright and loud!"
Leslie: "Stop being a baby."
As we ruminated over breakfast at the Plaza Hotel and Casino in Downtown Las Vegas, our often-played keno numbers started appearing on the board. And like magic, first three of our numbers came up, then five… then six out of six. Jackpot! Now, $1,600 richer, John's frown turned upside down.
"I love this place!" he said.
Sure, Las Vegas is fun when you win. Even if you don't, many people love the action, the over-the-top glitz, the schmaltz. But for those of us who aren't huge gamblers, it's best to have a good game plan coming in.
This was ours:
Explore old-school Vegas: We're suckers for the olden days of Las Vegas when Frank, Sammy and Dean ruled the stage at The Sands. So we decided to take in "The Rat Pack is Back," a tribute show playing at the Tuscany Suites off The Strip. Can you say "Ring-a-ding-ding?" Later Leslie tracked down "Big Elvis" at Harrah's piano bar for more kitschy fun.
Choose Downtown: For many people, The Strip is the place. That's where you'll find the fanciest casinos and shops. But for us, staying Downtown was the right choice. We had a nice room at The Plaza, a revitalized high-rise with retro-cool style. It's also steps away from the Fremont Street Experience, a rollicking party with live music, performers and even a zipline (SlotZilla) high above the action.
Take advantage of the dining: We enjoyed several meals out. No. 1 on the list was Momofuku in the Cosmopolitan on The Strip. Downtown, we settled into the Smashed Pig Gastropub for a top-notch burger and the best deviled eggs ever.
Get outside: Surprisingly, Las Vegas is a very good place for outdoor recreation. Red Rock Canyon National Conservation Area sits 17 miles from Downtown -- it's a great destination for a bike ride, a hike or a climb. Nearby, Lake Mead National Recreation Area offers fantastic camping for RVers. Two of the best campgrounds are at Willow Beach and Boulder Beach, according to our friend Seabury Blair Jr. And just short drives away are the national parks Death Valley, Grand Canyon, Zion and Joshua Tree.
Explore the city: Las Vegas is about more than its gambling palaces. We walked through the Downtown Container Park to check out the entertainment, shopping and dining. And for thrifting, Las Vegas is superb. Main Street Downtown is filled with antique stores, and we also explored thrifting north of town at one of the best Goodwill stores we've ever encountered.
Play keno: OK, it's not everyone's favorite game of chance, but it worked for us -- to the tune of $1,600. As Big Elvis says on stage at Harrah's, "Viva Las Vegas!"
Rocky Mountain recommendation: We heard from reader Karen Jessup, who shared a fascinating story in earthmagazine.org on Rocky Mountain National Park's gorgeous Trail Ridge Road. Thanks Karen!
Today's Going Mobile question: What's your favorite RV trip from 2018? We want to know -- send photos to goingmobile@spokesman.com and we'll post them on the Going Mobile blog.
---
---