Mon., Oct. 29, 2018
Shortcuts that don't suck: Southern-style banana pudding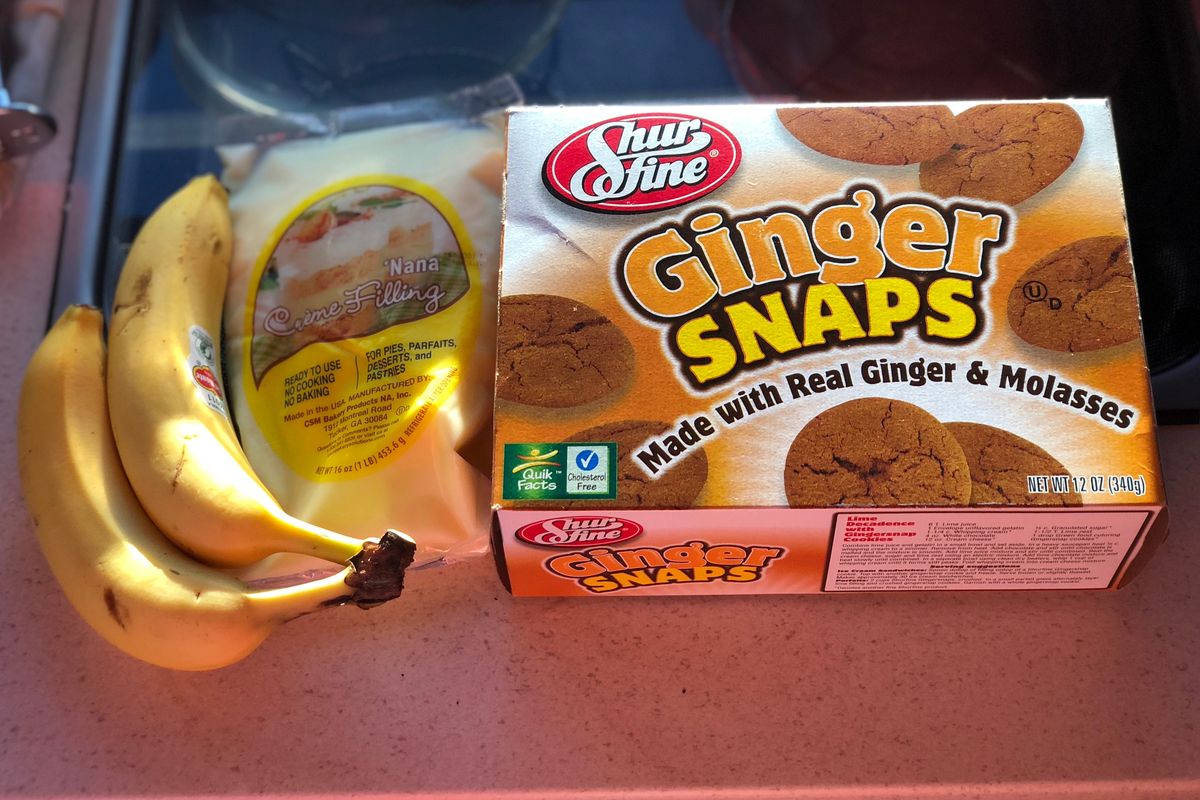 Don't feel guilty about taking shortcuts when cooking in a tiny kitchen on wheels. These simple ingredients inspired a trip down memory lane. (Leslie Kelly)
Before moving to Memphis, Tenn., in 2004, I had never heard of banana pudding, the staple sweet that appears on so many home cooking cafe menus down South. My first bite of that layered creation of creamy custard, sliced tropical fruit and Nilla Wafers marked the beginning of my love for that special and complicated part of the country, where outrageously delicious foods are served with a heaping helping of that famous Southern hospitality.
While living in the Bluff City by the Mississip, I learned so much about food, about pimento cheese and how to properly fry chicken (lard and country ham are key in my go-to recipe from the groundbreaking chef Edna Lewis). I never mastered the art of making sweet tea, but my buttermilk biscuits are fine and dandy.
Now, whenever I'm craving something in the comfort food category, my shopping list suddenly has a Southern accent. While road trippin' around the rural southwest in our RV, those ingredients aren't exactly easy to source. So, when I spotted a plastic bag of "Nana Pudding" with a "made in Georgia" stamp on it, I grabbed it. I'm all for cooking from scratch, but in our tiny kitchen on wheels, that's not exactly a cinch to pull off. I've got one cupboard dedicated to pantry items, and a fridge the size of something you'd likely find in a college dorm room. I'm adapting. And I'm grocery shopping almost every day, which is perfectly OK because I like to shop, especially in supermarkets that reflect the region we're in. Hello, green chili dip in New Mexico!
I found the 'Nana Pudding pouch in Raton, N.M., a historic town in the northeast corner of the state, where there's all kinds of well-deserved civic pride, but a shrinking population and a bunch of boarded up buildings downtown. We have family ties, and it was really nice to spend a few days in a real home and cook in a proper kitchen. On the way out of town, we stopped at the Super Save for a few essentials and right before hitting the checkout line I spotted the pudding.
Instead of bland Nilla Wafers, I hit the cookie aisle searching for gingersnaps. A variation of the classic featuring those spicy cookies was served at a Southern Foodways Alliance symposium I attended in Oxford, Miss., many years ago, a creation from a clever pastry chef from New Orleans. Served at a sun-drenched outdoor lunch, that perfect pudding made a huge impression. But like many meals I enjoyed in the South, the fond memories also had a lot to do with the conversation between the good people around the table.
There's no way that my shortcut version came close to that sublime rendition savored back then, but I was pretty happy with it, the gingersnaps softening under a flood of better-than-average store-bought pudding, stirring such sweet memories. I encourage you to try playing around with different cookie/pudding combos. Like, how about graham crackers with chocolate pudding and a little toasted marshmallow on top. You see where I'm going here, right? Just be sure and put it altogether the morning before you plan to eat it so the cookies have time to soften.
Have some shortcut recipes to share? Please send them to goingmobile@spokesman.com.
---
---