RV Park Review: Northern Quest is a winner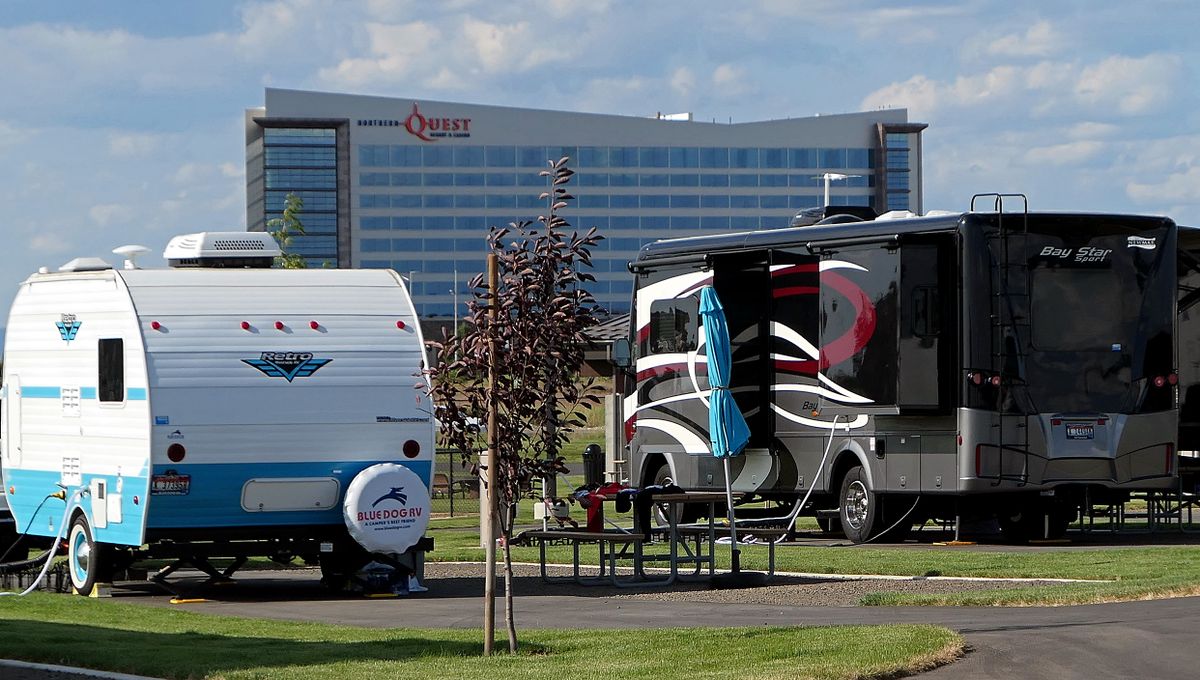 Northern Quest's RV Resort has that sparkling new car smell, from the snazzy lobby to the spectacular pool area just beyond the clubhouse. And like that sweet new ride, there's at least one minor kink to iron out.
Within walking distance of the popular casino, this location bills itself as the area's only luxury RV resort. The 67 generously sized sites are built for big rigs and -- bravo -- there's no need to bust out those leveling blocks. Smooth sailing from the get-go as the camp host guides you to your spot in a golf cart. Oh, and you can rent one of those if you'd like to zip quickly to Northern Quest.
The park feels parklike with lush lawns, beautiful planters overflowing with fragrant petunias. It was a pleasure to sit and watch hummingbirds dipping in for a sip of nectar.
When the stars come out, you can fire up one of the propane-fueled pits and pull up one of the comfortable chairs provided for guests. And if you'd rather be a little more active, there's a corn hole game set up. Very welcoming touches.
Thinking of having a party? There are some nice public spaces around the property, including picnic tables by the pool. There's also a catering kitchen.
And if you want to meet up with friends or family who don't own an RV, there are one- and two-bedroom cottages on site. Other amenities include decent WiFi, a dog park, laundry facilities and a workout room. The main bath house is on one end of the property, and it's relatively small considering the size of the place. An additional shower is available at the pool area.
Everything was perfect with our peaceful stay... until 3 in the morning when the automatic sprinkler started up. The powerful stream hit our slide-out for the next 45 minutes, which was not exactly the kind of wake-up call we were hoping for. OK, fine. We dozed off after the sprinkler stopped and the free coffee in the clubhouse helped clear out the cobwebs.
We'd definitely stay here again, especially if there is a performance we wanted to catch at the casino. Take note, though, the weekend spots get filled up quickly so make those reservations as soon as possible.
---
---