Fri., June 14, 2019
Plenty of love remains for retro RVs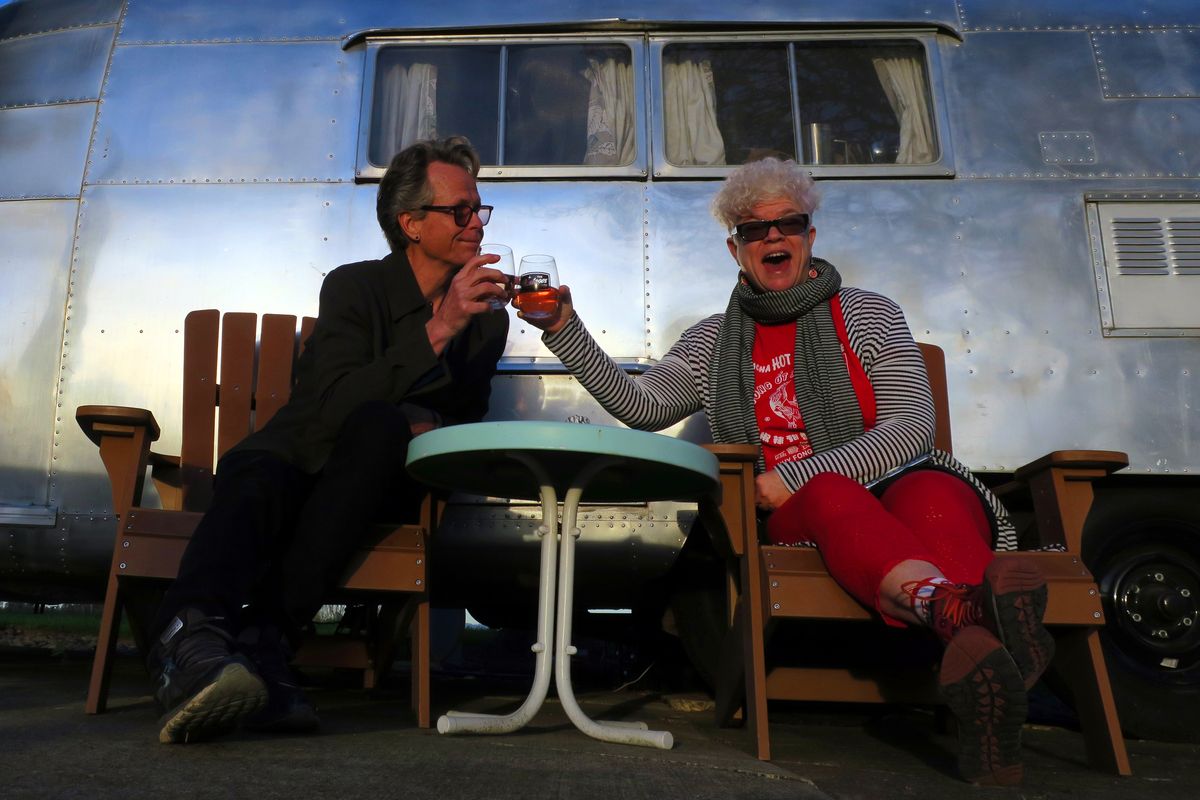 The Vintages Trailer Resort in the Oregon wine country has a variety of restored trailers for rent, including this Airstream. (John Nelson)
The adage "they don't make 'em like that anymore" goes double for RVs and travel trailers. Today's lighter rigs deliver better fuel economy and still manage to add modern extras: microwaves that double as convection ovens, multiple TVs, overstuffed sofas that recline.
Yet, there's something that's still so charming about those vintage tiny homes on wheels. The interiors are crafted with real wood, not laminate. Fixtures are quirky cool, and there's usually lots more space.
After covering more than 20,000 miles exploring the country, we spotted many retro gems, snapping photos of them like paparazzi at a Kardashian sighting. It probably won't come as a shock, then, when we reveal that we own a 1958 Aloha travel trailer. We're partners in this barely roadworthy family treasure with Leslie's brother, Chris.
It originally belonged to Leslie and Christopher's grandparents, who lived in it during summer months while their retirement dream was taking shape in a one-room cabin near the Icicle River in Leavenworth.
Nana and Papa's beloved Aloha later became the official guest room, and, boy, the grandkids loved staying and playing in the snug space.
While we couldn't find statistics on how many retro trailers and RVs are on the road in 2019, there's plenty of anecdotal evidence this trend is here to stay. For instance, there are sites such as Tin Can Tourists that showcase retro rigs for sale. Airstream continues to be a red-hot brand with its classic look.
And more manufacturers are coming up with new models that look old such as the Forest River R-Pod, and Riverside RV's Retro series, which is sold in the Inland Northwest at Blue Dog RV. Also, mark your calendars for Sept. 7's Vintage Wheels Show in Winthrop, which will include old-school travel trailers.
Finally, if you'd looking to soak up some old-fashioned flavor without investing in a retro rig, you can always check into a couple of really cool resorts.
The Sou'wester in Seaview, Wash., describes its mission as providing a hodgepodge of accommodations, but it's the permanently parked trailers that will blow your mind. These adorable digs are outfitted with all sorts of nods to the past, including old fashioned stereos with turntables. You can check out vinyl albums in the lobby.
The Vintages Trailer Resort is located in the heart of Oregon wine country near Dayton, and guests are encouraged to cook out and sip pinot noir at their sites. Picnic tables and grills are just part of the swell extras the thoughtful staff has added for these blasts-from-the-past rentals. Like a super-groovy hotel, there's also plush robes, in-room coffee and special programming during summer months. Take note, these trailers fill up fast on weekends, so plan accordingly.
Circling back to our Aloha, we sure hope to spend a little time hanging out this summer. It's currently parked right next door to where it spent many a season as our grandparent's summer home in Leavenworth.
This week's Going Mobile question
Do you have a story to tell about a beloved vintage RV? We'd love to hear it at goingmobile@spokesman. Bonus points for sending photos we can share with our readers.
---
---