Mon., May 13, 2019
RV Cooking: Looking for relief when you're sick on the road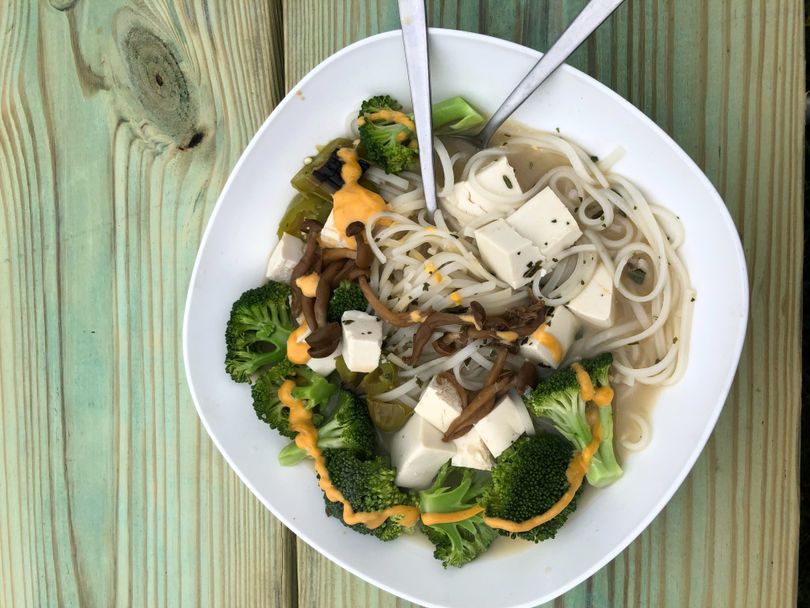 Being sick sucks, but double that pain in the neck factor when you're barreling down the freeway, trying to cover as many miles as possible on a cross-country portion of Our Grand Tour.
Yes, we're feeling very fortunate neither of us has been hit with the flu this winter season. Not even a cold. But after a few weeks of eating a whole lot of (wonderful) rich food in the South, I started feeling like I'd been punched in the gut. Well, I'm tough. I'm not going to let a little tummy trouble get me down. Bring on the fried chicken!
Then, while putting in some long days on our way back home, things went from bad to worse, and I lost my appetite. Yeah, you know it's serious when the professional eater loses interest in cooking/eating. When we pulled into a KOA campground near Richmond, Indiana, I was craving a big bowl of pho, one of my go-to comfort food. Fat chance I'm going to find it around where we were staying, which was far from any commercial area.
So, I went looking in my Container Store bins that double as my pantry, and -- hooray! -- I found some ingredients that would work for this quick fix. That's because when I go shopping, I'm always looking ahead, and looking around for unusual ingredients to tuck away for just this kind of scenario. I had picked up a carton of miso pho broth somewhere along the way, and had some rice noodles, as well as a carton of firm tofu. Steamed some broccoli, and added a few pickled mushrooms leftover from another meal, and, oh, Red Boat fish sauce provided a little umami.
It was certainly not anywhere near as good as the pho you find everywhere in the Northwest, but it worked. You could do the same noodle soup treatment with chicken broth and pasta.
Here's the takeaway: It's always good to prepare for the worst and expect the best. If that sounds like a glass half-empty, I'm fine with that. Especially if that glass is filled with some ginger ale.
---
---