Fri., July 3, 2020
Deception Pass deserves title as state's top park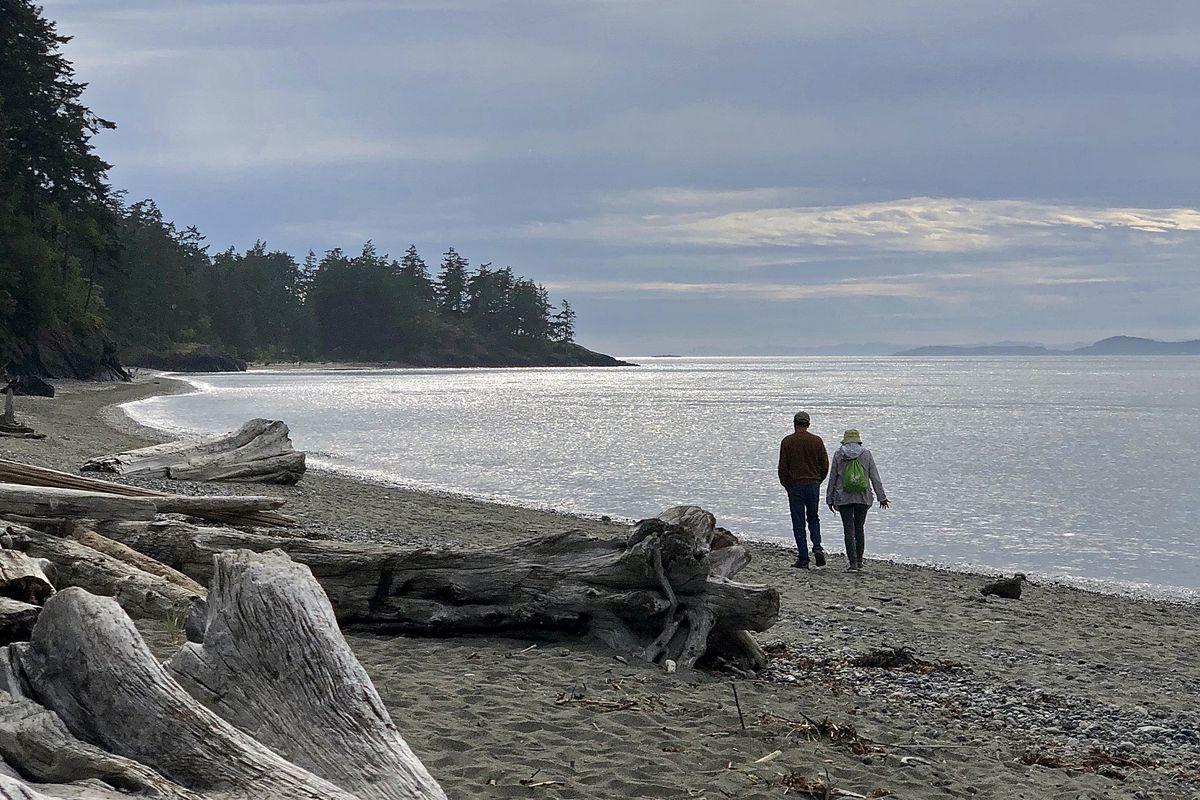 The beaches at Deception Pass offer lovely hiking and views of the San Juan Islands. (Leslie Kelly)
Can you visit Washington state's most popular park safely in the time of COVID-19?
Yes, absolutely. We stayed at Deception Pass State Park, and came away impressed with how the state's park commission is managing this difficult time amid a raging pandemic.
Deception Pass, on the north end of Whidbey Island, is the most visited state park in Washington for many reasons: It features 38 miles of hiking trails spread over its 3,854 acres, and has some of the state's most beautiful coastline.
If that's not enough, there's the pass itself — a narrow stretch of water that rushes like a river during tidal changes. During our stay, we couldn't get enough of simply sitting and watching this force of nature.
When we booked our campsite, we didn't know what to expect, wondering if the state's most popular park would be overrun with people. We came away pleasantly surprised.
While Deception Pass is unmistakably popular, the vast majority of people come for day trips, visiting in mid-morning and clearing out late in the afternoon.
The overnight camping at Cranberry Lake Campground is exceptional, private, and quiet, except for the ubiquitous sounds of Whidbey Island Naval Air Station next door. After a while, you even get used to the sound of jets taking off and landing — a small price to pay for all the beauty around you.
We saw more eagles than we could count, hiked through deep forest and rugged coves, and watched sunsets over mostly empty beaches.
On this trip, we also camped at Camano Island State Park nearby and had another positive experience. Camano has no powered sites, but dry camping was stellar and our pull-through was ultra-private, even though the grassy parking pad was a bit lumpy. Hiking to the beach overlooking Saratoga Passage was secluded, and we enjoyed an epic campfire while dining on Leslie's exceptional chile rellenos. (Check out the recipe on our blog at spokesman.com/blogs/going-mobile.)
This three-day trip was something of an experiment. We wanted to check out Washington's state parks as they reopen, but we also wanted to see what it was like to travel with two vehicles.
That's right — this is the first time we've had our passenger car along for the ride.
We've made dozens of trips with our Thor Gemini as our only motorized means of getting around, using bicycles and our feet to take short excursions once we're set up for camping. For simplicity's sake, it's always been nice to not deal with a tow vehicle, but the tradeoff is to feel somewhat stuck once we're hooked up.
This time, we had the luxury of being able to drive our Toyota Camry on Whidbey and Camano Islands. While on Whidbey, we used the Camry to visit Oak Harbor, Coupeville and go hiking at Ebey's Landing National Historical Reserve on the Bluff Trail, one of the best coastal walks in all of Washington.
On Camano, we took the Camry to Cama Beach State Historical Park to check out the park's beach cabins, which date back to the 1930s.
So what's the verdict? Do we want to add a tow vehicle to our RV lifestyle? We're tempted, which brings us to the following question.
This week's Going Mobile question
Do you think a tow vehicle is essential for the RV lifestyle? We'd love to hear your opinions, personal stories and any tow vehicle recommendations at goingmobile@spokesman.com.
---
---