Good times often call for great grilling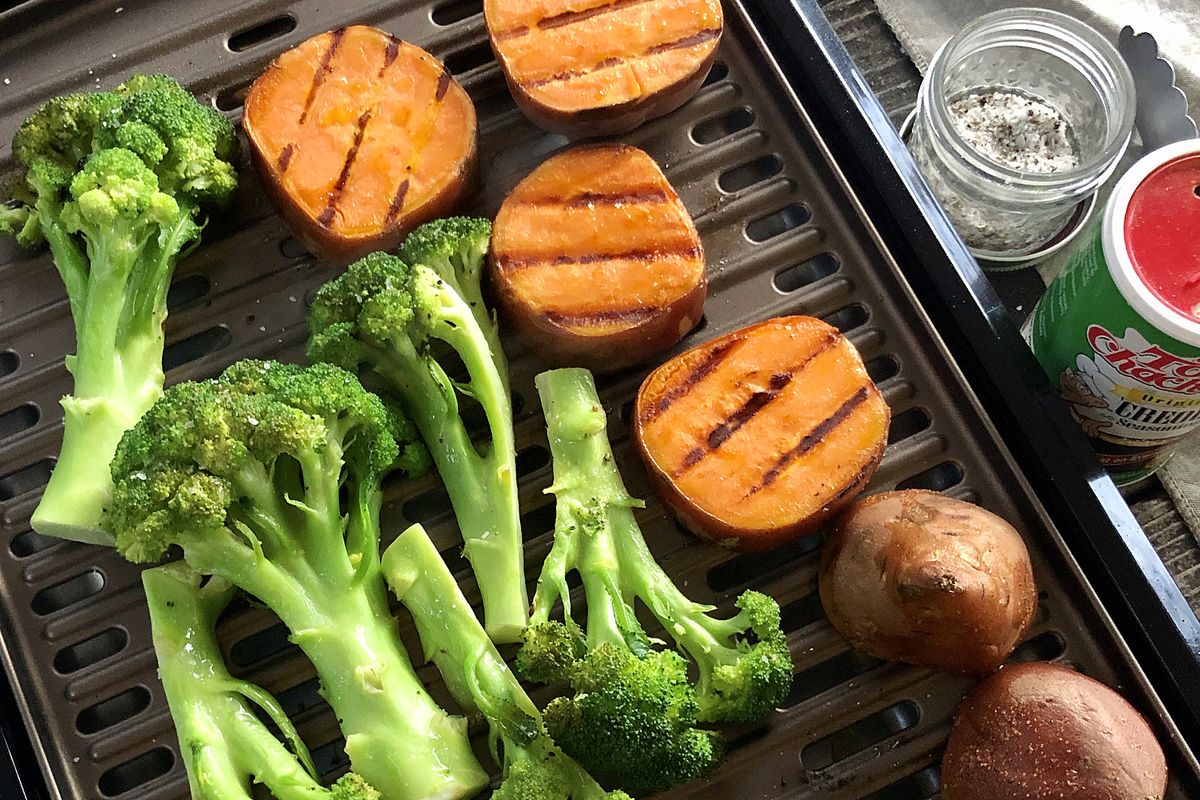 Memorial Day Weekend may be the official start of summer grilling season, but for us cooking outdoors is a year-round endeavor.
We've seared, sautéed, baked and roasted using just about every kind of heat source, so we're going to share a few of our favorite techniques. While you may not be able to go camping this weekend, we hope you can enjoy a meal outdoors, even if your cookout is in a parking lot.
Easy does it
Leslie couldn't be happier with her George Foreman Smokeless Grill, a genius plug-in that's about the size of a broiler pan. It heats up quickly and can also cook efficiently on medium or low. Though it's designed for indoor use, we most often take it outside. We've enjoyed everything we've cooked on it, from pizza to sausages, which were made even more succulent with those perfect grill marks.
It's a cinch to be a hero when grilling salmon and chicken and burgers and veggies on George, making it a valued member of our outdoor cooking arsenal. We keep it in a plastic bin, which lives in one of the storage compartments outside the vehicle.
Of course, you need a power source, so it's not going to work if you're unplugged or in a spot where you cannot use a generator, but that's where well-tended campfire coals come in handy.
Fire it up
John is well on his way to earning a master's degree in campfire building -- the key is kindling, lots of kindling. Leslie challenged him last fall to come up with a system for roasting butternut squash directly on the fire. Hot tip: Long tongs for turning constantly are a must.
The butternut squash project went so well we started cooking more meals over the carefully tended coals. One of the triumphs was a marinated spatchcocked chicken from Trader Joe's that we feasted on in Anza-Borrego State Park. The essential step in that process was to wrap the bird in foil for the first 45 minutes of cooking over indirect heat and then finishing it on the grill for a beautiful bronzed char. We had success using a similar technique when cooking salmon. Of course, you can't talk about campfires without including S'mores. Those melted marshmallow treats are a staple in our time around the warming flames. We each have our time-honored technique: Leslie goes for the slow-toasting approach, while John likes a controlled burn
We agree that our S'more game reached a new level of delicious when we introduced Smashmallows to the lineup. Those specialty marshmallows come in several flavors, but we're completely sold on the Churros, which have cinnamon and sugar on the exterior. Check out our short video on how to build a better campfire on YouTube.
Charcoal vs. gas grilling
We've used both and we're currently firmly back on the Kingsford Briquets trail. It's become part of our "best practices" to have a bag of charcoal on hand just in case one of the RV parks we stay at happens to have an old-school grill.
Yes, flipping the switch to get a gas grill going is so convenient, but there's nothing quite like charcoal for imparting that unmistakable smoky character.
One of our go-to foods to make on the charcoal grill this time of year is fresh, wild salmon, whether from Alaska or the Washington coast. We love getting half a salmon filleted and placing it skin-side down on the grill just after putting soaked alder chips on the white-hot coals. Close the lid and let that fish cook for about 15-20 minutes.
The fancy term for this technique is hot smoking and it makes for some of the most incredible seafood you've ever tasted. We've even had pretty good luck using frozen salmon in this preparation.
When using frozen fish, it's important to blot it dry after defrosting. Removing excess water helps the seafood cook more evenly on the grill. Any burning cooking questions? Send us an email at goingmobile@spokesman.com.
---
---