Thu., Oct. 14, 2021
Already, we've experienced so much joy on this road trip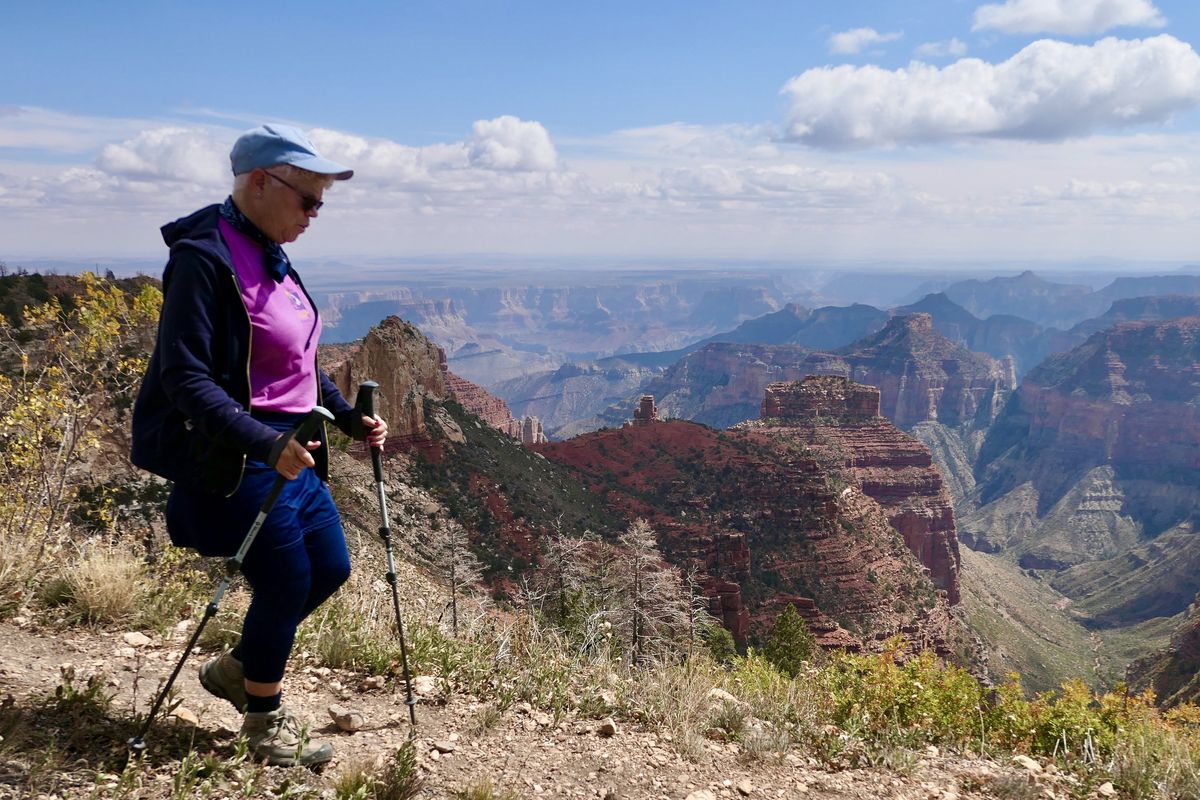 The North Rim of the Grand Canyon offers beautiful hiking amid fall colors. (John Nelson)
A little more than a month into our latest journey and we've racked a long list of highlights. In roughly 1,400 miles, we've been to six national parks, hiked exquisite trails and feasted near the glow of our portable fire. Here are some of the top moments so far.
On the North Rim of the Grand Canyon, we faced the challenge of five days of dry camping and we think we finally figured out this puzzle. Keeping those coach batteries charged means we had to be extremely conservative when it comes to using power, shutting off the water pump and water heater when not in use. Even then, we still had to run the generator for several hours a day.
We also kept water usage in check by washing dishes in the campground's sink and shampooing outside. Brrrr! It worked just fine and we absolutely loved being on the North Rim, where crowds are much smaller and the scenery constantly stunning.
Meeting fellow travelers is lots of fun. We've talked with folks from all over the country and checked off nearly all the state license plates. We swapped stories with a couple from New York who also own a Thor Gemini. But the cutest encounter was when we were parked at the Monument Valley KOA in Southern Utah. John was cutting Leslie's hair outside and a mom approached, kiddo in hand, asking if he'd give little Levi a trim. No pressure, right? John tackled the request and was rewarded with a colorful drawing from the 3-year-old. The family was from the Netherlands and had spent the past two months traveling the U.S.
Fall colors have been exceptional. The show began in Montana, on the banks of the Yellowstone River, but kicked into aspen-y overdrive when we reached Utah and beyond. The groves of aspen on a mountain pass near Park City were glorious against an azure sky. The Widforss trail at the Grand Canyon was especially lovely, with some of those Aspen trees turning bright yellow and crimson. Mesa Verde National Park was a patchwork of rust, gold and green. Truly magical.
Campfires under the stars makes the shorter days bearable. While we love those long summer nights, it's been a pleasure to sit out under the starry skies. It was especially lovely under the dark sky at the North Rim, where the Milky Way shimmered above a crackling wood fire.
Memorable meals on the nightly menu. Advance planning meant a welcome freezer full of Northwest and Alaska salmon. We've enjoyed our fave fish in lots of gorgeous places, chef Leslie making various preparations. If there was a crown for the top fish dish, though, that would go to the seared sockeye atop a blanket of warming Thai curry sauce with rice and a tangy slaw in the mix.
Planning makes perfect, most of the time. We've been surprised to find many campgrounds and parks fully booked on this journey. Yes, more travelers are embracing the RV lifestyle. We're grateful we booked in advance, but recently, we had to do a last-minute pivot when the main road to Natural Bridges National Monument was washed out. We took a look at the map and set out towards Mesa Verde National Park. We felt fortunate to snag a last-minute spot at Ancient Cedars RV Park near Mesa Verde's entrance. We've been to Mesa Verde many times, but it never ceases to amaze. This time, we took a loop hike to Petroglyph Point and WOW. Check out our reel on Instagram for a look at what we saw.
What's next? We're heading to New Mexico for a month. If you have any advice on essential sights to see, please email us at goingmobile@spokesman.com
---
---