Fri., Aug. 12, 2022
Looking for new ways to experience our favorite national parks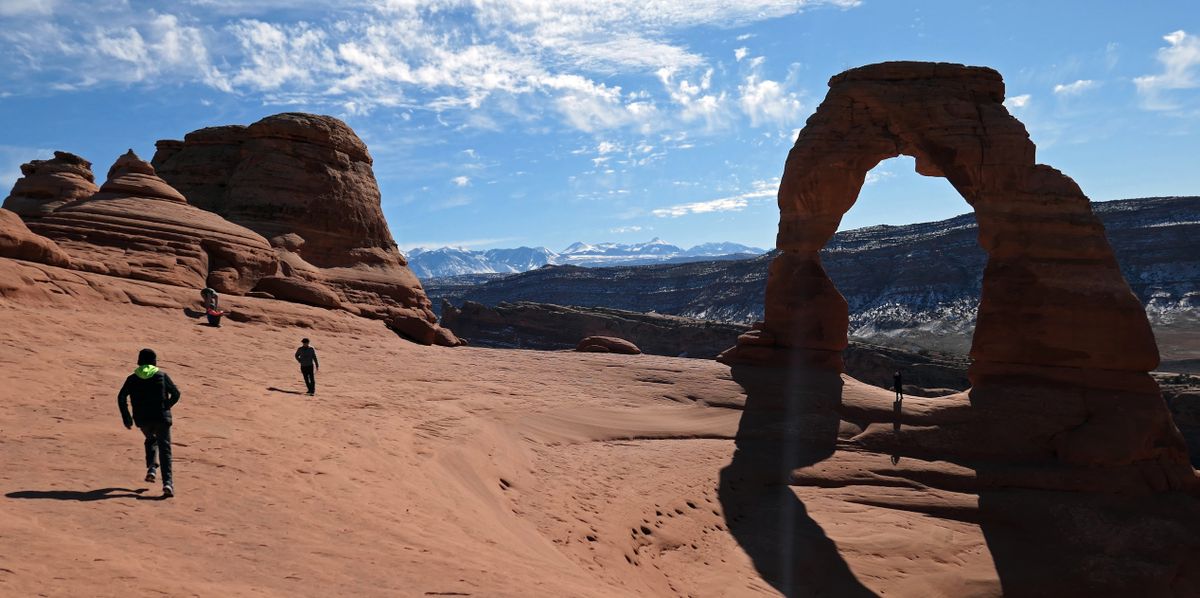 On our wish list is to visit Delicate Arch at Arches National Park. (John Nelson)
We recently wrote about Lewis and Clark National Historical Park near the Long Beach Peninsula, waxing enthusiastically about volunteering at Cape Disappointment.
That column prompted a nice note from an alert Spokane reader, Catherine Morrow, who said, Thanks for the story, John and Leslie, but you missed something.
"You didn't mention the exact place where William Clark first saw the Pacific Ocean," she said.
Right you are, Catherine.
While we were staying in our RV at Cape Disappointment State Park, we visited many Lewis and Clark historical sites, but didn't check out this important vista.
It turns out Catherine has history of her own in the area. For five years, she served on a committee trying to build a park to commemorate the spot where Clark saw the Pacific, near the town of Chinook, Wash. Thanks to the committee's hard work, the site was dedicated in a ceremony in 2012.
That's definity on our list for next year, Catherine. And it points out one of the wonderful things about visiting a favorite national park -- you can go again and again and still experience new things.
Catherine's letter got us thinking about some of our favorite national parks that we keep returning to. What would we hope to see or do next time?
Here's a few wish-list ideas that come to mind:
Mount Rainier National Park: There's nothing like staying in this national park. Evenings are glorious, with most of the day-trippers having gone home. What about driving the RV up for an evening dinner at Paradise as the sun sets over the mountain?
Olympic National Park: We've camped and hiked all over the park, but never stayed at Sol Duc Hot Springs, where RVers can enjoy powered sites and soak amidst the rainforest.
Crater Lake National Park: John rode his bike around it in fall and skied its trails in winter, but we've never stayed there in our RV. That's a must.
Glacier National Park: So many visits we can't count them all. We'd still like to go back and re-enact Forrest Gump's cinematic run across the stone bridge near the St. Mary's entrance (for an Instagram-worthy photo, of course!)
Yellowstone National Park: We've stayed at three different campgrounds, seen grizzly bears, moose and bison, but spotting wolves in the wild is still on our bucket list.
Yosemite National Park: We've stayed in the Valley, but never taken our RV to Tuolumne Meadows, the beautiful high-elevation campground on the park's east side. It's closed this year for renovations -- maybe fall '23?
Grand Canyon National Park: We've camped many times at the massive Mather Campground in the RV on South Rim, but never stayed in the quieter Desert View Campground on the east entrance.
Death Valley National Park: We're still getting to know this amazing park after two visits in our RV. On our list for a return visit is Scotty's Castle, a stuck-in-time mansion in the northern part of the park that is reopening this year after floods closed it in 2015.
Mesa Verde National Park: We've been coming to this park since we were 20-something cub reporters in Grand Junction, Colo., scrambling into the impressive ruins for a ranger-guided tour on a memorable visit in 2019. It always delivers something new -- maybe seeing a full moon rise over the ancestral Pueblo ruins?
Joshua Tree National Park: We've explored the park from top to bottom, even booked a site at Jumbo Rocks in December. Yet, we've never been to a world-famous location just outside: Pappy and Harriet's, a funky bar that often hosts some major music talent. Bonus: It's said to be haunted.
Arches National Park: John has hiked and ridden most of the park, but Leslie still hasn't been to the iconic Delicate Arch, a view everyone should see.
Avoid crowds in fall
We're in the height of summer travel season right now, and our beloved national parks are mobbed right now. If you're planning your own must-list visit to a popular national park, remember that visitation drops off markedly in September and fall. Enjoy!
---
---