Fri., Sept. 16, 2022
Getting swept up in the beauty of Confluence State Park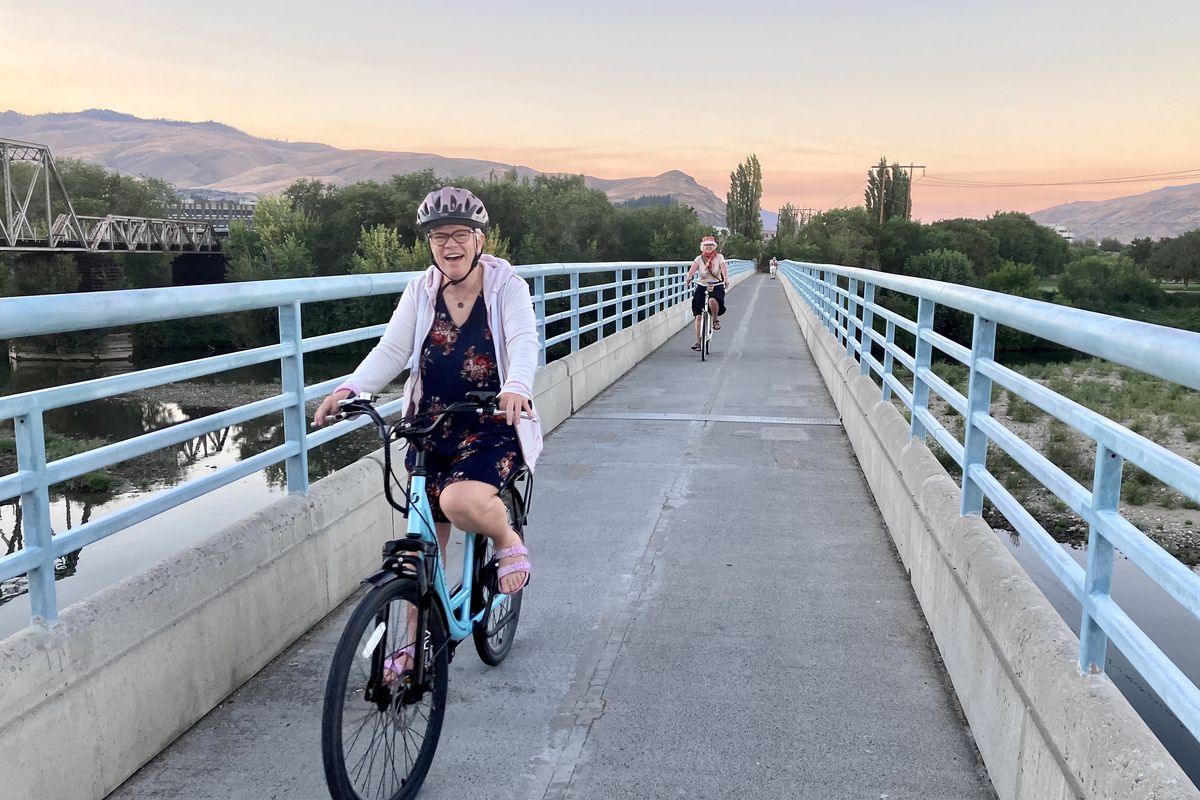 Leslie and her sister Laurel ride the Apple Capital Recreation Loop Trail in Wenatchee. (John Nelson)
We've been to Wenatchee countless times, but never have we ever stayed at its pretty Confluence State Park until recently.
Leslie's sister, Laurel, recently moved to the area to be closer to her kids and grands, and she's the one who steered us toward the expansive green space where the Wenatchee River joins the Columbia.
"It's a hidden gem," she said, practically daring us not to share.
She knows Leslie has a tough time keeping a secret, so here are five reasons you should go visit this special spot in Central Washington.
Riding the Apple Capital Loop trail: This 11-mile paved path that runs along the river is a biker's dream. Leslie was pretty darned thrilled to break in her new e-bike on the rolling terrain with the knockout views of the mighty Columbia River and the hills surrounding the city. Go ahead and take a break and jump in off the Pangborn Bar, formed during the Ice-Age floods.
Feasting on fruit: As much as we love hitting the farm stands and markets on the West Side, we'd yet to score a decent summer peach. Hooray for the beauties at Prey's Fruit Barn, where Leslie's sister, Kate, works. We also stocked up on gorgeous yellow plums and pears at this roadside stand between Leavenworth and Wenatchee.
Bird watching: Soon after we pulled in to set up, we heard the unmistakable racket of an eagle being chased by crows. There are a number of nests nearby and during our stay, we also witnessed the incredibly cool sight of that majestic bird carrying a flopping salmon high above the river.
Spectacular sites: The expansive campground offers extra large sites, with level tent spaces at each spot. We had a full hookup pull-through and a massive grassy area, which served as ground zero for a fun family reunion. Leslie's three sisters who live in the area showed up for a potluck picnic that included our Nana's special potato salad, baked beans and excellent sausages. Dessert? Watermelon sprinkled with spicy Tajin salt, of course.
Easy access to the city: We can't think of another state park in Washington that offers better access to a bustling metro area. While Wenatchee still retains its status as "the buckle of the power belt" and the Apple Capital of the World, there's a definite feeling of change going on here. Wenatchee feels like it's on the verge of taking off, with its combo of sunshine, affordable housing prices and interesting retail options. What impressed us during this trip was seeing so many people along that popular loop trail enjoying the final days of summer, walking dogs, playing ball, swimming. Don't miss a visit to Pybus Market while you're here, an indoor collection of shops, farm stands and restaurants.
One caveat… when smoke gets in your eyes edition: Like so many places in the Inland Northwest, summer means smoke season. We had a couple of clear days, but on the final morning, the skies were pretty hazy. It's always good to check the weather and the fire map before hitting the road this time of year.
---
---