California: far more scenic when the sun shines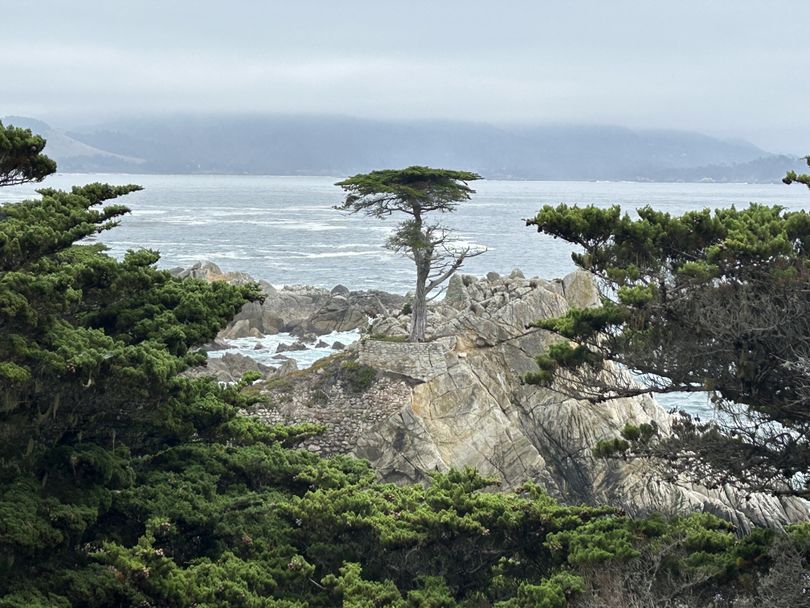 As a native Californian, I'd heard tales of Monterey's 17-Mile Drive for years. But I'd never experienced it until just a couple of weeks ago.
I can list plenty of reasons for not having visited. For one, my hometown of San Diego has plenty of its own must-see sites, from its beaches to its zoo, Point Loma, Balboa Park, La Jolla and too many more to list here.
For another, I've spent most of my free time since leaving Southern California either exploring the Pacific Northwest or traveling internationally. I've spent time in San Francisco, but that city has its own many charms to keep the occasional visitor occupied.
Maybe the main reason for me to hold off experiencing Monterey, though, is because of something that happened during the summer of 1967. That was when I spent eight weeks of my life enduring Army Basic Training at the now-closed Fort Ord.
And so until recently I had resisted visiting the entire area. Even though set in the hills above Monterey, closed since 1994 and now a national monument and nature reserve, Fort Ord holds some fairly unpleasant memories for me – memories I'd rather not relive (many of them involving one particularly sadistic drill sergeant named, improbably, Bill Bailey).
But then just last week as part of a long weekend break, I found myself in the town of Carmel-by-the-Sea, ensconced in the Carmel Bay View Inn and in need of coffee. We'd arrived the afternoon before and dined on so-so Mediterranean food at the Yafa Restaurant. But now, on an overcast Friday morning, I was in serious need of coffee.
I found it at Carmel Valley Coffee on Ocean Avenue, where the line was long, the service professional (if not overly congenial) and my americano excellent. After walking around the town center, eyeing all the shops that give the town its precious feel, I returned to the hotel and roused my wife, Mary Pat.
She liked the croissant that I brought her, but she didn't appreciate the weather report. She liked it even less when we drove down Ocean Avenue toward the south entrance to the drive, paid our $10.50 fee at the gate and proceeded to the route.
And why was she disappointed? Because all of the photos that we ended up taking looked washed out. That's what happens when you're driving past some of the most scenic vistas on the California coast but the sun refuses to cooperate.
It clearly didn't bother the golfers we passed who were playing the links at Pebble Beach. Those guys – and the golfers we spotted were mostly guys – clearly were following the tourist-board advice to "Take a break from driving and tee off at the world-renowned Pebble Beach Golf Links."
(As I wrote in a previous post, though, that "break" likely cost each one of them $595 or more for a single round. And because the course is so popular, it's difficult even for us regular folk to score a tee time anyway).
The weather didn't stop the many other visitors we passed on the drive, either. Most, like us, were adhering to the website directive to "Get your camera ready – you'll want to snap as many photos as you can during your journey …"
And, true enough, the lack of sun didn't stop any of us from taking photos. It's just that none of the ones we took showed the bright blue sky that we'd hoped for. Which would have been the perfect backdrop to our view of the Ghost Trees of Pescadero Point and the "mysterious natural wonder" known as the Lone Cypress, not to mention the Cypress Point Lookout, Seal Rock and Spanish Bay Beach.
Which is why, that evening after heading into Monterey itself and enjoying a tasty dinner at Monterey's Fish House (where we were able to skip the line and get great service even while sitting at the counter), then spending a second night at the Inn, we rose on Saturday morning to a bright, sunny day – which caused us to decide to make the drive again.
This time, all the stops – including and maybe especially that Lone Cypress – shone in all their natural grandeur. And while I would exclude the golfers (again mostly men) in that description, I wouldn't ignore the Pebble Beach Visitor Center – even if it does describe the area at large as the "Golf Capital of the World."
(Seriously? I've been to St. Andrews, Scotland, and toured both the historic Old Course and the R&A World Golf Museum. And that scenic Scottish university town has a far better argument for being a world golf capital than Pebble Beach.)
Whatever. Our second tour of the 17-Mile Drive ended up being just what we wanted. And as we drove away, headed south to Cambria (which I wrote about in a previous post), we agreed that the experience was pretty much everything the ads claim it is.
Particularly true is this advertorial statement: "The 17-Mile Drive reminds us that the greatest part of a road trip isn't arriving at your destination; it's the journey."
Well, it is when the sun's out, at least.
---
---