Venice: the movie city of canals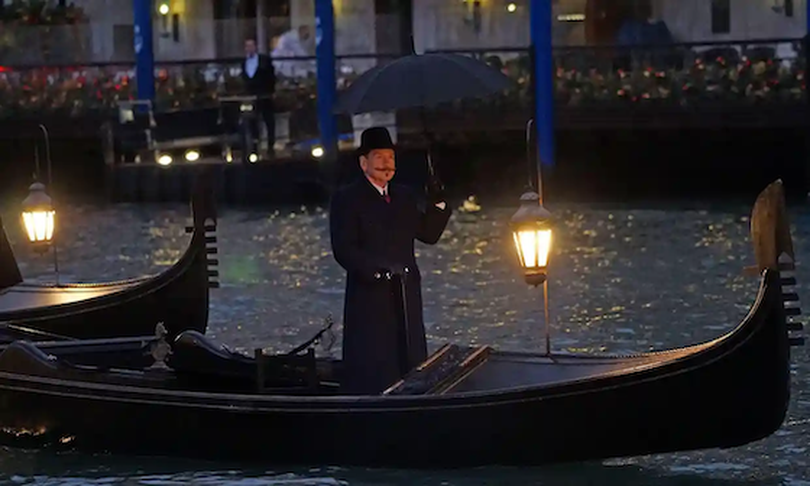 Though most of it was filmed on a sound stage, the Kenneth Branagh film "A Haunting in Venice," which is now playing in theaters, does boast a couple of great shots of the tourist-popular Italian city.
The most notable scene takes place on a terrazzo atop a building where the Belgian detective Hercule Poirot (played by Branagh), now retired, takes his breakfast – and reluctantly receives the occasional visitor. To capture the entire city, director Branagh uses a camera-equipped drone that revolves around the building a dizzying 360 degrees … or more.
As the film's executive producer James Pritchard told Screen Rant, "Those canals wending their way through narrow passages (have) an (aura) of mystery, of thriller ... if you're going to make a horror film, you want something that has a little bit of atmosphere. Venice has an extraordinary atmosphere and sense of mystery."
"Extraordinary atmosphere" for sure. Though I haven't been to Venice in years, some of my favorite memories of Italy involve it.
One of the film's climactic sequences, though, hints at a problematic real-life situation that Venice faces: how rising ocean levels are threatening the city's very survival. I wonder how much longer it will be around should the oceans rise as many scientists expect them to do.
According to a 2022 BBC story, the possibility is not just theoretical. "Venice is at very real risk of being consumed by the sea," the story claims. "In worst-case scenario, the city could disappear beneath the waves by as early as 2100. Meanwhile, many of its building are sinking or being damaged by the wakes of boats."
Various measures are being considered, but nothing is guaranteed to hold off what many see as the inevitable. And the expense of most plans is exorbitant.
Venice, like Amsterdam, has always had a tenuous relationship with the sea. As one article states, "Built in the middle of a shallow lagoon, with the winds of the Sirocco blowing across the Adriatic, Venice has always been at risk of 'Acqua Alta', or high water."
Climate change, though, has exacerbated the problem. In the fall of 2019, Venice was hit with a storm surge of nearly six feet, leaving more than 80 percent of the city underwater – and causing millions of dollars in damage.
Whatever ultimately happens, visitors no doubt will keep flocking to the city. For first-time Italy tourists, it – along with Rome and Florence – is one of the country's must-see sights.
My first trip to Italy occurred in 1997 courtesy of my wife, Mary Pat Treuthart, who was teaching at Gonzaga University's Study in Florence Program. Our itinerary included visits to all three cities, and while I was enthralled by Rome and overwhelmed by Florence, I was charmed by Venice – despite the presence of so many other tourists.
Not that we were any different. We ended up doing most of the touristy stuff, from touring San Marco Basilica to viewing the ceiling of the Doge's Palace, riding the canals both by gondola and vaporetto, taking selfies on the Rialto Bridge, watching a glass-making demonstration on the island of Murano, getting an overview of the city from the top of the San Marco Campanile and even having a drink at Harry's Bar (a famous Ernest Hemingway hangout).
But the real joy of Venice, at least for me, was simply walking the streets. You may get confused at times, but that's part of the experience. As a vacation website states, "(G)etting lost is sometimes far more than taking a wrong turn. Losing yourself in a city as magical as Venice can reward you with unforgettable experiences and hidden discoveries you might never have had otherwise. So every now and then, forget the map and see where the evening takes you."
One evening took us from our hotel to a nearly empty Piazza San Marco, where the chilly weather seemed to have scared away most of the other tourists. I recall looking across the vast piazza in the growing darkness and seeing what must have been a half dozen lighted areas, each one hosting a musician (or group of musicians) playing some variation on a classical tune.
As Hemingway himself might have described them, each seemed like a clean, well-lighted place of refuge.
I remember standing there, soaking in the scene and marveling at just how perfect it all was. In that moment, all the news reports threatening the continued existence of Venice were washed away, leaving only the feeling that the scene was playing out for me alone.
I'm pretty sure everyone who goes to Venice feels that way at one time or another during their visit. I hope the possibility continues for decades to come.
---
---