Aztecs Upset Gonzaga, Harris Hurt
It was pretty much an inside job. San Diego State senior forward Billy White poured in a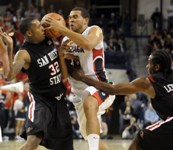 career-high 30 points and the Aztecs enjoyed a 39-29 rebounding edge, which fueled a 79-76 men's basketball victory over 11th-ranked Gonzaga in front of 6,000 Tuesday at the McCarthey Athletic Center. The loss was just Gonzaga's fifth in 82 games at the McCarthey Athletic Center. To make matters worse, Gonzaga standout sophomore forward Elias Harris left with an injury late in the game. "I think it's my Achilles' (tendon)," said Harris, who will have an MRI today. "I heard something pop. I couldn't get up in the air and I couldn't run any more"/Jim Meehan, SR. More here.
Cutline: Gonzaga's Elias Harris tries to get a ball past San Diego State's Billy White, left, but ends up in a tussle where White got called for the foul on Tuesday. Harris was hurt later in the game. (SR photo: Jesse Tinsley)

Question: Do you see Gonzaga's loss to San Diego State last night as a reality check re: great expectations for 2011-12? Or a bump on the road to another great season?
---
---