Catch-release sturgeon fishing should end, panel says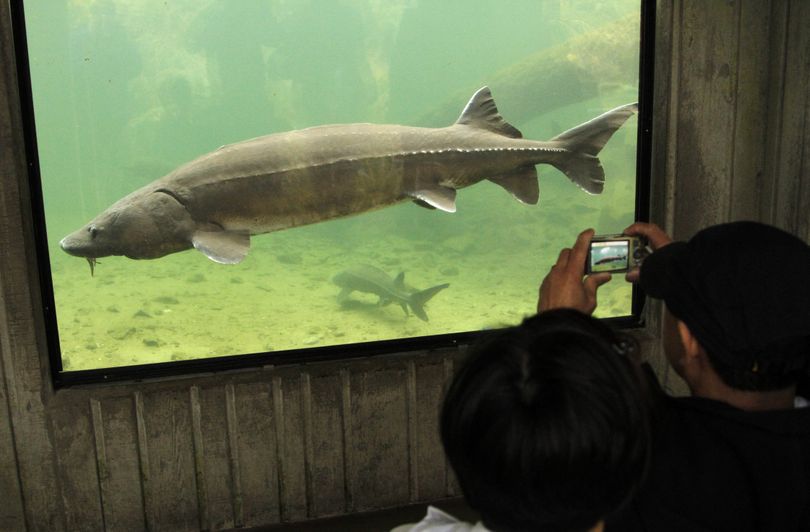 FISHING -- Sturgeon are threatened in the lower Columbia River and catch-and-release fishing seasons aren't helping matters, fish scientists say. The state is working to give the ancient fish a break.
Here's the story from Al Thomas, outdoor writer for The Columbian in Vancouver:

The Washington Fish and Wildlife Commission wants catch-and-release sturgeon fishing ended in the lower Columbia River to help protect the troubled population.

The nine-member panel voted unanimously in Vancouver on Saturday to direct the Department of Fish and Wildlife staff to begin talks with Oregon about a phase-out.

Ironically, the vote came at the end of a discussion on whether to talk with Oregon about having a small retention season in 2016 in the Columbia River estuary.

"I can't support any handling or harvest of sturgeon," said Conrad Mahnken, a commission member from Bainbridge Island. "I'm not in support of catch and release."

Sturgeon fishing downstream of Bonneville Dam shifted to catch-and-release only starting in 2014.

Since then, angler participation has dropped by 90 percent in the estuary and 82 percent between the estuary and Bonneville Dam, said Patrick Frazier, fish program policy coordinator for the Washington Department of Fish and Wildlife.

Four of the five measurements used to track the health of the lower Columbia River sturgeon appear down, Frazier said.

The good news is that the estimated population of legal-size sturgeon is 147,000 in 2016. That's up from 72,700 in 2012, he said.

But here's the bad news:

. The estimate of spawning-size sturgeon was 3,040 in 2015, with a three-year average of 3,330. Oregon's sturgeon conservation plan calls for action when the three-year average drops below 3,900.

. Sixty-nine percent of the population is juvenile sturgeon. A healthy population would be 90 percent to 95 percent juveniles.

. Spawning success in the lower Columbia River appears to have been extremely poor in 2015, continuing a trend of poor spawning.

. Sea lion numbers in the lower Columbia continue to increase.

Frazier said there is a belief that sturgeon may be redistributing themselves to avoid predation by sea lions.

Sturgeon are reported seen in the tributaries, the Willamette and elsewhere.

Brad James , sturgeon biologist, said as the fish move to less optimal habitat it is likely their spawning success will suffer.

Butch Smith of the Ilwaco Charter Association asked the commission to consider a small retention season in the Columbia estuary.

The coastal economies have been hurt badly by the loss of the late-spring/early-summer season.

Smith said when the legal-size population was only 65,000 sturgeon he agreed with no retention. But at almost 150,000, a "conservation season" is acceptable.

"We need to get some people back in our area," he said.

Frazier said the department has modeled a retention season of about 30 days straddling May and June in the estuary only that would result in less than a 6 percent harvest rate.

The commercial fleet would get a 20 percent overall share, per previous bistate sturgeon management policies, he said.

But almost all testimony was against a retention season.

"I think this stock is in a world of hurt," said Harry Barber of Washougal.

The low number of spawners and declining number of juveniles "are two huge red flags," he said. "It's foolish to talk about harvest."

The spawner population of sturgeon has "just been hammered" by the growing number of sea lions in the lower Columbia, he added.

Kent Martin, a commercial fisherman from Wahkiakum County, agreed sea lion predation is the major issue.

"Follow the data," said Ed Wickersham of Ridgefield. "This population is sour."

He suggested ending catch-and-release sport fishing and do everything possible to eliminate sturgeon handle in commercial fishing.

"We need to send a strong message to all citizens," said commission member Robert Kehoe of Seattle.

Oregon Department of Fish and Wildlife officials were not available for comment on Monday. The Oregon Fish and Wildlife Commission meets Feb. 11 and 12 in Tigard.
---
---