Spokane church rammed, ransacked
Here's a report from Sara Leaming:
A 56-year-old man who investigators say was so upset over a $70 repair bill he rammed his truck into a northeast Spokane church and ransacked the inside was arrested today.
Mark T. Heitman, a parishioner of the Country Crossroads Church at 7011 N. Altamont, allegedly drove his Chevrolet pickup truck into the church building to gain entry Monday night, the Spokane County Sheriff's Office said.
Nearly every window, television, computer and light fixture was smashed during the rampage, which caused thousands of dollars of damage, the church pastor said.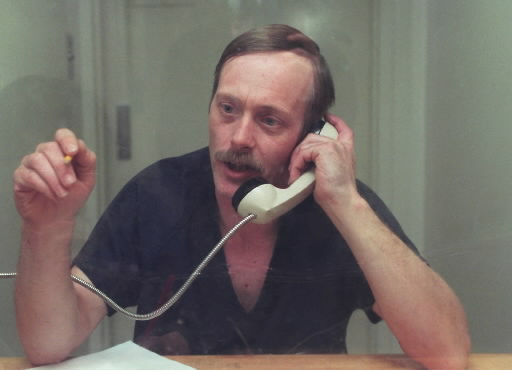 The tirade was apparently sparked over a $70 repair bill that the church owed Heitman for some electrical work he had done.
"I tried to pay him with a check and he wouldn't take a check, so I guess he got mad because I didn't have any cash here at the time," said Pastor Dan Eubank. "So I guess he decided to take (the money) another way."
According to court records, it's not the first time that Heitman, pictured right in 1996, has faced criminal charges for driving his truck through a building in a rage over money.
Documents show he still owes more than $40,000 in restitution and accrued interest stemming from a January 1996 incident in which the Child Support Enforcement building at 1600 W. Boone Ave. was left heavily damaged when he smashed his truck into it, telling authorities "they were taking all of his money."
Read the rest of Sara Leaming's story in tomorrow's Spokesman-Review.
---
---