News > Spokane
Error kept Fairchild gunman in uniform
Investigation may lead to changes in procedure
Sat., Aug. 13, 1994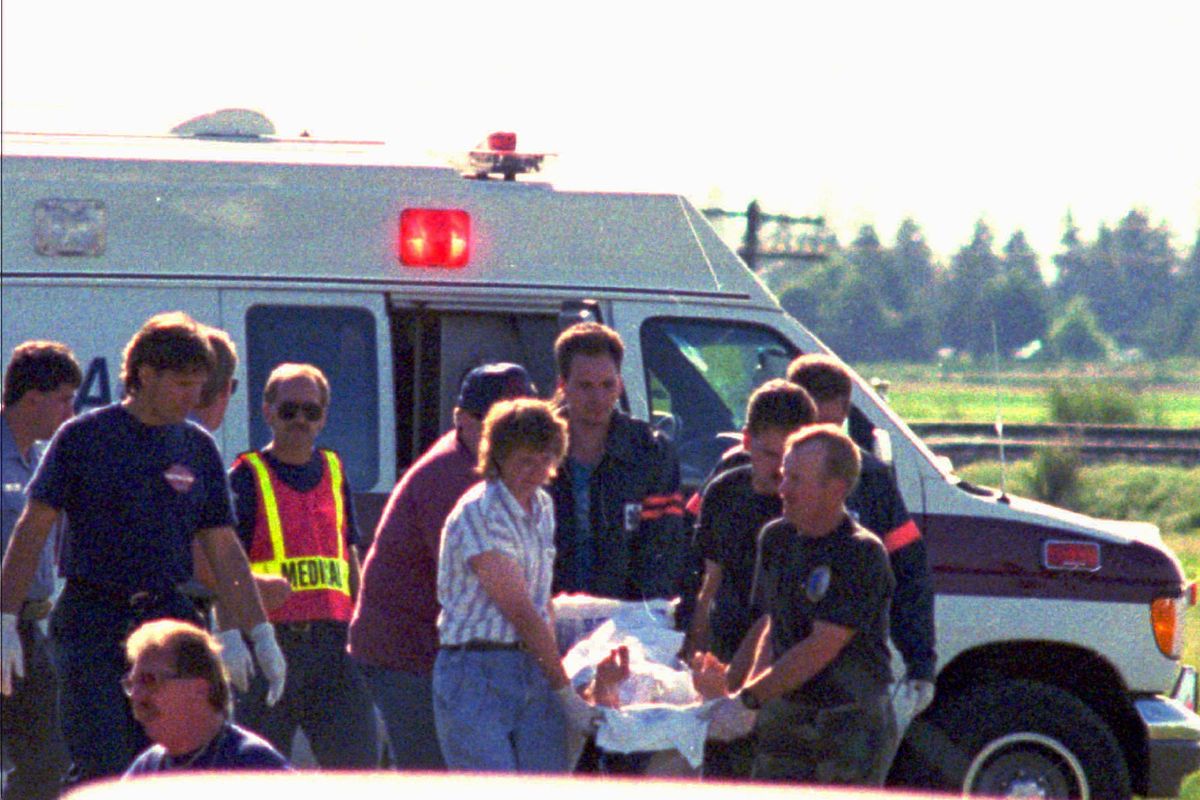 Medical crews move a shooting victim from an ambulance to a helicopter Monday, June 20, 1994, after a gunman opened fire at Fairchild Air Force Base outside of Spokane. Dean Mellberg killed four people before being fatally shot. Twenty three others were wounded by the gunman, who was an airman at the base. (FILE / Associated Press)
The mentally disturbed airman who went on a shooting spree at the Fairchild hospital complex in June may have been kept in uniform for two years by unclear military regulations, even though several doctors said he should be forced out. Six months before Dean Mellberg killed four people and wounded 23 with a semi-automatic assault weapon, a doctor at an Air Force medical center in Texas filled out a form saying he should be discharged, an inspector general's team says. But the form was misinterpreted, and Mellberg was merely reassigned from Fairchild to a base in New Mexico. Mellberg might have been kept out of the Air Force entirely if proper procedures had been followed, a team of investigators concluded after reviewing his records. Air Force Secretary Sheila Widnall has ordered changes in several procedures dealing with the way airmen are evaluated and discharged in the wake of the inspector general's investigation. "It should be noted that at the time of his discharge there was no expectation that Dean Mellberg would act in the manner that he did," Widnall said after reviewing the 29-page report. House Speaker Tom Foley of Spokane, who was among those requesting the investigation, called it a speedy but thorough review with good recommendations for change. But Mellberg's mother, Lois Mellberg of Lansing, Mich., said the Air Force was continuing to lie about her son. "They are only going to hear what they want to hear and do what they want to do," Lois Mellberg said. The inspector general's team found several mistakes - sometimes called anomalies in a statement released Friday - when it checked Mellberg's service records. An Air Force spokeswoman said the full report would not be released; the service instead issued a two-page statement. That statement notes that mental health experts recommended "at various times" that Mellberg be discharged during his two-year career. Among those who made such recommendations were Fairchild Air Force Base psychiatrist Maj. Thomas Brigham and psychologist Capt. Alan London, two of the people killed by Mellberg. Other Air Force doctors recommended Mellberg be discharged in January, investigators said, after he had been sent from Fairchild to Wilford Hall Medical Center in Texas for evaluation. Wilford Hall personnel recommended Mellberg "be returned to duty for appropriate administrative action," the team said. What they meant was he should be discharged. Somewhere else in the administrative process, however, someone concluded that meant he should be reassigned. The 20-year-old airman was sent to Cannon Air Force Base in Clovis, N.M. "This form of communication is being modified to preclude miscommunication in the future," the statement said. That means the form will be changed so that medical personnel can check a box for different options like discharge or return to duty, an Air Force spokeswoman said. Lois Mellberg charged that the Air Force was lying, and that her son was not being recommended for discharge at that time. She read from a letter sent from an Air Force officer in the Pentagon to her congressman, saying Dean would be returning for duty soon. The Mellbergs had contacted U.S. Rep. Dave Camp, R-Mich., to help straighten out problems Dean Mellberg was having with the military. "They're doing a cover-your-tail all over the place," she said. "Everything they're saying, it's untrue, untrue, untrue." At Cannon, Mellberg ran into further trouble, including riding his bicycle across the base golf course. He asked to be transferred. After two months, his commander recommended he be discharged for a personality disorder. The discharge was final on May 23. During the next month, he travelled to Alaska, returned to Spokane, and bought a MAK-90 semiautomatic assault-style weapon. On June 20, he entered the Fairchild hospital complex, where his first victims were Brigham and London. Among other findings mentioned in the statement: The inspector general's team found other problem's with Mellberg's military career. He apparently mentioned a medical problem at his induction physical that could have kept him from enlisting. But that problem either wasn't recorded or wasn't followed up, because inspectors couldn't determine if it would have disqualified him from service. Recommendations that he be discharged while he was in boot camp were destroyed after six months, as is common for all basic training records. The team recommended discharge recommendations be kept for three years. Some of Mellberg's records are missing from his files, and the statement suggests he took them when he had access to the files. The team recommended that rules for patients' access to their files be tightened. An Air Force spokeswoman said some of the changes have already been made, and others will be completed in the coming weeks.
Local journalism is essential.
Give directly to The Spokesman-Review's Northwest Passages community forums series -- which helps to offset the costs of several reporter and editor positions at the newspaper -- by using the easy options below. Gifts processed in this system are not tax deductible, but are predominately used to help meet the local financial requirements needed to receive national matching-grant funds.
Subscribe now to get breaking news alerts in your email inbox
Get breaking news delivered to your inbox as it happens.
---